Inspired by Venice's glamorous Gritti Palace, "The Fisher Dollhouse: A Venetian Palazzo in Miniature" made its public debut at the Museum of Arts and Design (MAD) in Columbus Circle on May 8, and will be on display through September 26. It's more recently led the museum to commission a brand new chocolate bar. More on that in a moment.

The Fisher Dollhouse, which will be on display through September 26, displays an impressive collection of contemporary art created by more than ten international artists, many of whom were working in miniature for the first time. New York collector, maker, and arts patron Joanna Fisher conceived of the dollhouse in response to the lockdown required by the COVID-19 pandemic. Like so many, she was housebound and felt her world shrink…and embraced it, literally. The dollhouse project offered Fisher a form of therapy: it provided a safe haven and, with ever-inward retreat during quarantine, an escape.
"'The House Within' is how I think about this project. A place people can go to in their minds," said Fisher. "This was born in the pandemic. An emotional home I found within myself. A safe place created in my imagination. That is how this came to be."
Close looking is rewarded: a display cabinet teems with ammonites, which first appeared 240 million years ago; a ruby glass wine set fit for (and believed to be made for) Queen Anne; "bamboo" furniture, mouse-sized preserves, a powder horn, and a masquerade mask.
[adrotate banner="161″]
Specialties are evident in miniature foods, elaborately bound books, clay olive jars, and wigs. While no dolls dwell here, animals do, in the form of a pheasant, a monkey riding a camel, and ceramic dogs, one housed in its own magnificent dog bed by jeweler Laura Lobdell. The needlepoint rugs Fisher designed and made herself. Many of the makers, like one who refashioned WWI bullet casings into the legs of a brass table, remain unknown.
The Fisher Dollhouse: A Venetian Palazzo in Miniature is a work in progress, one Fisher plans to return to. For now, this dollhouse's secret rooms, where one could imagine curling up or entertaining at a moment's notice, have been fixed in time and opened up so that visitors can inhabit and enjoy.
Learn more about the exhibit here.
Advertisement
About That Chocolate.
MAD has commissioned a limited-edition gourmet chocolate bar inspired by the installation described above. "The chocolate bars reproduce the dollhouse's façade in a delicious, shimmering milk chocolate and are available exclusively in The Store at MAD for $17.95. The artistic treats are 49 percent Madagascar Cacao with all-natural ingredients and will be available through the run of the installation, which closes on September 26. Master chocolate maker Paul Joachim (a.k.a. The Chocolate Genius) comes to the Museum's seventh floor gallery for a live chocolate demonstration for visitors to enjoy on September 4 from noon until 2:00 pm EDT."
The Chocolate Genius has showcased his unique confectionary skills for brands like Godiva, Delta Airlines, Oreo, Universal Studios, and the National Basketball Association.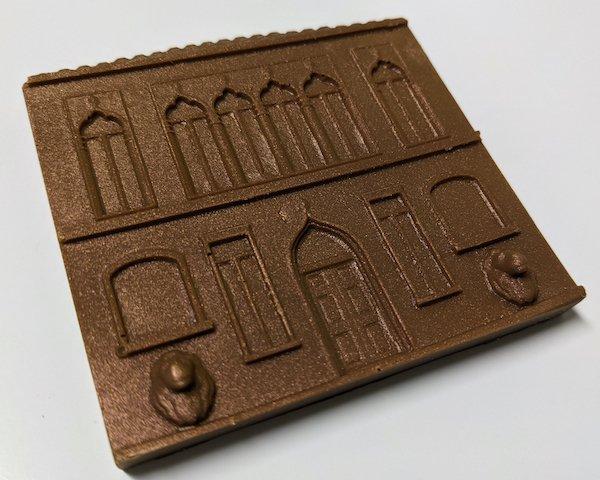 The Museum of Arts and Design is located at 2 Columbus Circle.