In the early 1980s, John Lintz was part of a team of electricians who worked in the building. Throughout the course of their work, John had the opportunity to get the know the residents fairly well.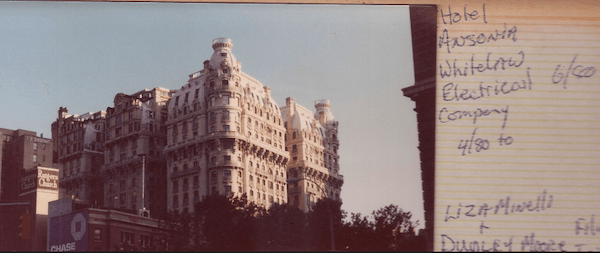 In addition to the many actors and musicians who resided in the building, John tells us there were also a number of retired vaudevillian actors!
John particularly remembers one elderly couple – who he remembers as being eastern European. Both husband and wife came from a long line of performers whose photos they displayed on their apartment walls. When John and his crew would work in their apartment, the couple would play their piano and sing for them. During lunch breaks, they would go back to the apartment to enjoy another performance.
Advertisement
Construction from World War II
John recalls the solid and sound deadening building walls, ornate moldings and squeaky oak parquet flooring. But he also remembers the upper level apartments having black painted windows, which, he was told, was originally done so that the building could not be seen from above in the event of an air raid during World War II.
On a related note, the Ansonia's copper cornices were removed and melted down for war efforts during World War II.
A Fire at the Continental Baths
John and his crew did some electrical work at the famous gay bathhouse while they were there. He remembers little closet sized changing rooms with mattresses in them. Apparently, two guests got into a fight in one of these rooms. One of them lit a mattress on fire. The fire quickly spread and caused the building sprinklers to go off. As John had been a volunteer firefighter since age 18, his instincts kicked in and he started knocking on all of the changing room doors. Eventually, the FDNY showed up to put out the fire.
We found an old NY Times report about the incident, dated November 1980. The FDNY chief is quoted as saying the fire was "strong enough to indicate possible suspicious origin".