"Oh, East is East, and West is West, and never the twain shall meet," states Rudyard Kipling in the first line of his poem, The Ballad of the East and West.

But never is a lengthy time period, and East might meet West once the Long's settle into their new location on Manhattan's East Side.
Just who are the Long's and why might East be meeting West because of them?
The Long's are a family who've been good in bed since 1911, which is the year they got into the business of helping many have a restful night's sleep, selling quality bedding from their store on Manhattan's Upper West Side.
We first announced that Long's would be closing its UWS store back in April of 2019. At that time, it was indicated in the store window that they would close at the end of 2019, and relocate to the East Side at 1220 Third Avenue, the former home to one of the Gracious Home's stores.
Long's has not closed yet, but they will soon. It will most likely happen prior to the end of this January or within the next month.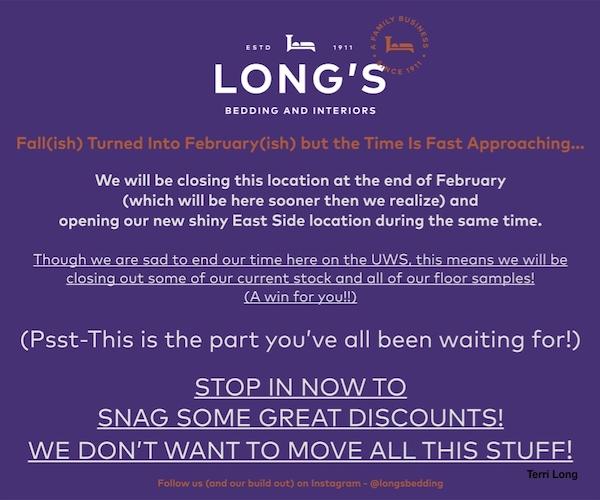 [adrotate banner="87″]
Before the inevitable happens, I wanted to sit down and talk to the owners of Long's Bedding and ask them to expound a little bit more about their experiences.
However, after subsequently reading an article by Janet Holt-Johnstone that is included within the 2011 issue of Furniture World, I confess that I was a little intimidated by the idea of actually having a face to face with the store's former owner, Mr. Bob Long.
You see, in Holt-Johnstone's article, Bob Long is quoted as saying, "Tell your futon to kiss your done-with-dorm-life ass good-bye and get a grown-up bed!"
It's been years upon years since my ass was on a dorm bed, but by many people's standards, I still don't have a "grown-up bed."
The bed I've had in my apartment since the 1990s is actually a piece of foam cut to fit a small area on the floor of my main living area. I find it comfortable, as did Freddie, a beagle who visited me this past December and plopped right on my bed.
Therefore, when I phoned Long's to set up an appointment to interview the owners, I was relieved when a man (who introduced himself as Ethan) referred me to Terri, Bob Long's daughter, who is now the owner of the store.
However, my sense of intimidation regarding the prospect of a face to face with a Long family member was not alleviated quickly; for I soon learned through an article by David Perry (Furniture Today) that Bob Long referred to his daughter Terri, the now owner of his store, by saying "There's a new sheriff in town."
But I after I finished reading Perry's article and learning Terri is "the fourth generation of the founding Long family to work at the 121 W. 72nd Street store since 1997… doing a lot of everything",  I felt excited about the prospect of meeting her.
In my interview with her, I truly discovered she is indeed doing "a lot of everything" — much more than most sheriffs — and here is what I learned when I sat down to talk with her last week.
First of all, I quickly became aware that both Terri and her dad are very personable and have a gift of making people at ease.
Hence, I felt very much at ease interviewing them and couldn't help but think if they had this ability to make me feel comfortable, then surely they have the ability to make others feel the same. This unique gift has likely been a key component in their success — but you need not take my word on this, just read their reviews and you will see for yourself.
And also, if you have the chance before they close their West Side doors, stop in and take a look at their framed endorsements which include numerous autographed photos of celebrities, well-known athletes and respected political figures.
[adrotate banner="87″]
In the Holt-Johnstone article which I mentioned earlier, it is noted that "Long's has been described as 'Bedding purveyors to the rich and famous' from its prime strategic location on Manhattan's Upper West Side. Renowned interior designer Steven Gambrel is a fan, as were John Lennon and former president, John Kennedy's son J.F.K Junior. Also on Long's client list are Jerry Seinfeld, Steve Martin, Carly Simon, Matt Lauer, Connie Chung and Diane Sawyer…"
Evidently "Mick Jagger was a tad unique when he ordered a wall-to-wall mattress for his bedroom (and) Revlon's Chairman, Ron Perelman, requested extra-firm custom-made mattresses for his ten homes, plus another, immediately, for his hotel room in Los Angeles."
But even though a number of publications have pointed out the celeb component of Long's clientele, it seems every person is important to the Long family and their employees.
This is evidenced in the great lengths they have gone to in selecting astounding delivery men and in their attention to detail to ensure a smooth process for all.
Terri's quote sums it up: "the most important customer is the one in front of me."
Her attention to detail can be seen by anyone she interacts with, but if you need to see something tangible (material); the following photos feature nightstands created by Terri for the purpose of showcasing Long's beds in their new environment on Third Avenue.
The nightstands she has created are from found objects, and they clearly show how she sees the beauty and potential in items one might ignore, such as Library catalogues …
… which Terri has converted into bedside nightstands.
She has also transformed abandoned mail boxes into nightstands.
In my mind, one who finds beauty and possibilities in "ordinary" things is someone who will be attentive to all aspects of the people they meet.
As for their beds, a brand new line recently "hit their floor."
It is known as The 1911 Collection (named so because the Long's have been in business since 1911) and it "honors (their) heritage and knowledge of how great beds are made."
Terri explains that a bed within The 1911 Collection "is named after one of our old phone number exchanges, the Butterfield 8, (which) reflects both our history as well as offering a nod to the past when things were made locally and by hand. This mattress is hand crafted with natural latex and wool and offers the most luxurious feel. A feel so good, you'll never want to get out of it."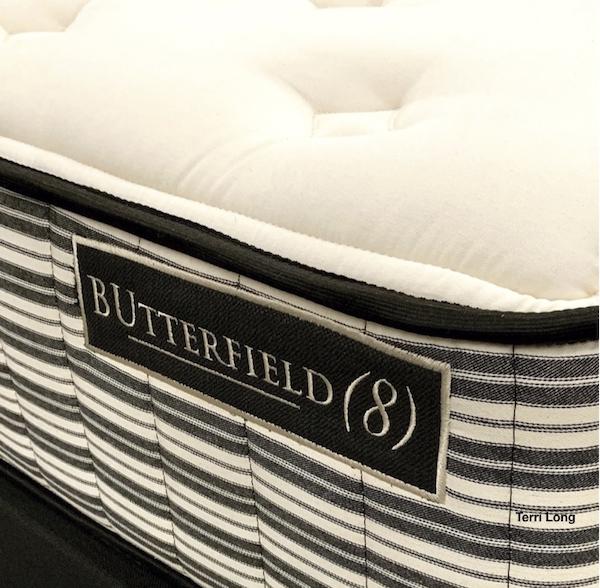 She goes on to say, "As we wait for approvals and finalize our plans, we welcome our new MCMXI Morning Side line of down duvets and pillows…"  and then proudly lets me know they have named them this for the Roman numeral version of 1911 — the year they went into the bedding business.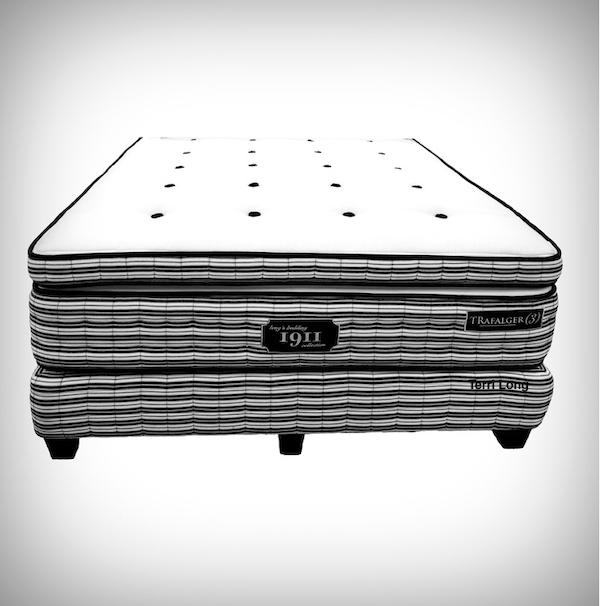 Terri confesses "While we (not so patiently) wait for approvals, we've been busy with planning, drawing, designing new lines… and last but not least, a new logo design. It's our first professional one ever!"
The Long's will undoubtedly be missed at 121 West 72nd, but one can keep posted on their comings and goings though the Instagram Page for Long's Bedding, and one can also feel reassured that East will meet West because of the Long's and/or the M72 Cross Town Bus.