When someone brings up theater in New York City, the neon lights of Broadway tend to be regarded as the gold standard. But luckily for Upper West Siders, there's top-tier entertainment conveniently located in the neighborhood thanks to WP Theater.
WP Theater (at 2162 Broadway between 76th and 77th streets, just steps from the 1/2/3 subway stop) was founded in 1978 to address the underrepresentation of women artists within the medium. In the decades since, it's sky-rocketed to the nation's largest theater company specifically devoted to the development of Women+ artists' work, fostering up-and-coming playwrights and established industry icons every season. And now, an exciting new project will premiere on September 23. Bite Me — by writer, filmmaker and actor Eliana Pipes — is a captivating dark comedy which focuses on the trials and tribulations of youth (a concept any audience member can surely relate to).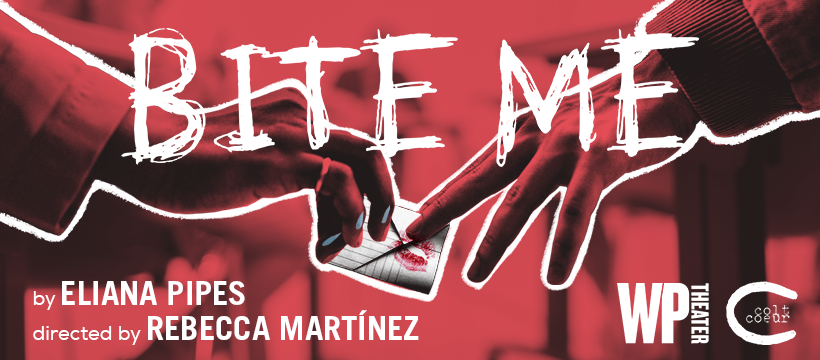 The intriguing synopsis reads, "Nathan is ditching class when he stumbles on Melody crying in a storage closet — he's a white boy with family money and dangerous habits, she's the lone Black girl on campus, excelling academically and grappling with feelings of isolation. They form an unexpected bond and it's not long before the heat between them boils over. Bite Me explores the drama (and trauma) of trying to fit in at high school, and the unfinished business waiting for them at their reunion a decade later. [It] dares to explore the unspoken truths that bind us." This world premiere event marks Pipes' inaugural work with WP and her Off-Broadway debut, so any savvy theater patron would be wise to get to know her now.
Speaking of Pipes, her impressive résumé speaks for itself. Primarily based in Los Angeles (her hometown), previously produced works include DREAM HOU$E, which was performed at multiple prestigious theaters throughout the U.S. Meanwhile, commissions from Two River Theater and South Coast Repertory, not to mention a slew of accolades like the Academy Gold Fellowship for Women through AMPAS, the WAVE Grant and the Leah Ryan Fund Prize for Emerging Women Writers, prove her prowess. A board member for Young Storytellers, Pipes is clearly already on the path to theatrical greatness.
Bite Me will be directed by WP Lab alum and former WP associate artistic director Rebecca Martinez, who recently garnered serious buzz with Sancocho, which premiered at the WP Theater earlier this year. The heartfelt tale of two Puerto Rican sisters navigating family tension was praised by The New York Times as a "heavily seasoned domestic drama," and her latest effort has fans waiting with bated breath. Co-Produced with Colt Coeur, Bite Me stars actors David Garelik and Malika Samuel as Nathan and Melody.
"Bite Me is a multi-layered and complex story rooted in a truly complicated and awkward time of life – high school," says Martinez. "This play keeps me thinking – how do the relationships we make at such a formative time shape how we approach adult relationships and what does it take to stand in our own power and rid ourselves of them if we discover that they no longer serve us?"
Bite Me performances begin September 23, so time is of the essence. Use limited time code ILTUWSBM* for up to 20% off of tickets. For the complete performance calendar, ticketing info and production credits, please visit the WP Theater website here.
*Discount codes are subjected to availability and can be revoked at any time.