Sheryl Crow was playing in my headphones. I would have preferred to shuffle her songs with Pearl Jam's Vitalogy and The Fugees' The Score, but my Discman only allowed one CD at a time.

I was wearing acid-washed button fly denim shorts – rolled up cuff and all – with a pair of classics, Air Jordan V white, fire red, and black. A few years earlier, I probably would have opted for the one-strap hanging shortalls and Adidas Phantom III low tops.
My Hypercolor shirts were retired from regular circulation by then, their magic lost long before. But I definitely wore my new shirt – an Elmo ringer tee from Urban Outfitters on East 59th Street. I had my windbreaker close by; I'm pretty sure it was the periwinkle Nike zip up (seen here).
That was me on my first day of college. And if you haven't already guessed, my style was obviously hella fly. Not!
It was the '90s after all, the last decade of the 20th Century that began with crime at an all-time high, DKNY everything, rollerblading, and the introduction of Metrocards and the Spice Girls. JNCO Jeans, grunge bands, boy bands and Britney Spears hit their strides before Y2K threatened to end all of humanity when the clock changed from 1999 to 2000.
Advertisement



Seinfeld was at its peak. The Village Voice and the peach-colored New York Observer were available in hard copy form at a curbside box near you. Movie times were available by calling Moviefone ("Hello, and welcome to Moviefone!"). And the Upper West Side, particularly the Lincoln Square area, was about to give me my first real taste of no parental supervision.
While most of these places lasted into the early 2000s, they helped me build my very own New York story, which began during the marvelous decade that was the 1990s.
Get The Upper West Side Newsletter
SIMS DELI
27 Columbus Avenue, between 60th and 61st Streets
The quick convenience of bialys, bagels, and all the other goodies this bodega offered was hard to beat for Fordham students on the go. Professors often grabbed an after-class refreshment (discreetly concealed in a brown paper bag) before hopping on a train at Columbus Circle.
The deli owner's favorite customer, Macaulay Culkin, stopped in regularly and disrupted the flow of us mere peasants as we tried to rush to class. "Hey, Big Mac!" Dreaded words which meant the kid from Home Alone, his brother Kieran, and Christina Ricci, the Culkin's friend from West 60th Street's Professional Children's School, were getting fast passed to the front of the line.
Of greater significance to 18-year-old freshman me was where I could buy alcohol. Sims would never sell Fordham students alcohol. I didn't have a fake ID, and so yadda, yadda, yadda, my Zima came from 4 Star Deli on Ninth Avenue, between 57th and 58 Streets – or the little magazine store next to Morning Star Restaurant. All three are now defunct, four if you include the Zima.
Today, the space is occupied by Alan's Marketplace.
Advertisement
TOWER RECORDS
1961 Broadway at 66th Street
My job for the first part of my college career was at Tower Records at 66th and Broadway. I was assigned to the vocals and soundtracks department at the top of the long escalator that shuttled shoppers to the third level. Playwright, lyricist, and Upper West Sider Adolph Green was a regular. In the pre-smartphone era, a coworker clued me in to who he was. Despite my complete lack of knowledge about classical music, Mr. Green would always ask me to accompany him to the store's classical section to help him pick out new tunes.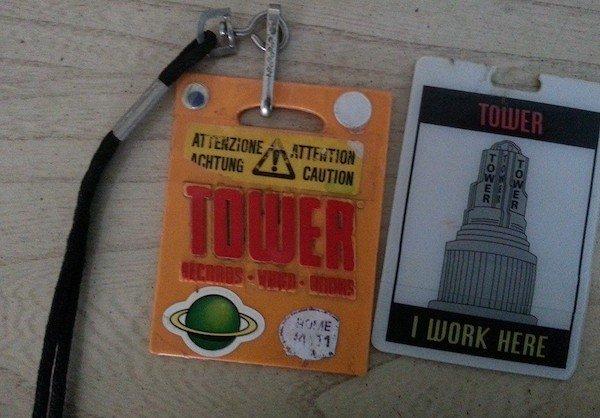 Celebrity sightings occurred quite frequently, but none bigger for me than when Barbara Hershey came in … and talked to me! I was (am) a huge Beaches super-fan and seeing Hillary Whitney live and in the flesh was almost too much. Realistically, our "talk" was her asking how much the Frank Sinatra box set behind the counter was. (Her response to the steep price tag? I'll never tell but I remember it verbatim.)
The old Tower Records is now a Raymour & Flanigan …
READ MORE: Be Kind, Rewind: The Days of Video Rental Shops on the UWS
BARNES & NOBLE
1972 Broadway at 66th Street 
I spent many hours across the street from Tower Records at the Barnes & Noble. It was a bibliophile's paradise. Its five levels of wall-to-wall books gave patrons daily opportunities to lose oneself in the oldest classic or the newest New York Times bestseller. If you ever wanted to waste time or even an entire day, the store's ample floorspace accommodated those who wanted to settle in and lean back against a shelf to read, eat a meal, or escape the bustling city just beyond its floor-to-ceiling windows. And it was open until midnight!
Tower closed in 2006 and Barnes & Noble shut its doors for good in 2011, both integral parts of the fabric of the neighborhood gone forever. (Check out the sad pictures of an empty B&N here.) The space at 1972 Broadway was last occupied by Century 21 and currently sits empty.
READ MORE: Early 1980s Stories of The Ansonia
SONY THEATERS LINCOLN SQUARE
1998 Broadway, between 67th and 68th Street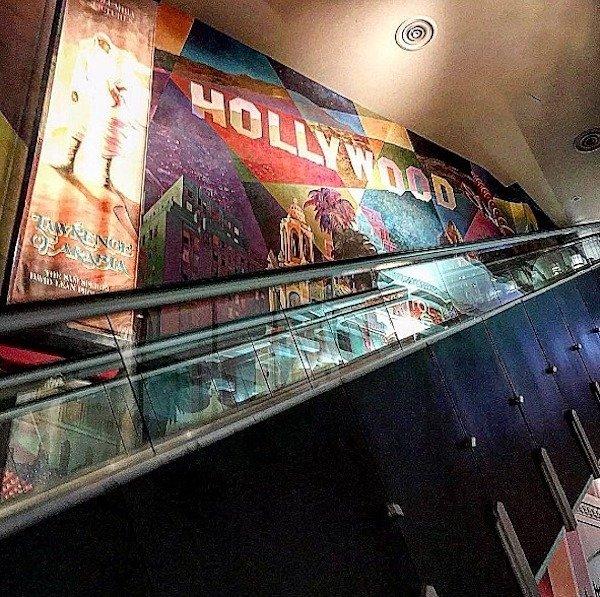 IMAX moved in to the neighborhood with the opening of the Sony Theaters Lincoln Square in 1994. "What's IMAX," I remember asking. "I think it's a massive screen," came the reply. Half right.
The first movie I saw on IMAX was Titanic in early 1998. I was a few weeks late to the James Cameron phenomenon starring Growing Pains and The Basketball Diaries star Leonardo Di Caprio and an actress new to American cinema-goers, Kate Winslet. The movie and theater did not disappoint and the larger, taller IMAX seats helped make sitting for over three hours more enjoyable.
The theater initially had nine screens and new-fangled technology called electronic ticketing machines. Though the name of the theater itself has changed to AMC Lincoln Square 13, the décor has remained relatively untouched over the years, as have the names of the individual theaters.
Advertisement
LINCOLN PLAZA CINEMAS
1886 Broadway, between 62nd and 63rd Streets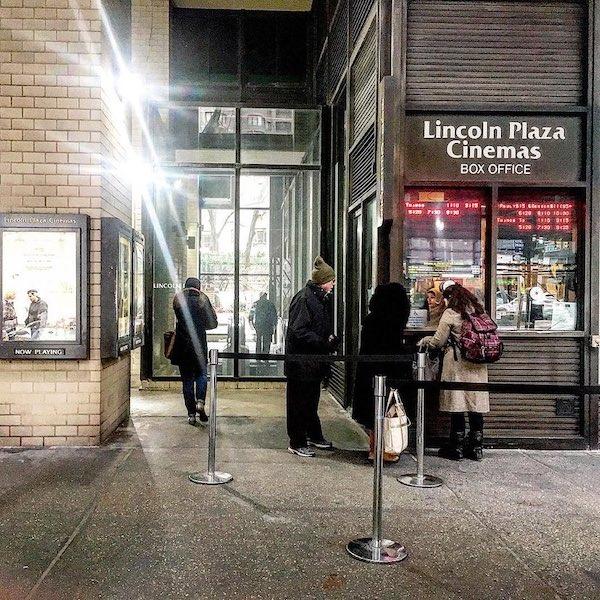 Lincoln Plaza Cinemas rolled its last reel in 2018, but long-time patrons took action. New Plaza Cinema was subsequently formed with the hopes of keeping "Art Cinema Culture alive in Upper Manhattan," with the backing of some of Hollywood's biggest names sitting on its advisory board. Members include Frances McDormand and husband Joel Coen, Mandy Patinkin, Harry Belafonte, and Susan Sarandon.
The spinoff theater sits across the street at NYIT's auditorium at 1871 Broadway, the original site of the Cineplex Odeon that opened in 1989 and later Clearview Cinemas until 2009. New Plaza Cinema was forced to close in January 2020 after a water main break destroyed the interior, but various films are still being streamed virtually.
READ MORE: Hellman's Mayonnaise Originated on the UWS
THE SALOON
1920 Broadway at 65th Street 
No trace of The Saloon remains. Its former block now houses Lululemon and Bed Bath & Beyond. The "quasi-Parisian bistro" stood out way back when because of the roller-skating waiters. The New York Times reported that the skates were hung up by 1996. But waiters wheeling around between outdoor tables and a sidewalk full of pedestrian traffic – with full trays of food and drinks in hand – sure made this an interesting slice of the Upper West Side.
In a 2013 interview with New York Magazine, Upper West Sider Richard Kind reveals that his first job out of college was a waiter at The Saloon – but he refused to wear skates.
THE IRIDIUM
44 West 63rd Street between Broadway and Columbus Avenue 
The Iridium was the home of guitar legend Les Paul when it opened in 1994. "The Iridium began in 1994 on Manhattan's Upper West Side and began by booking local acts and a popular late night jam session introduced the club to many of the 'young lions' of jazz who were playing in trumpeter Wynton Marsalis' Lincoln Center Jazz Orchestra which performed regularly across the street." After a third renovation, the club headed to midtown in 2001 and has remained at its 1650 Broadway location since. There were few things cooler than heading down the street to some late-night jazz in the middle of a study break.
LINCOLN STATIONERS
1889 Broadway at 63rd Street
As someone who loves shopping for office supplies, notebooks, and unique gifts, living just a few blocks from Lincoln Stationers was truly a wonderful thing. I probably spent a small fortune there, but it was worth it for the stash of fountain pens and leather-bound journals that I have to this day. Unfortunately, the stationary extraordinaire was chased out of the neighborhood after 30 years in 2006 to make way for a Starbucks and Duane Reade.
Advertisement
CAFE LA FORTUNA
69 West 71st Street, between Columbus and Central Park West
A favorite hangout of John Lennon and Yoko Ono, Cafe La Fortuna shut its doors in 2008 with three days notice after 32 years of serving Upper West Siders with delicious sandwiches, baked goods, and opera music. New management took over and the increased rent was simply not sustainable.
Denizens of the local favorite flocked to local churches to pray that it would remain open. Heartbreak ensued when it closed. Actor Henry Stram told the New York Times that if the café ever closed, it would be time to leave New York.
Today, the space is occupied by a Drybar.
GROSSINGER'S BAKERY
Columbus Ave locations (88th and 76th Streets)
Grossinger's Bakery was a favorite part of my friend Paul's Upper West Side life in the 1990s, and like Cafe La Fortuna, was also frequented by John Lennon and Yoko Ono.
The baking was done at the 88th Street store and well, here is how Paul told it:
"The younger women at the uptown branch took a liking to me for some reason. Since Grossinger's made the best challah around, there would inevitably be a long line every year at Rosh Hashanah. You had to reserve a challah in advance for the holiday, and even then had to wait on a line that stretched outside and down the block. I invariably forgot that the holiday was approaching until I saw the line on the sidewalk, and of course never pre-ordered. The first year that happened I poked my head inside to see what was up, and one of the shop ladies spied me, took me by the hand, and let me back into the kitchen as if I belonged there. She then slipped me a warm challah fresh from the oven and ushered me out a side door. We repeated that little dance for several years."
Couldn't we all use a bakery like this? Well, they actually still exist.
Advertisement
NEW YORK COLISEUM
10 Columbus Circle
Rarely a day passed where I didn't see this monstrosity of a windowless building, a product of the "matchless imagination" of Robert Moses and a symbol meant to confer upon him the immortality of the Caesars of Rome. The immortality of Moses' Coliseum lasted less than 50 years.
But this building offered some of the best the city had, at least on the outside. Its curbside market was a haven for knockoff baseball caps, gloves, umbrellas, and cheeky tee shirts. Its location spared souvenir seekers the trip to Times Square. And those baked goods sold by the Amish families. Oh, those delicious baked goods!
I was inside only once. The building played host for a traveling Smithsonian exhibit that included a pair of Judy Garland's ruby red slippers from The Wizard of Oz. That is all I remember from that excursion. But seeing that building signaled that I was home and I was legitimately sad when they tore it down. The New York Coliseum was a marker of the neighborhood, a landmark of sorts designating the start of the Upper West Side at its southernmost point.
The Time Warner Center followed The Coliseum. It would soon become the Shops at Columbus Circle, and now, it's the Deutsche Bank Center.
READ MORE: Seinfeld Locations on the UWS
CAFE MOZART
154 West 70th Street (off corner of Broadway)
One of my favorite restaurants was across the street from Lady Gaga's childhood home. From 1991 to 2008, Cafe Mozart served up live piano music with a variety of breakfast items, sandwiches, schnitzel and pasta, baked brie, and other deliciousness. I think it had a menu option called Amadeus Vegetables that I ordered all the time just because I though the name was cool. But the desserts are what I miss most: peanut butter fudge cake, Mozartcino, strudel, and the Rock Me Amadeus. Where can I start a petition to get this place back?