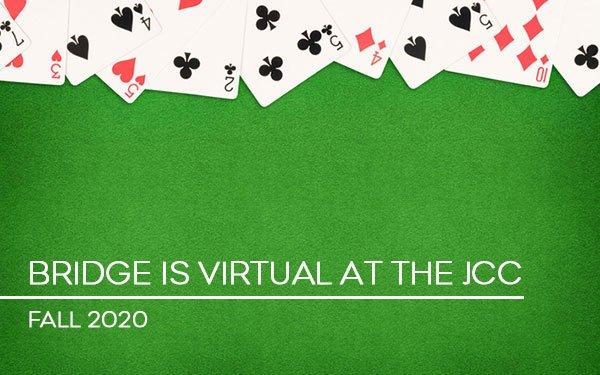 Try one of Peter Steinberg's interactive bridge classes, presented online by the Marlene Meyerson JCC Manhattan, with two free sessions offered this month! This is much more than just a lecture — it's ten interactive sessions a month, plus free extras, including Frank Stewart's daily syndicated bridge column, weekly quizzes, accessible taped viewings of prior sessions, specially designed packets of interactive notes, and more.

The $45 monthly fee provides participation and access to everything we offer. Try it for free and then decide. The JCC would love to have you join this community.
Free Classes:
Wed, Oct 21, 1–2 pm
Thu, Oct 22, 7–8 pm
To sign up for a free class, click here.
Bridge Clubs:
Intermediate Through Advanced
Oct:  Tuesdays, Now–Oct 27
Nov:  Tuesdays, Nov 3–24
Dec:  Tuesdays, Dec 1–29
Advanced Beginner
Oct:  Thursdays, Now–Oct 29
Nov:  Thursdays, Nov 5–26
Dec:   Thursdays, Dec 3–31
To sign up for a monthly bridge club, click here.
Questions? Email the JCC here using the subject line "Bridge."