To make top-level omakase sushi, a laundry list of variables has to be carefully considered. The chef, ingredients, timing, and setting all have to come together to create an amazing experience for a lucky diner. At Sushi Takeda, this goal is seamlessly accomplished and the result is one of the best new sushi restaurants not only on the Upper West Side, but in all of New York City. You can find them at 566 Amsterdam Ave, between 87th and 88th Streets.

It was cold and rainy when I walked along Amsterdam Avenue to Sushi Takeda, but I quickly forgot about the weather when I stepped inside. The restaurant is simply decorated but warm, with a wooden, 10-seat sushi counter taking up almost the entire space.
Sushi Takeda's staff is equally welcoming and I was quickly in my seat, taking in the chef's meticulous final preparations.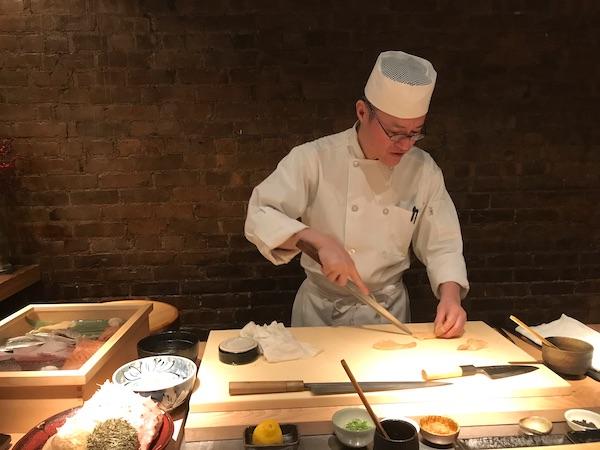 Since Sushi Takeda's ten chairs all face the two chefs, it's clear that the experience is not just a meal, but a performance. Chef Takeda Yukihiro has spent decades mastering sushi, first learning in Japan before coming to New York almost 30 years ago. It was hard to stop watching him prepare salmon, tuna, and snapper long enough to look over the menu.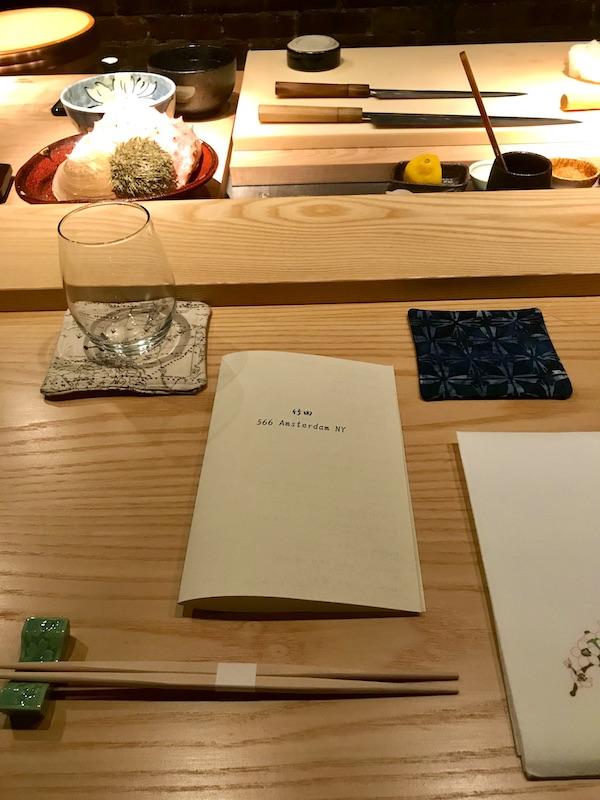 Luckily, the decision-making at Sushi Takeda is easy. The menu is only for drinks, offering sake, wine, and a couple beers. The food options are more limited, with three choices: 11 pieces of sushi for $85, 14 pieces for $105, or 16 pieces for $120. Each option also includes an appetizer and, depending on the night, soup. There are no wrong choices.
After a hot towel, the meal started with an appetizer of lightly cooked snapper and a small cup of cold sake. The quality of the food was immediately obvious, and the sushi hadn't even begun. As soon as the snapper and sake were gone, Chef Takeda carefully placed the first piece of sushi on the black dish that sat on the upper ledge of the counter. The fish was thinly sliced and draped over warm rice with a hint of vinegar. My curiosity was quickly answered. "Fluke!"
There is no doubt about Chef Takeda's skill, but the ingredients can be just as important. At Sushi Takeda, 85% of the seafood is flown in from Japan and each type tasted clean, fresh, and flavorful. After the fluke came soy-marinated bluefin tuna which was darkened around the edges with a deep red throughout the center middle.
Next was scallop, with a thin wafer of seaweed between the mild shellfish and the warm rice.
The Scottish salmon tasted as good as it looked, and the horse mackerel had a perfect kick of wasabi hidden under the fish. Medium fatty tuna was followed by shrimp topped with uni, or sea urchin.
Some of my fellow diners opted to forgo the shrimp with uni, but it was incredibly mild, creamy, and smooth. Seared mackerel was then followed by a delicious hot egg custard vaguely reminiscent of a quiche, although I'm sure either French nor Japanese chefs would appreciate my comparison.
With a meal consisting of 16 small courses (I actually counted 20), timing plays an important role. As soon as a piece of sushi hit my plate, Chef Takeda was working on the next, like the light-pink sea bream or huge slice of orange clam.
I never had to wait for the next piece of sushi or hot dish, but the meal didn't feel rushed. While I instinctively wanted to close my eyes and savor each bite, the performance continued throughout. A blow-torch made a couple appearances, quickly searing slices of mackerel and sea eel seconds before they hit my plate.
The final pieces of my meal were some of the most memorable. The Shiroebi topped with wasabi came from the hometown of the restaurant's owner. She told me that the northern Japanese shrimp are only available in the winter and are her favorite dish, which I can understand. Next was fatty tuna, which almost melted in my mouth. The most surprising dish had a raw quail egg nestled between salmon roe and uni (pictured below). The combination of flavors and textures was incredible and not something I had ever experienced.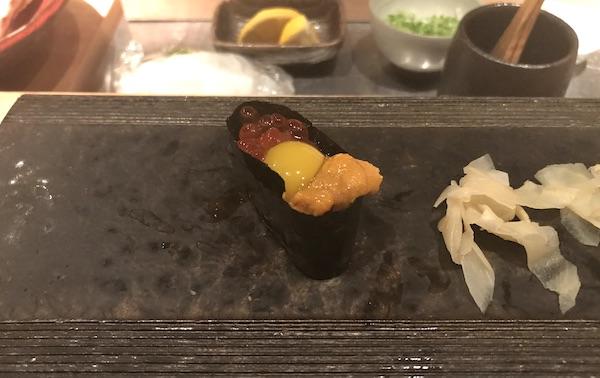 Finally, a hand roll with fatty tuna and scallion gave way to a piece of tamago, or egg omelette.
The intimate setting allows for constant interaction with the chef, even if it is just to quickly tell him how good that last piece of tuna was. The simplicity of the food is mirrored by the restaurant's ambience, which doesn't distract from the sushi and the chef working in front of you. I walked past Sushi Takeda a couple times since the restaurant opened in November, but never realized what was inside. The subtlety of the building adds to the excitement of finally having a reason to open the door.
Although Sushi Takeda isn't cheap, it's reasonably priced compared to other omakase spots in the city. There are three 10 person seatings per night and Chef Takeda says reservations are quickly filling up. Takeda Sushi flawlessly combines dinner and a show and is well worth a trip for anyone in the neighborhood or beyond.
SUSHI TAKEDA
566 Amsterdam, between 87th and 88th Streets
(646) 370-6965
Open Monday to Saturday from 5:30-10:30pm (reservations required)
www.takedanyc.com
Follow on Instagram
Find on Facebook