Assembling a solid medical care roster is like putting together a professional sports team — it's anything but easy, and it's expensive.
Any New Yorker knows the struggle is real! If your general practitioner and dentistry situation is covered but you're in need of a top-notch specialist, you're in luck thanks to Flex Foot & Ankle. The popular woman and minority-owned practice, founded by Dr. E. Giannin Perez, is helping to revolutionize the podiatry industry one foot at a time — and best of all, they're now open six days a week (including Saturdays)!
Launched last year in prime Midtown at 1410 Broadway (between 38th and 39th streets), Flex Foot & Ankle is designed to make world-class care accessible to you. After all, Dr. Perez is one of just 30 podiatrists in the state of New York who holds a coveted Advanced Ankle license. Not sure what this means? Consider it the cream of the crop of degrees when it comes to anything south of the ankles — trauma, reconstruction, sports medicine, you name it.
Originally inspired to pursue podiatry after a stint as a Division I college tennis player (which resulted in bunion surgery), Dr. Perez — a veteran New York City Marathon runner and salsa dancer — knows a thing or two about the importance of getting back on your feet in a swift fashion. This isn't a practice which will put you under the knife for no reason. In fact, Dr. Perez focuses on preventative pathology to eliminate the need for more invasive procedures and complications down the line.
Patients have been singing Flex Foot & Ankle's praises, with their testimonial page displaying pristine five-star reviews. "Dr. Perez has taken care of myself and my daughters over the years. Her knowledge and professionalism are beyond comparison," one ecstatic client wrote. Meanwhile, a surgery patient explained, "Dr. Gianni Perez is a fantastic surgeon, having her perform two surgeries on bone spurs in my left and right heels, I can attest to her excellent work. She has been very personable to deal with and has been spot on with her pre-surgery, post surgery diagnosis and treatment."
To learn more and to make an appointment, visit flexfootankle.com or call 212-204-2455. Flex Foot & Ankle can also be found on Facebook, Instagram and TikTok — and remember, they are now open six days a week!
Read on for a breakdown of their most popular treatment options (and check out Dr. Perez's blog, too!).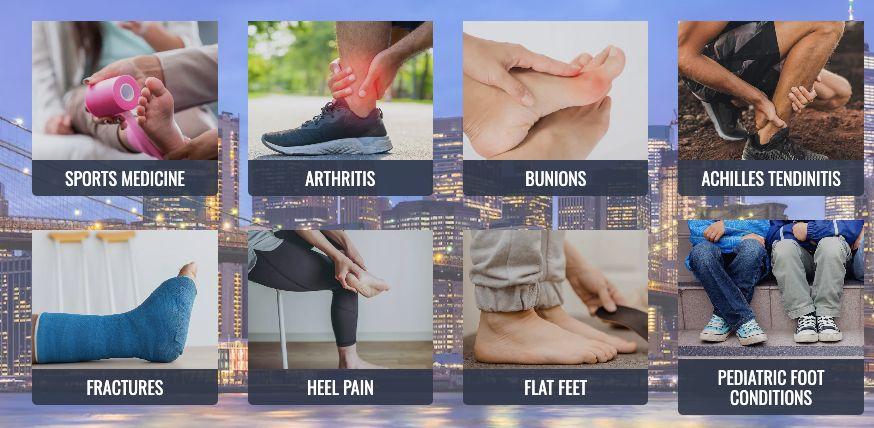 Bunions: As one of the most common foot problems adults face in America, bunions are relatively easy to diagnose with a biomechanical exam and gait analysis. As noted, Dr. Perez has been through this herself — so she knows the drill to a tee!
Sports Medicine: This multifaceted field involves injuries caused during athletic activities. Treatment often involves physical therapy, training and proper care, as well as PRP (platelet-rich plasma) injections. Sports injuries commonly treated at Flex Foot and Ankle include sprains, tendinitis, tendon ruptures, osteochondral lesions and ankle impingement. Dr. Perez takes X-rays to determine how to best treat your injury, and you'll go from there. The goal? To have you back on the court or field in no time!
Arthritis: Arthritis impacts people of all ages, and any aching or discomfort in your joints can be treated through custom orthotics, a steroid injection or other methods. If surgical intervention is needed, Dr. Perez will be able to pinpoint the precise problem area.
Fractures: If a fracture is left untreated (regardless of how it happened), it can contribute to incorrect bone growth in the long run, so handling the issue as soon as possible is essential. Be it a high-impact injury or the result of a slight fall, Dr. Perez will develop a personalized treatment plan for all patients.
Heel pain: A particularly pesky problem impacting many is heel pain, which may be caused by a high arch, wearing shoes without proper support and plenty of other reasons. Dr. Perez is well-versed in this space, and will recommend treatments ranging from stretches to PRP (platelet-rich plasma) injections.
Flat Feet: Two in 10 children are impacted by flat feet into adulthood, which may result in leg or foot pain. Instead of dealing with faulty arches for life, explore your treatment possibilities, which may include anti-inflammatory medicines, physical therapy or foot and leg braces. Surgical options will also be considered.
Pediatric Foot Conditions: Sadly, you're never too young for foot and ankle pain. Dr. Perez treats children as young as three, and as a mother herself, she knows that excellent bedside manner and providing a safe environment is paramount to your loved one's recovery.
Custom Orthotics: Dr. Perez utilizes the latest technology to create removable, custom-made inserts which can serve many different purposes including realigning your feet, managing pain and more. These are also designed to fit into many different shoe types.