One of our readers, Alexandra R., has contacted us because for the past week, she's noticed dozens of dead fish floating in the Hudson River, from the 79th Street Boat Basin to 96th Street and beyond.

Here are some images and a video Alexandra sent us:
Advertisement
And here are some additional photos we received from @gothams_ambassador, who was told by a parks employee that he thinks this was caused by an issue at the sewage facility in Upper Manhattan, and believes the fish are dying as a result of algae.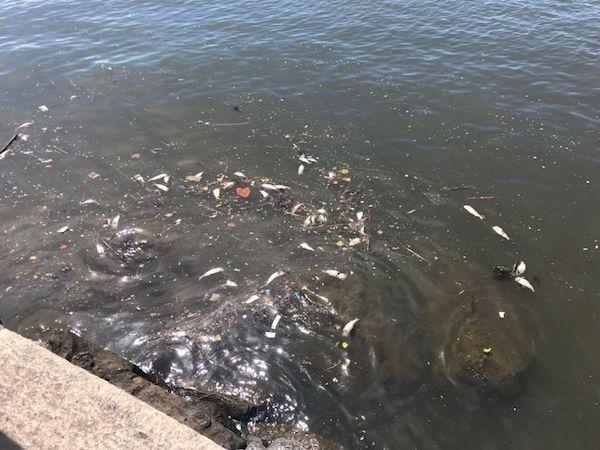 I don't know exactly how far north the floating fish can be found, but when I went to check out a new restaurant and bar on the Baylander at West Harlem Piers, I saw quite a few of them.
We reached out to both the Riverside Park Conservancy and the Department of Environmental Protection. The Riverside Park Conservancy got back to us and told us that on Wednesday morning, they also reported the issue to the Urban Park Rangers, DEC and the River Project.
The Urban Park Rangers took a fish sample to send for testing with the DEC.
The Conservancy tells us this appears to be the result of a pocket of low oxygen, which isn't entirely out of the ordinary. This can happen with warm weather, heavy rains, algal blooms and other factors.
It also seems to have only affected one type of fish – the Bunker – so it is possible that they are particularly sensitive to whatever combination of factors exist. If it was a toxin, it is assumed that a cross section of wildlife in the river would have been affected.