Friends of Straus Park is completing a major preservation project of all 50 benches at Straus Park at 106th and Broadway. The volunteer group is using an all-natural preservation method on the wood, using pressure washing to remove mold and dirt, sanding the wood in preparation for a multi-coat Tung-oil application. The result are benches that are now clean, beautiful, and, preserved to last much longer. All this without paint or varnish, which is difficult and costly to maintain. The bench project in Straus Park is now 75% finished; they're expecting to be done by early next month. with expected park completion by early October.
Advertisement



The Straus Park volunteer team is led by Paul Froehlich and Joe Arbo, both of Friends of Straus Park. "We approached the New York City Parks Department with this environmentally friendly preservation method," noted Froehlich, "and prepared a 'demo' preservation bench for review. We were pleased to hear that the plan was approved and allowed to be carried out with carefully supervised volunteers."
Arbo added, "Volunteers have always been the key to maintaining Straus. This includes park cleaning, annual projects like the bench preservation project and the very popular seasonal flower planting, which I manage." The bench volunteer team is comprised of a diverse group of 10 individuals from the surrounding community.
The bench preservation process stands out as an environmentally safe method. It starts with cleaning using a Lithium battery-powered pressure washer. Then, each bench is hand sanded and given two coats of Tung oil (a natural tree oil). Volunteer members of the team have enjoyed transforming the park's benches, both to make them more aesthetically pleasing and to make them last longer. Community members have commented favorably on the "new benches" and how the park is more welcoming.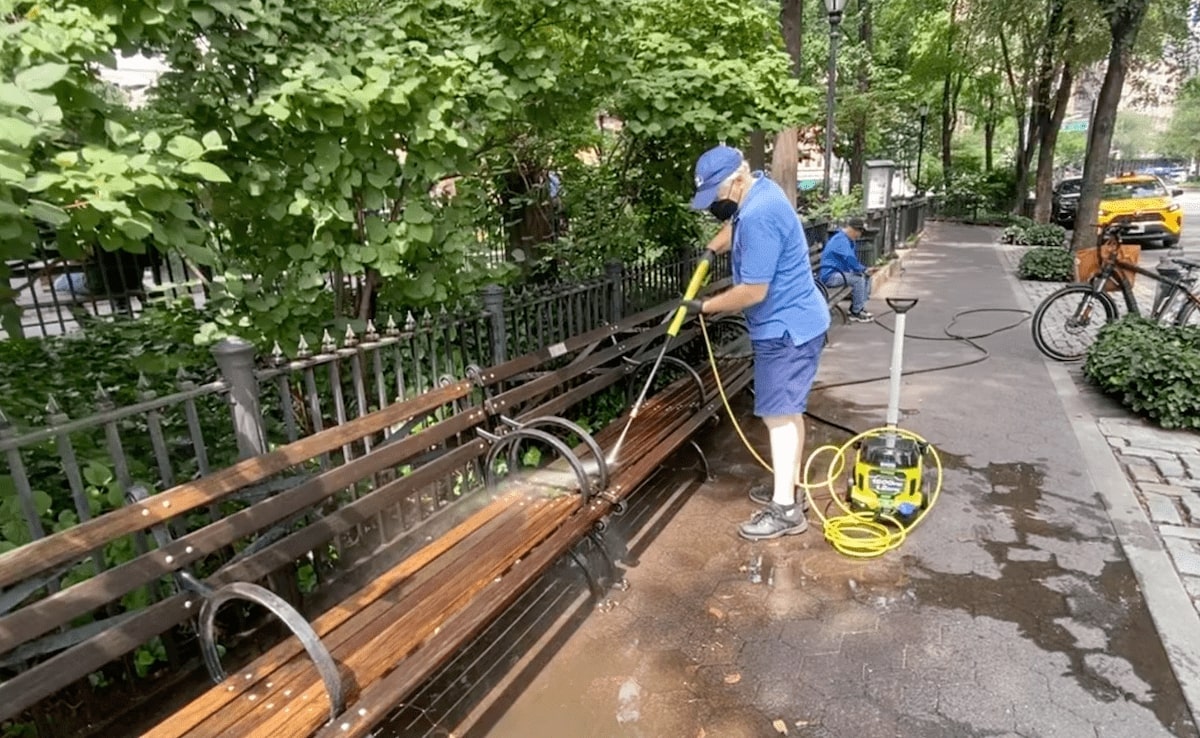 Advertisement
"It's a jewel of a place for our neighbors to stroll, enjoy nature, and relax," said the President of Friends of Straus Park, Virl Andrich. "Whether it's reading a book, bringing children to play, or, just enjoying the flowers, trees and birds of the park. And I'm pleased to see this bench preservation project help transform our park and involve so many neighbors who volunteer. I know of no other project like this in the city at this time. We're proud to be doing this important project."