Good Enough To Eat has expanded. GETE has been serving American comfort foods on the Upper West Side since 1981. Their original location was on 83rd and Amsterdam, which closed in 2012.  In 2013, they reopened at 520 Columbus Avenue (on the corner of 85th Street).

Now, they've taken over the space next door, at 522 Columbus Avenue. This was the former home of Zen Taco, which closed after just about a year. Before Zen Taco, Firehouse Tavern had occupied the space for 28 years.
Advertisement
Even though GETE now has two side by side restaurants, the new location is a separate space with a new menu – and they've distinguished it from the original with pretty easily digestible signage.
Let's start by looking at the beer, because it's Friday, and I said so. The new spot has drafts, bottles and cans, with some premium brews including Goose Island IPA and Captain Lawrence Freshchester (drafts), Blue Point Blueberry and Golden Monkey (bottles), and Lagunitas IPA and a sour ale from Dogfish (cans).
The food section of the new menu features starters including nachos and wings, and a few french fry varieties. The main entree categories are burgers and chicken.
The 9 burgers options are served on a Hawaiian bun, and the meat is made from a blend of black angus brisket, chuck and short rib. They also offer daily burger specials.
The chicken is hormone, antibiotic, steroid and cage free, and can come roasted or fried and as a platter or in several sandwich forms.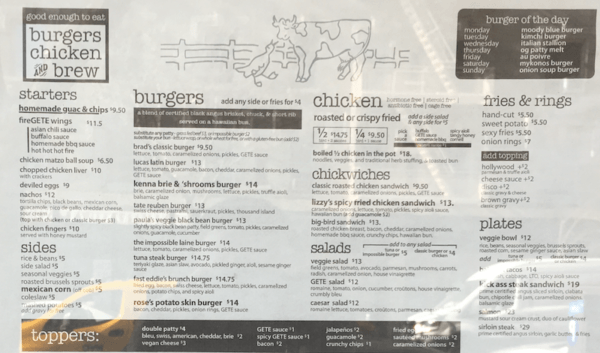 Here's the new website: www.geteburgers.com
Join the newsletter for more UWS food news!