Japanese barbecue restaurant Gyu Kaku has soft-opened at 620 Amsterdam Avenue (between 90th and 91st Streets), and is currently open between the hours of 5-10pm. This is one the UWS has been anticipating for a while! We actually first broke the news in October of 2018. The last occupant at this space was Saigon Grill, which closed in February of 2013.

We got to try Gyu Kaku on Sunday night. The food was great and it was a lot of fun. Each table has a personal grill, so you get to cook the food yourself, making it a cool destination for parties, events and dates.
The menu is pretty big but our waiter made some good recommendations.

Advertisement
I started with a Lychee Gin Mojito which was great; the taste of alcohol was very subtle and it had nice sweet undertones. He also recommended the Mango Mai-Tai, but it was a Sunday night, so my limit was one cocktail.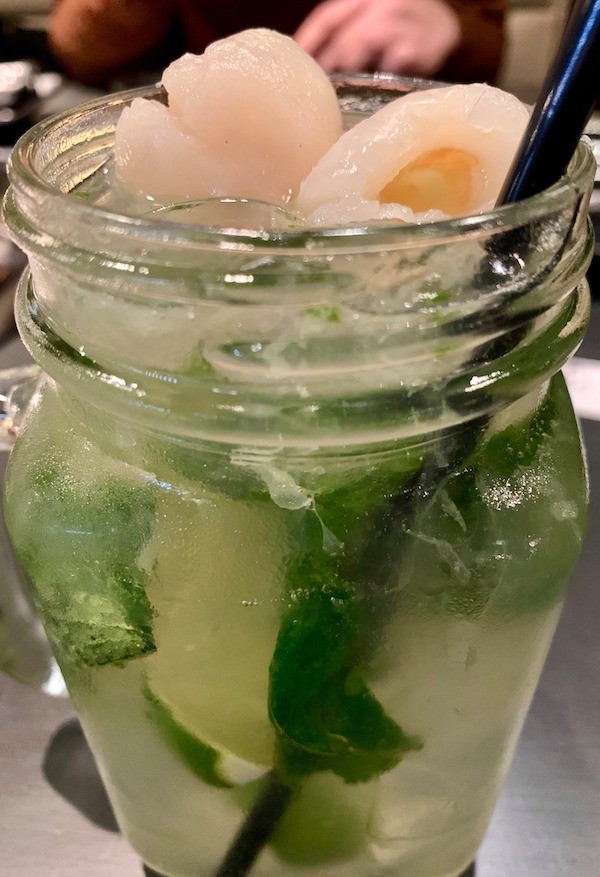 We started with two small plates.
One we couldn't pass up on was the Fried Cheese Wontons, which are crispy and filled with cream cheese and green onions, served with their sweet chili sauce (not spicy at all).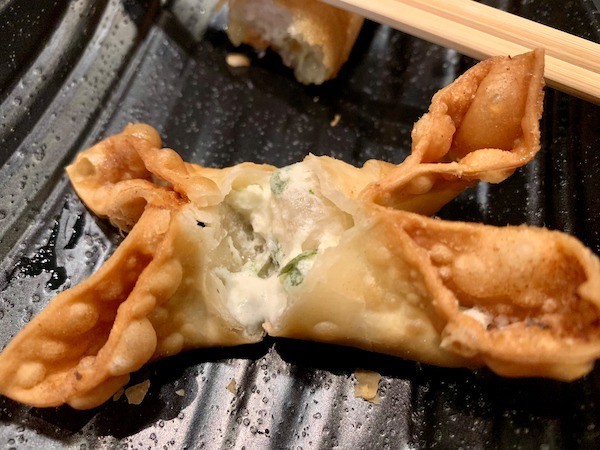 We also got their vegetable spring rolls – also served with sweet chili sauce and a shishito pepper.
Updated: The Best Restaurants on the Upper West Side
At the suggestion of our waiter, we ordered two meats: the "Harami in Secret Pot" (in the bowl with the peppers) and the "Toro Beef" (which looks like bacon).  For veggies, we got zucchini and broccoli (the broccoli was cooked in tin foil and had amazing flavor on its own.  I dipped the zucchini in their sauces).
Time to cook the meat!
Our waiter suggested we cook the "Harami in Secret Pot" for about 3 minutes on each side.  The Toro beef required about 30 seconds on each side, but we exceeded that to get it nice and crispy.
This scissor-cutting required our waiter's assistance.
Time to eat the meat!
The "Harami in Secret Pot" is a half pound of meat in a mild miso marinade. The menu indicates it is enough for at least two people to share … definitely accurate (even though we ate a lot more). Super juicy and flavorful.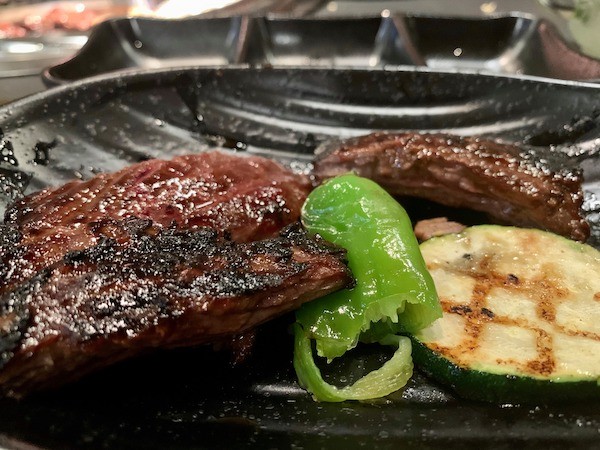 And here's the cooked Toro beef: thin sliced beef belly, "just like bacon"!
All of Gyu Kaku's dipping sauces were great, but to be honest, I lost track of which ones I dipped into, and when. It was sauce-dipping chaos.
Coming Soon: Vanessa's Dumpling House
Just Opened: Vietnamese Restaurant Two Wheels
After we thought we were done, a waiter (not ours) walked by with a small plate which we told our waiter to bring us immediately. This "cheese corn butter" comes in a small cast iron skillet.
We decided to finish our meal with two desserts…
The green tea ice cream:
And some s'mores to finish off the evening (she should have done it longer):
Gyu Kaku has daily happy hours with some pretty attractive prices.  From Monday to Thursday, they have happy hours between 11:30am-6pm as well as from 9:30-11pm. And from Friday to Sunday, there's a happy hour between 11:30am and 6pm.
Just to reiterate, they are currently open between 5-10pm, so we'll need to wait until the grand opening to enjoy these happy hours in full. 
Happy hour cocktails range from $5 to $9, and all beers are $3.50 (Sapporo Light, Blue Moon, Corona and Stella Artois.

Advertisement
Gyu Kaku Menus (happy hour prices are in red)
Gyu Kaku has over 770 locations, and we're absolutely thrilled that they've put their flag down on the UWS!
You can reach them at (646) 850-2989 and bookmark their UWS page here.
Get the Upper West Side newsletter for more food news!