While the Hippo Park Parade and 69th Street celebration won't be happening this year, Halloween is most definitely not canceled! There are still many fun options for Upper West Siders, both at home and out.

Trick or Treating
Many local businesses will participate in handing out candy to kids on Halloween. Some of our favorites include the Pinkberry at 2041 Broadway (between 70th and 71st Streets) and Books of Wonder at 217 West 84th Street (between Broadway and Amsterdam). These places and others do have limits on how many people can be in the shop at a time, so please make sure to look for signage before entering.
Another creative way to "trick or treat" this year is to go visit these spooky brownstones! Pro tip for parents: bring your own candy and give your kid a piece for each house they find in the neighborhood.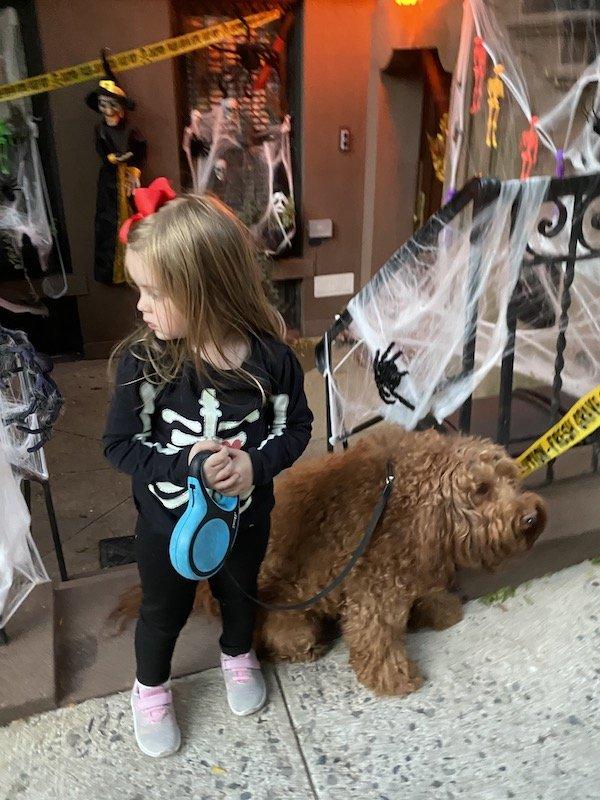 One last option for trick or treating is to plan a scavenger hunt around the neighborhood that combines some fun and haunted places to visit. Bring some candy with you or plan for it to be waiting at your final destination. Here's a list of haunted buildings to add to your scavenger hunt list.
Halloween at Home

Make sure your home is decorative and festive this year so that you can still enjoy the season. Paper Source at 309 Columbus Avenue, between 74th and 75th Streets, has everything you need to decorate your apartment! They also have lots of crafting options for adults and kids.
Here's a look at some of Paper Source's selections from our recent trip:
Stock up on scary books and movies and enjoy them in the coming weeks. Shakespeare and Co. located at 2020 Broadway, between 69th and 70th Street, has some great options. Our favorite books for kids include Room on the Broom and The Little Old Lady Who Wasn't Afraid.
Don't forget to stock up on candy! Having the best treats at home will keep the Halloween spirit alive. You can also leave some outside for neighbors who pass by. Check out It's Sugar at 1870 Broadway, between 61st and 62nd Streets, for all your sweet needs!
Most importantly, if you still need a costume, there is a pop up Spirit Halloween costume show located at 112 West 72nd Street, between Amsterdam and Columbus Avenues. You can find everything from Cinderella to Dracula there!
You can also check out the below virtual options for more Halloween fun from home this year!

Advertisement
Laurie Berkner's Halloween Party
Saturday, October 31 from 12-5pm
Enjoy two live and interactive virtual performances by beloved children's music performer Laurie Berkner. Dress up your kids and sign up for one or both of the sessions. Laurie will be dressed up and will have a full array of Halloween décor and fun. Laurie will even sing her brand new song, "What am I goanna be for Halloween" as well as her long list of classics including "Monster Boogie" and "The Cat Came Back." Tickets start at $20 and you can book here: laurieberkner.com.
American Museum of National History Watch Party: Spooky Space
Museum astrophysicist Jackie Faherty answers all your questions  about spooky space!
"Encounter cosmic phenomena that would be dangerous to you if you were to venture off into our universe. Find out about low-mass stars, which are not visible to the naked eye. Or get to know Gliese 710, a star—possibly with its own Solar System—that will pass right through our Solar System in a million years. Perhaps most haunting? Knowing that the Milky Way and Andromeda Galaxies are on a collision course. Tune in to find out when they meet!"
You can join for the live session on Tuesday, Oct 13 at 2pm or view anytime after at amnh.org/calendar/spooky-space
Halloween Events at New-York Historical Society
"How to Make friends with a Ghost" on Tuesday, October 27 and Friday, October 30
This is for all ages! "How to Make Friends With a Ghost, written and illustrated by Rebecca Green. Meet two unusual friends: a girl and a ghost. Find out how to take care of a ghost so it can be your lifelong companion. Afterward, celebrate Halloween and make friendly, scary, or silly ghosts!"
"Spooky Stories" on Wednesday, October 28 at 1pm
This is for all ages!  "Celebrate Halloween online! Join us for music and historic spooky—but not too scary—stories with master storyteller Jonathon Kruk and learn a story to tell your friends and family. Wear your favorite costume and bring a sweet treat to get into the Halloween spirit!"
"Special Halloween Story Time" on Saturday, October 31 at 3:30pm
Recommended for ages 3-6, but all ages welcome! Join in on Zoom this "Halloween, for a special spooooky—but not scary—Little New-Yorkers. Sing silly songs, dance the Monster Mash, and tell magical stories about ghosts, goblins, and goats! Dress up in your favorite costume as we discover fun facts about trick-or-treating and candy on this very special and fang-tastic Halloween."
To register for any of these events, please find New-York Historical Society's program calendar here.
Juliet and Ella's Playdate Outdoor Class
This beloved UWS kids ballet and dance class will host their Halloween classes on October 25 and October 31 in Central Park at West 86 Street at 10 and 11am. Come in full costume for lots of fun. More information can be found at julietteandellasplaydate.com.