The Upper West Side has some great options to help get you in the Halloween spirit this year. From shopping to slime, check out all the fun below!

Halloween on the Harlem Meer: Pumpkin Flotilla
Charles A. Dana Discovery Center (view on map)
Thursday, October 28 from 4-6:30pm
Drop off your carved pumpkin and find a spot along the edge of the Harlem Meer to watch as the jack-o'-lanterns float by in New York's largest pumpkin flotilla.
New this year: pumpkin owners may retrieve their carved pumpkins at the conclusion of the flotilla at 6.30 pm from the Harlem Meer beach near Fifth Avenue and East 108th Street.
Learn more here.
Advertisement
PS 452 Fall Fair
The schoolyard at 61st and Amsterdam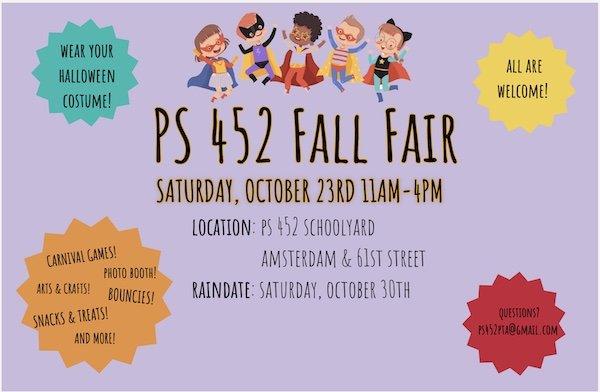 Saturday, October 23 from 11am-4pm
All are welcome and encouraged to wear Halloween costumes! This year's Fall Fair fundraiser will include bouncy castles, carnival games, arts & crafts and more.
Grand Bazaar NYC – Spooky Bazaar
100 West 77th Street at Columbus Avenue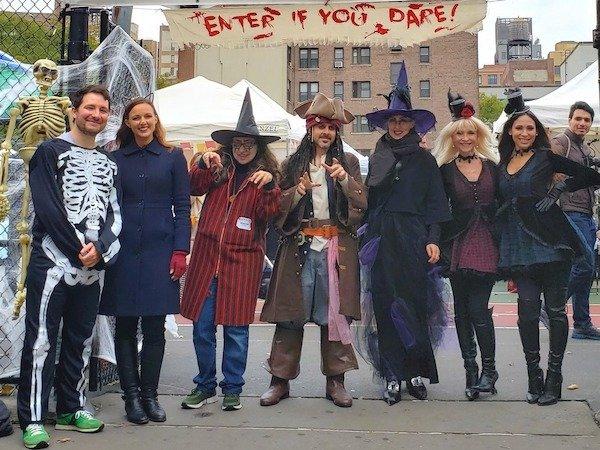 Sunday, October 31 from 10am to 5pm
Don't be afraid to visit NYC's oldest, largest, and "scariest" weekly curated market, Grand Bazaar NYC, as it transforms for Halloween into our popular "Spooky Bazaar".
Expect to be greeted by creepy crawly and ghostly decorations, and explore the 120+ spooky vendors – many in costume! There will of course be a fantastic selection of scary sweet treats from artisanal food vendors.
Get your scare on and come out for a fun day for the whole family and maybe uncover an unearthly find. Costumes are highly suggested!
Bookmark the event here.
Advertisement
Westsider Books – Haunted Bookstore
2246 Broadway between 80th and 81st Streets
Thursday, October 28 from 7:30pm-9:30pm
"Explore our spooky store with friends, take pictures in the stacks with cauldrons, cobwebbs & pumpkins." The best costume of the night will win a $50 gift certificate. Register here.
Get The Upper West Side Newsletter
Children's Museum of Manhattan
212 West 83rd Street, between Broadway and Amsterdam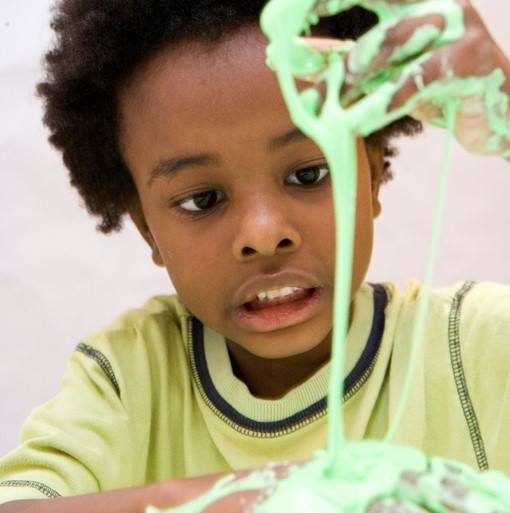 Slime, witches, webs and more! Come dressed up or down to get creative and have a great time at CMOM. There are many different options for Halloween-themed fun.
Slime Time Surprise: play with all the different types of slime- crunch, shiny and gooey!
Wednesday, Oct. 20- Friday, Oct. 22
Witches Brew: Potions and slime, check out this spooky and fun mix of art and experience.
Saturday, Oct. 23- Sunday, Oct. 24
Slimy Window Clings: Channel you inner artist and fling some slime against the glass.
Wednesday, Oct. 20- Sunday, Oct. 24
Wonderful Webs and Spectacular Spiders: Build your own web with different materials and then create your own creepy crawler.
Wednesday, Oct. 27- Friday, Oct. 29
Pumpkin, Face Treats with The Creative Kitchen: Yum! Create a healthy treat while making a pumpkin face. You will get all the information and products you need to make your own at home.
Saturday, Oct. 30
Terrifying Tote Bag Design: Make your own candy bag for trick-or-treating!
Sunday, Oct. 31
All of these events can be enjoyed by purchasing general admission tickets at cmom.org.
Advertisement
The Cathedral of St. John the Divine
1047 Amsterdam Avenue at 112th Street
Halloween Extravaganza
The night of chills and thrills begins with a viewing of silent film The Cabinet of Dr. Caligari. There will be an organist, Timothy Brumfield, who will be playing along to add some drama! There will also be creepy puppets and actors dressed as ghouls and goblins which will be sure to give you a fright!
Tickets:
Crypt Crawl
You can also make plans for a special tour of the Cathedral's Crypt Crawls, which are in the deep parts of the Gothic buildings. Tours will be offered on Friday, October 29 and Saturday, October 30.
Tickets:
Finally, on Saturday, Oct. 30 the Cathedral is partnering with the  West 111th Street Block Association for the Haunted Fountain, an outdoor Halloween festival which will take place at the Peace Fountain on 111th Street and Amsterdam Avenue. The event will run from 3-9pm, with trick or treating and children's activities from 3-5:30pm. An Eventbrite for reservations and more info will go live on Monday, Oct. 18.
Do Some Ghost Hunting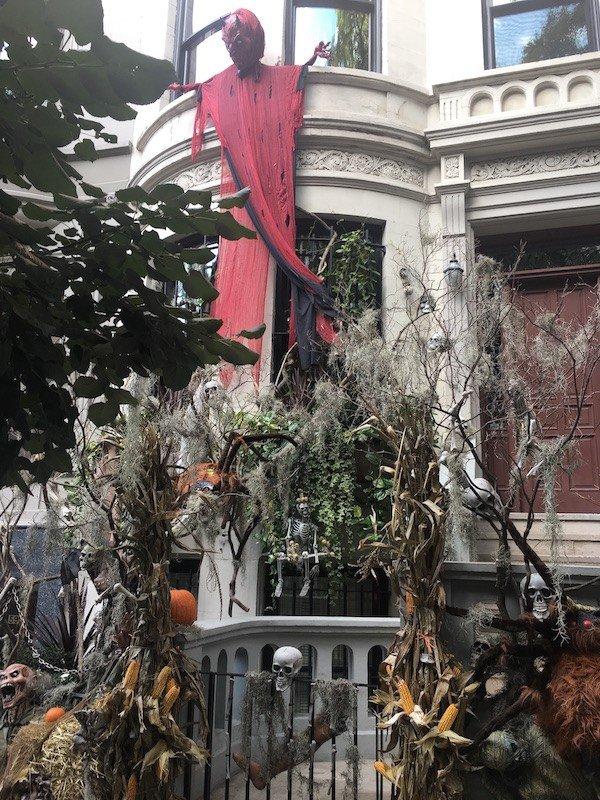 Another creative way to "trick or treat" this year is to go visit these spooky brownstones! Pro tip for parents: bring your own candy and give your kid a piece for each house they find in the neighborhood. 
One last option for trick or treating is to plan a scavenger hunt around the neighborhood that combines some fun and haunted places to visit. Bring some candy with you or plan for it to be waiting at your final destination. Here's a list of haunted buildings to add to your scavenger hunt list.
Advertisement
Halloween Shopping
Paper House (269 Amsterdam Ave between 72nd and 73rd Streets) is a local option for costume shopping. Instead of ordering online, check out this funky collection. They have everything from politicians to classic childhood favorites.
Fairway (2131 Broadway between 74th and 75th Streets) has a great selection of pumpkins and gourds. They come in a selection of shapes and sizes so you can pick which ones you want. They are outside on the street to make viewing and shopping easy.
Paper Source (309 Columbus Ave between 74th and 75th Streets) is a great place to get invites for Halloween parties, décor, and inspiration for themes.  They also have a great selection of party favors such as a spider web headband and Halloween themed Pez!
Advertisement



Trader Joe's (2073 Broadway at 72nd Street and 670 Columbus Ave between 92nd and 93rd Streets) is known for having fun and festive food of all types. This year, the Ghosts and Bats chips are a huge hit. Pumpkin face oreo-type cookies called Joe Joe's are also sure to be a big hit for any party as well.
Jacques Torres Chocolates (285 Amsterdam Ave between 73rd and 74th Streets) has a lovely display of Halloween and fall options. This year it seems that many stores didn't decorate much, but stopping in to this sweet shop, they definitely did not skip this year. They have wonderful gift boxes you can pick up as party favors, or trick or treat gifts.
The Columbus Circle Target (1863 Broadway between 61st and 62nd Streets) is a one stop shop with all the things you need for Halloween. They have cute options for décor, paper goods, costumes, and treats.
We'll be updating this list as we get closer to the holiday, but in the meantime, feel free to let us know if we missed anything.