The JCC is offering discounted tickets to four upcoming events, which are part of their series entitled "The Fall is Female". All events will take place at The Lambert Center for Arts + Ideas. Use code FIF10 for $5 member/$10 public tickets at checkout. This sale will be active until October 31st.

Person Place Thing with Randy Cohen: Featuring Shakina Nayfack
Performer, director, writer, producer, trans and social activist Shakina Nayfack, known for her work on Hulu's Difficult People and the musical finale of Transparent, sits down with Randy Cohen to share her person, place, and thing.
Wednesday, October 30th at 7:30pm. Get tickets.
AvevA in Concert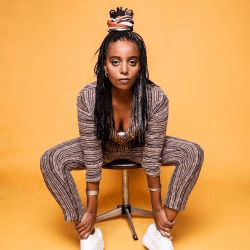 Ethiopian-Israeli singer-songwriter AvevA fuses African groove with the beat of Tel Aviv to create her soul-pop music. In songs about society, freedom, and love in both English and Amharic, AvevA's unique musical sound and inspiring voice will make for a not-to-be missed concert experience.
Sunday, November 10th at 5pm.
Get tickets.
"Unfinished" by Heidi Latsky Dance
Heidi Latsky Dance is an internationally recognized, physically integrated dance company from New York City whose mission is to redefine beauty and virtuosity through performance. A rare chance to see the newest work from this incredible company and participate in a talkback with the choreographer and dancers.
Thursday, December 12th at 7:30pm. Get tickets.
The Wanderers: A Play Reading
Anna Ziegler's funny, insightful, and mysterious new drama, never before seen in New York City, explores the hidden connections between seemingly disparate people, drawing audiences into an intriguing puzzle and a deeply sympathetic look at modern love.
Thursday, December 12th at 7:30pm. Get tickets.
Featured social media image by Mark J. Franklin.