On Monday afternoon, Captain Neil Zuber of the Upper West Side's 20th Precinct informed us that Ayden, the four-year-old son of an NYPD Detective, is battling Leukemia and needs to find a match for a blood stem cell/bone marrow transplant ASAP.

Captain Zuber has volunteered to host a 'Be the Match' event this Thursday and Friday at the Lincoln Center Atrium at 61 West 62nd Street from 11am-6pm. People 18-44 years old who are in good health will have the opportunity to help the cause and donate blood stem cells to any patient in need.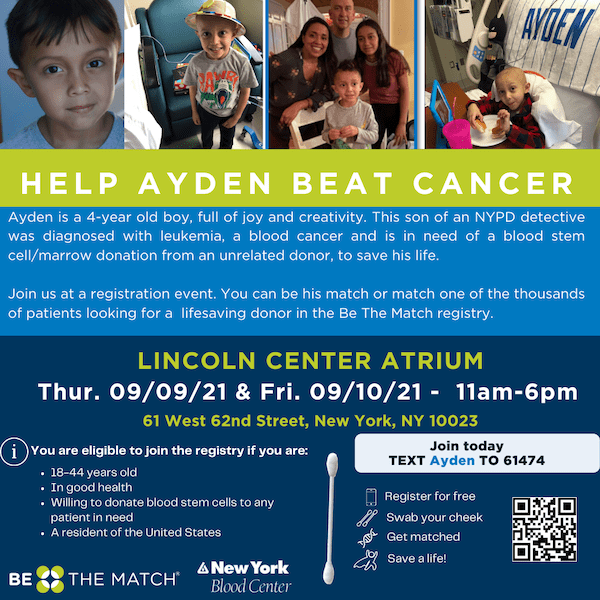 "The process of registering as a potential donor takes less than five minutes and is non-invasive; a check-in on your cell phone and two self-performed cheek swabs is all that's required," Captain Zuber told iLoveTheUpperWestSide via email. "Please consider helping us, Ayden and his family, and potentially thousands of others waiting to find a life-saving match."
You can begin to register right now by texting Ayden to 61474.
According to the Mayo Clinic, "Leukemia is a cancer of the blood or bone marrow. Bone marrow produces blood cells. Leukemia can develop due to a problem with blood cell production. It usually affects the leukocytes, or white blood cells."
Medical News Today reports that Leukemia is most likely to affect people over the age of 55, but it is also the most common cancer in those aged 15 and under.
For updates on this event, you can follow the NYPD's 20th Precinct on Twitter or Facebook.