Even Leonardo DiCaprio stopped in his tracks at the sight of Henry (a tortoise) walking through Central Park. While Henry has many "only in New York" moments, any time he's gone for one of his famed walks through the park, people have taken notice.

"Taking Henry out in public always draws a crowd, so it isn't something for the faint of heart. It's kind of like being Cinderella at Disney World," says his owner Amanda Green.
You may recognize Henry from his New York Times debut back in Spring 2016. Amanda had posted an ad on Craigslist looking for someone to walk Henry during the week while she was at work. The post went viral and thousands of people applied for the gig. Henry was on TV, radio shows and all over the media, all around the world.

"When people see him, they still ask, 'Is this the tortoise from the New York Times?' Yes he is! And yes, I hired a great walker and then hired another one a year later. I call Henry's inner circle the Entortage. Once someone's part of it, they're a member for life," said Amanda.
GIANT DOGS OF THE UPPER WEST SIDE
Henry's fame even reached a girl who requested that he be a part of her bachelorette trip to NYC. Amanda was gracious to help the fan out and make her trip one to remember. Henry also crashed a wedding during one of his walks in Central Park. The couple loved Henry so much they asked him to stay to be in the wedding photos and hang out with the flower girls.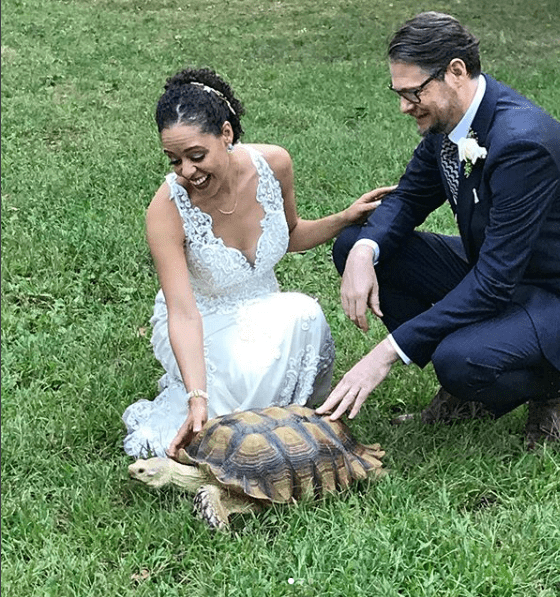 Teenage Mutant Ninja Turtles were Amanda's gateway to loving turtles. Turtles had been her favorite animal for as long as she could remember. When the opportunity came along to foster Henry, Amanda knew it was meant to be.
Get The Upper West Side Newsletter
About eight years ago, Amanda was reading one of her favorite blogs when she found out the author was looking for a foster parent for Henry. Henry needed more attention than the owner could give and was looking for someone to step in to help. Amanda agreed to take in Henry for up to a year, but she fell in love. Ever since, she's been fully committed to taking care of Henry and giving him a wonderful life.
Amanda wanted to be fully prepared to take on the task of raising Henry and making it a smooth transition since he had spent 14 years with his previous owner. She worried that Henry would be nervous or stop eating.

"I vividly remember the day I went to pick Henry up in Brooklyn, even down to what I was wearing. He had just taken a bath and peed all over the floor!
Sulcatas
(the type of tortoise Henry is) don't pee every day, so when they do, there's an audible gush and what looks like a gallon of urine. Henry let me hold him in my lap and I remember thinking he was bigger than I expected — 13 pounds and about the size of a hardcover dictionary. He now weighs 40 pounds!" said Amanda.
Amanda knew that Henry was going to be a star right away. She says that Henry "defies all the usual tortoise stereotypes. He moves quickly and can even run! He isn't afraid of anyone. He's clearly a hatched and raised New Yorker!"
There are many things that people might not know about raising a tortoise. First of all, there are different species with different needs. Amanda encourages everyone who is interested in fostering or adopting to do their homework to find out about their diets, habitat needs, and what medical issues to look out for. Apparently, tortoises are not low-maintenance pets!
Even though Henry has led a star-studded lifestyle in NYC, Amanda says it's not an ideal place to raise a large tortoise.
"Sulcatas are the third largest in the world. Unfortunately, many people buy them when they're small, but drop them off at animal shelters once they're bigger and harder to take of. They're extremely strong and curious, so they can be destructive. Sulcatas can live to be 100, so they're a lifelong commitment. I have to plan for Henry's care in my will!" she says.
If you are interested, then please consider adopting instead of buying one, as there are many beautiful tortoises that need a home.
Despite all the challenges, Amanda has no regrets and says that Henry has been one of the greatest joys of her life. "When you live in NYC for awhile, it's easy, sometimes necessary, to put up walls and tune out the people around you. Taking Henry out in the park and talking to my neighbors reminded me how kind and lovely most New Yorkers are. Henry really made my slice of the city feel like a small town."

Are you interested in seeing more of Henry? He has
his own Instagram account
! Amanda started the account after about six months of living with Henry. She was taking lots of pictures of him and sending them to her friend Natalie. Eventually, Natalie told Amanda she needed another outlet for all these pictures and the account was born. Originally she named the account "Tortoise Shellfie" but people didn't really catch on to the funny name. Then she changed it to @TheNotortoiseBIG. The name was based on Henry's previous living location before moving to Harlem. "He really embodies all of Biggie's best qualities," said Amanda.
CODY, AN UPPER WEST SIDE COCKATIEL, LOVES UPPER WEST SIDE RESTAURANTS
On Henry's page you'll see hip hop and R&B inspired videos as well as funny moments. Amanda also adds that "Henry's posts aren't just about how he's a cute animal, though I think he's the cutest. They're about his fun and fearless approach to all people and all situations. I think we can learn a lot from Henry!"
Currently, Henry is having the time of his life spending some time down in Florida. Amanda jokes that he is living his "college life" down south.
"He's outside every day and grazes for hours, so the Freshman 15 probably isn't far behind. He's met many other animals including cats, goats, dogs, and other tortoises. He's got quite the tan, too!" Amanda told me.
While Henry is not currently in NYC, Amanda says he will always be a New Yorker.
"I've loved taking him out to the parks and sharing him with the community. And Upper West Side businesses, take note: we support shopping local and would love to work with you on Instagram."
Do you have a unique or interesting pet you'd like featured?