In August we confirmed that Big Nick's Too was officially kaput. The original Big Nick's on Broadway, which opened in 1962, left us in 2013 due to a massive $200k rent hike. So now we're left with no Big Nick's at all.

The classic UWS eateries were known for slinging pizza, sumo burgers and pitchers of beer late into the night before shifting to breakfast, going 24 hours a day during their primes. Big Nick's menu was humongous too, with something for virtually anyone – at any time. What do we do now?
We examined the area around Big Nick's Too (West 71st and Columbus Ave) to provide a list of food and drink establishments to help you fill almost any void you might feel now that Big Nick's is gone.
Advertisement
La Traviata Pizzeria
101 West 68th Street between Columbus and Broadway
This hole in the wall pizzeria offers excellent pies at a comparatively great rate. My favorite is their Large Pepperoni for $23.00. "Quantity and quality at a reasonable price," was the motto at Big Nick's and La Traviata, frankly, hits that note in spades. Many locals will tell you this is, and has always been, the best pizza in the neighborhood, and a truly hidden jewel on the UWS.
La Traviata scored on our list of "Best NYC Slice Shops" and their success continues as they plan to open a second location, Traviata Two, between W105th and W106th streets on Broadway.
Old John's Diner
48 West 67th Street between Amsterdam and Broadway
This resurrected version of an Upper West Side mainstay dishes fresh classics from egg creams to chicken pot pie in its newly revitalized space. I also highly recommend Old John's Burger: an eight ounce (dry aged NY strip & chuck) patty is served with white cheddar cheese and raw onion on a sesame seed bun. Add the fries for 4 bucks and share the mac and cheese with the table. They serve breakfast now too! Bon Appétit.
Advertisement
Hungry and Healthy Marketplace
163 West 72nd Street between Amsterdam and Columbus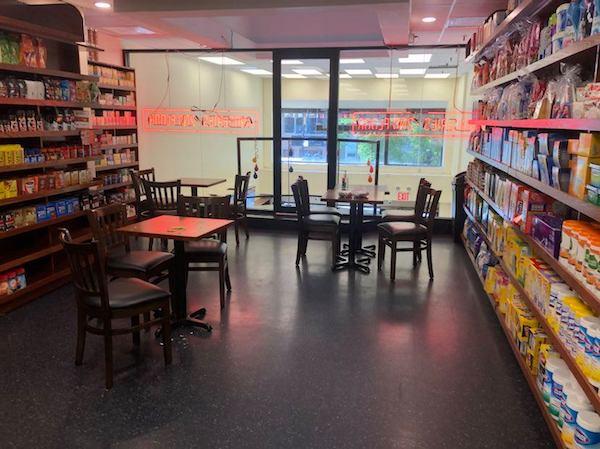 This new 24-hour spot offers an awesome bacon, egg and cheese for $4, fresh bagels with cream cheese for $2.50, and a monstrous deli menu, all prepared to order. This little shop of wonders basically has all the essentials with an entire wall of beverages. Their Italian Combo #2 on a Hero is a sound call too for $9.49.
Healthy and Hearty also doubles as an 'essential' mini-grocery store with ice cream, chips, cheeses, home necessities and staple food items galore. They make fresh squeezed/pressed juice and offer a cozy little seating area on the second floor.
hungry-and-healthy-marketplace.business.site/
Viand Café
2130 Broadway at 75th Street
Great Greek specialties were a cornerstone at Big Nick's. At Viand, they answer the call with their Gyro Platter with Greek salad and fries on toasted pita. It's a can't miss, along with their Spinach Pie and Chicken Souvlaki. Viand's burgers are legit and they have waffle fries… except they're not spicy like Big Nick's. We hope someone eventually brings those spicy waffle fries back to the neighborhood, please.
Emerald Inn
250 West 72nd Street between West End Avenue and Broadway
Pints of beer with a rockin' jukebox in a gothic décor, Emerald Inn is an old reliable locale for Upper West Siders. Despite moving twice, they've been on the Upper West Side since 1943 and serve some of the best chicken wings around. A great spot to hang before and after a show at the Beacon or just a spot to kick it with your friends; Emerald Inn goes late into the night and there's always potential to meet some interesting people there. A top-tier burger too.
Advertisement
Sido Falafel & More
267 Columbus Avenue between 72nd and 73rd Streets Streets
The last management group of Big Nick's Too added falafel to the menu, so I'd be remiss if I left out Sido. Sido's falafel appetizer ($7) and lamb shawarma sandwich ($10) are both A+ for a filling meal that doesn't slam your wallet. Their hummus is homemade and their atmosphere is warm. This tiny spot on Columbus Ave has been a favorite of mine since I moved here over a decade ago.
Grey's Papaya
2090 Broadway at 72nd Street
Hot dogs. 'nuff said.