We're just a couple weeks away from Halloween, a holiday which commonly comes with a renewed interest in the history of dark things, both real and imagined. In that vein, The New-York Historical Society (at 170 Central Park West) has a new exhibition — The Salem Witch Trials: Reckoning and Reclaiming — which examines quite a dark period of our country's past.

Advertisement



We got a chance to visit the just-in-time-for-Halloween exhibit on Friday for a firsthand look at this reclamation of history.
It contains four very distinct sections which are quite different from one another.
The first part of the exhibit is in two rooms which show the circumstances surrounding the historical events of 1692-1693 that led to over 200 residents of Salem, Massachusetts being accused of witchcraft with 19 of them being executed. As visitors enter, the space is darkened and speakers are playing crackling sounds of a hearth and fire and sounds of nature to help place visitors in the space of being alone in the dark and isolated while trying to stay warm. The exhibit opening contains many historical artifacts and original documents from the time, like sundials and trunks, to provide context to the excellently documented display. While most of the accused were women, it was interesting to note that one of them was an elderly man who had to use two canes to walk, reminding us that irrational fear doesn't always have neatly defined boundaries.
The second room mixes the world of fashion and history as it displays part of designer Alexander McQueen's witch-themed fall/winter 2007 collection. He discovered he was related to one of the executed women, Elizabeth Jackson How, and used that discovery to reclaim imagery often associated with witches like pentagrams.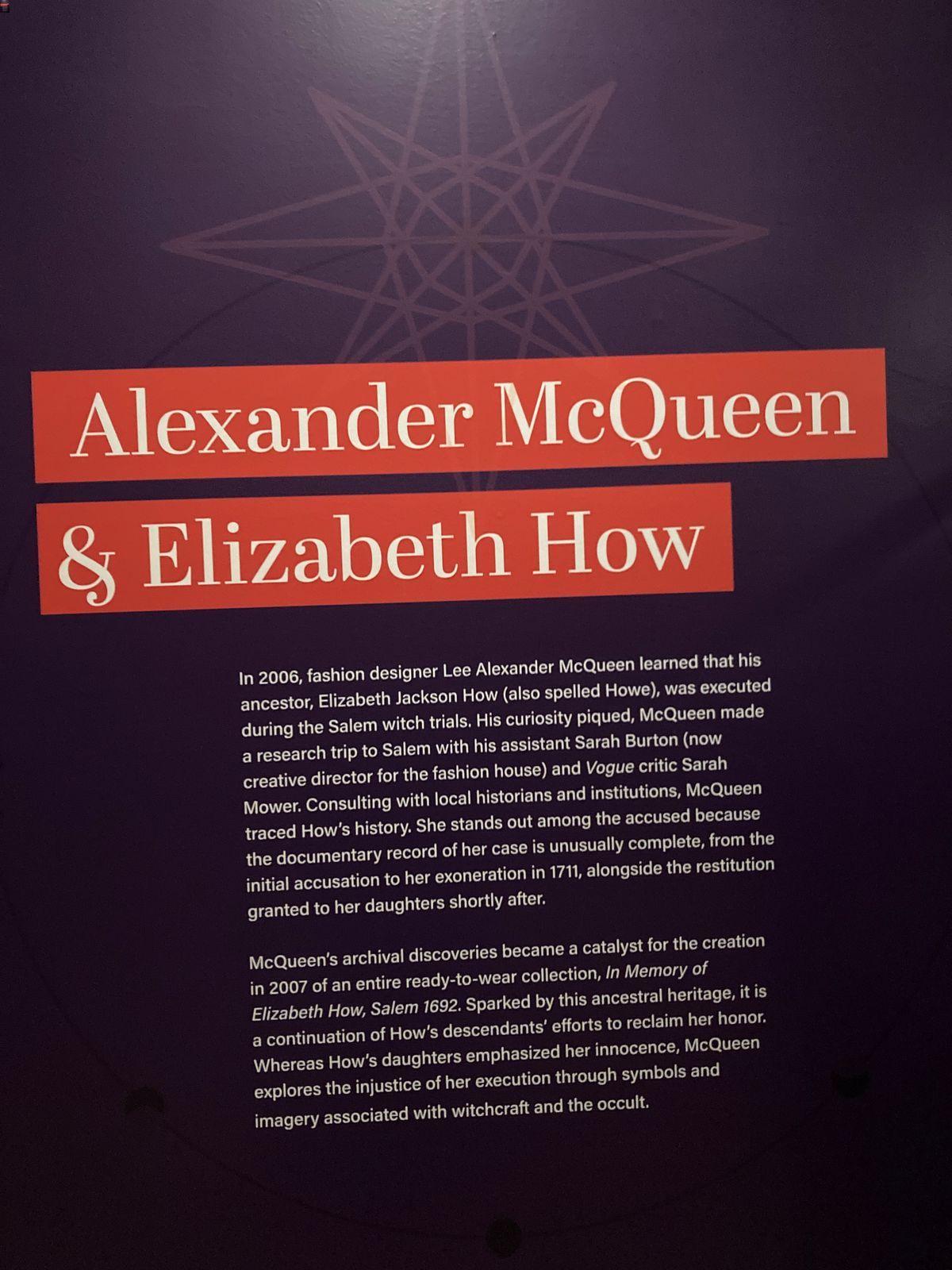 Advertisement



The exhibit's third room took another strong left turn from the opening, with Francis F. Denny's Major Arcana which pairs striking photographs of women who've defined themselves as witches with interview audio playing on a loop where they examine and redefine the meaning of the word "witch" for themselves.
The last room is very small and contains examples of witches and witch trials in paintings and other media alongside an open diary which invites guests to reflect on and write what reclaiming witchcraft might mean to them.
The exhibit opened on October 7 and will run through January 22 in the Joyce B. Cowin Women's History Gallery. To learn more and purchase tickets, click here.