"Breathless" just begins to describe how print media like The New York Times and New York Magazine of the 1970s and '80s described Miss Grimble's, a Columbus Avenue bakery whose fame was based on heavenly cheesecake, chocolate cake and Grimbletorte.

What's also remarkable is that decades after Miss Grimble's was sold in 1988 to a bakery firm in the Bronx (which still bears this name but produces its own recipes), cake lovers have been trying to determine just what went into the original delectable creations. Some, but not all, of her best recipes were included in the 1983 book Miss Grimble Presents Delicious Desserts, written by Miss Grimble's founder Sylvia B. Hirsch.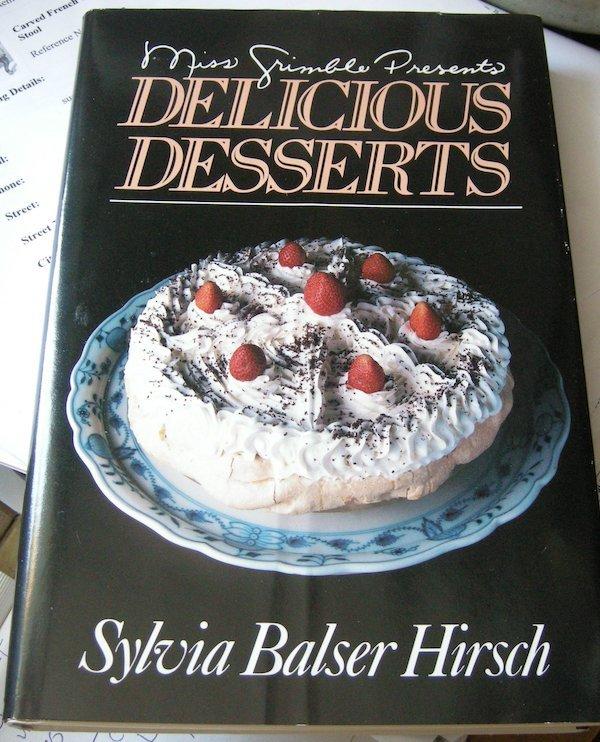 A 1972 New York Times article marvels at the success story of Miss Grimble's Bakery. Hirsch was born in Massachusetts and raised in Texas. She and her husband moved to Manhattan in the mid-1960s, where they opened a restaurant called Bronco BBQ.
Advertisement



This venture was not successful, but the cheesecakes she baked for the restaurant launched her popularity, which then led her to launch a retail business in 1968.
Miss Grimble's rose to fame during the psychedelic era. The English-sounding name of the shop was suggested by Peter Max, whose art epitomizes that culture. The connection was that the multi-faceted artist was the decorator of a restaurant called the Tin Lizzie, which purchased Sylvia's cheesecakes. However, in contrast to Max's flamboyance, Sylvia's creations were refined, conservative and crowd pleasing (though pricey) confections.
READ MORE: The Silver Palate Remembered
Hirsch sold as many as 2,200 cheesecakes a month in 1971, including those ordered by restaurants throughout the city and, according to Enid Nemy of the Times, well-known people in New York's cultural world like Wanda Horowitz, wife of the world acclaimed pianist Vladimir Horowitz, actress Phyllis Neumann, and many others. Vanilla cheesecake was the most popular, according to Nemy, but they came in twenty varieties. The walls of the shop, which eventually grew to include a cafe and bistro, were covered with "framed plaudits from food pundits, like so many diplomas," according to a glowing blurb in New York Magazine.
Advertisement



While the excellence of the cheesecakes and other desserts was remarkable and memorable, Sylvia's extraordinary success had a cinematic quality, especially because it was pretty unusual in the early 1970s for a woman to create a wildly successful business within three years.
READ MORE: The Breakup Scene from You've Got Mail was Filmed at this Forgotten UWS Haunt
Sylvia's first tiny shop was located at 165 Columbus Avenue, between 67th and 68th Streets. Early on, she would keep fresh ingredients on the terrace of her apartment at Mayfair Towers at 15 West 72nd Street.
She then moved to a larger space at 305 Columbus Avenue, between 74th and 75th Streets, where the neighborhood was "rundown" but the rent was only $600 per month.
"For her operation Mrs. Hirsch employs two master bakers, one assistant baker, two porters who do the cleaning and the boxing of the products, one girl who lines cheesecake pans with the crumbs that become the crusts and two drivers for her trucks," the New York Times article from 1972 read. "Between 7 A.M. and 3 P.M. her work force bakes 200 cheesecakes and about the same number of pecan pies."
"Instead of buying the trucks," Ron Rubin writes in A Jewish Professor's Political Punditry, "Mrs Hirsch rents them from Hertz Car Rental.  Since Hirsch signed a two-year contract with Hertz, the company agreed to replace their logo on the rented trucks with the logo of Miss Grimble's Bakery."
Advertisement



In awe of Hirsch's business savvy, Rubin goes on to write that "Mrs. Hirsch is proud of the fact that she has not spent a cent of advertisement, her customers themselves are the best advertisement." Rubin also notes that to save money, Sylvia purchased ingredients directly from wholesalers, buying fruit and items needed in smaller amounts from local stores.
READ MORE: Back in the Day: Tavern on the Green
A mother of three, with six grandchildren and two great grandchildren at the time of her death in 2006, Sylvia's obituary provides a glimpse of her life beyond the walls of Miss Grimble's. "Sylvia was an alumna of the University of Illinois, authored three successful cookbooks, and was founder and president of Miss Grimble Corporation in New York City from 1968 to 1987. She was Vice President of the New York City Opera Guild and a member of the Soroptimist Club, the Authors Guild of America, and the Screen Actors Guild of America."
Eventually, Miss Grimble's added two more shops to her business and sold all three before the end of the 1980s. Her cakes remain as memories. And for some, the recipes from her cookbook continue to inspire, as one fan noted in a 2013 review. "I bought this cookbook 30 years ago-it was the last one in the shop. Everyone I knew wanted a copy, but, alas, it was out of print…. and I wasn't sharing! Miss Grimble is my go-to dessert cookbook anytime I want to wow people with fabulous treats. And in 30 years, this book has never failed me! Long live Miss Grimble!"