Indoor dining is back, and while capacity is limited to 25%, restaurant owners on the UWS and throughout NYC are excited to approach normalcy with this step in the right direction.

Restaurants seem to be adopting a few different styles, with some putting partitions between every booth, like Utopia Diner at 267 Amsterdam, between 72nd and 73rd Streets. Utopia recently seemed to be on the way out, but the owner recently told us they're not going anywhere.
At Greek restaurant Elea, located at 217 West 85th Street (between Amsterdam and Broadway), partitions have been placed between tables against the wall, while tables for two are spread apart closer to the bar area. A representative from Elea tells us "It's been a long wait and we're excited to have our team back practicing strict safety procedures. While many things have changed, our core values have not. We are honored to continue to bring comfort and joy to your mealtimes."
Advertisement
The photo below shows tables spaced out at
Harvest Kitchen
, located at 269 Columbus Avenue, between 72nd and 73rd Streets. Owner Jeremy Wladis, who also owns UWS restaurants
Good Enough To Eat
and
Brad's Burgers and BBQ
, tells us he's "thrilled to be back open and is very hopeful that the state and local government will move to 50%, because we need at least 50% to ever have a chance at even remotely succeeding."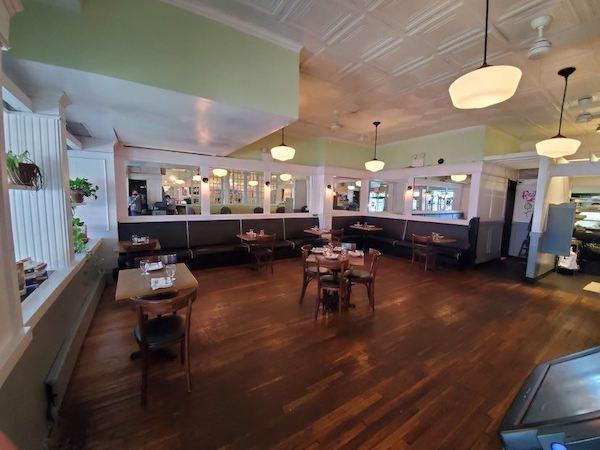 Restaurant owners are taking different approaches towards achieving both safety and success. The owner of Italian restaurant Bettola, located at 412 Amsterdam Avenue, between 79th and 80th Streets, tells us they are only taking reservations for dinner (for now), with a time limit of 1.5 hours per indoor table. With the 25% capacity limit, this will allow them to serve more people each night.
Limited indoor table time – in addition to the recently approved year-round outdoor dining in NYC, will both hopefully put enough revenue in the pockets of restaurant owners. Others are also likely going to take advantage of the optional 10% surcharge, which NYC recently approved. Restaurants will be allowed to add this extra 10% to customer's bills for a period of 90 days once indoor dining is allowed at full capacity
The owner of The Viand at 517 Columbus (at 85th Street) tells us he's following all protocols (sanitizing, contact tracing, temperature checks), and has also installed Merv 13 air filters. He told us it feels a bit awkward having people inside, and at 25% it's only a maximum of 19 people, but he hopes it is a start towards recovery and that we don't go back to square one again.
Lots of other restaurants are celebrating this first step towards dining-normalcy with posts on Instagram.
View this post on Instagram
Advertisement
We can only hope that the return of indoor dining will help a maximum number of restaurants avoid closing, while also helping new restaurants see successful launches.