The Zabar's Gift Showroom is now open at 2276 Broadway at the southeast corner of 82nd Street. People seeking potentially awesome encounters or up-close looks at gift baskets, holiday items or apparel have a new place to peruse. The site was formerly home to Laytner's Linen & Home, which recently closed after 57 years on the Upper West Side.
Advertisement



Willie Zabar queued up some Mozart when we walked in. We were greeted by David Zabar, who told us this is their busiest time of year; they ship about 30,000 gift baskets each December. Their goal for the new shop is to give people in the neighborhood a closer look at what goes into these baskets.
Advertisement



The current concept of the Zabar's Gift Showroom is more of an advertisement than a full-blown Zabar's experience. You can't order bagels with a schmear or pick up a bag of rugelach, but you can skip the line to pick out shirts, a Zabar's branded bagel guillotine or thermos, or see with your own eyes what goes into Zabar's gift baskets and boxes.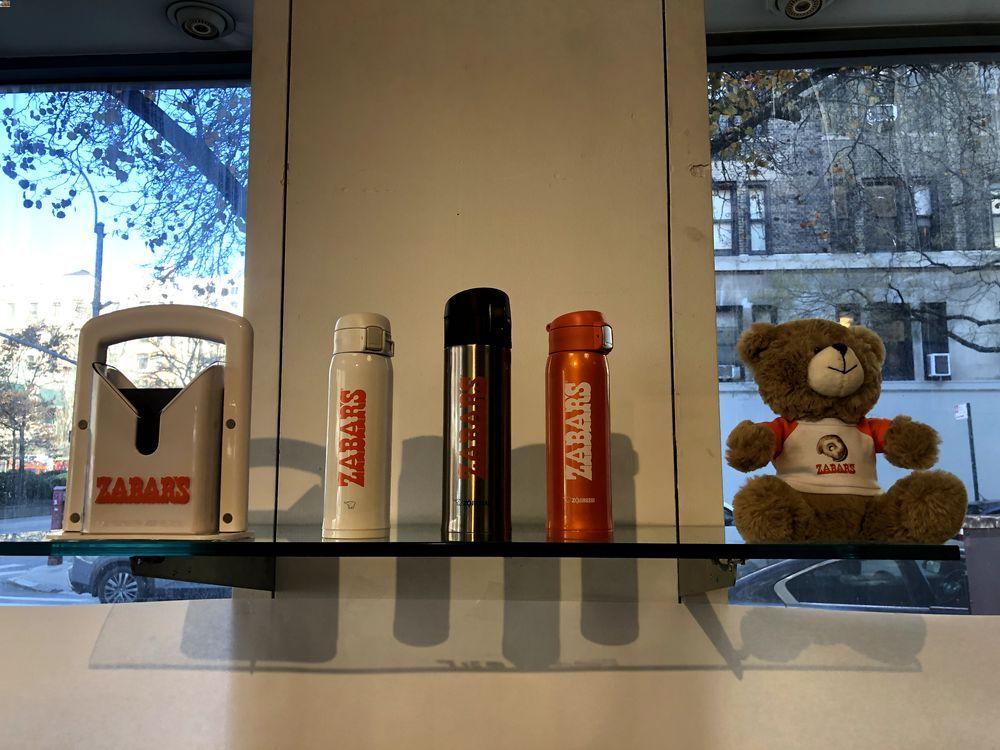 The window signage even has a QR Code that takes you to their gift page. This is not a location for buying ahead for in-store pickup, so visiting their main location at 2245 Broadway (between 80th and 81st streets) is still most likely the way to go if you're a local.
David mentioned their gift shop will be open daily till December 24 from 11 a.m. to 6 p.m. "We're a 20th-century brick-and-mortar store selling 19th-century products in the 21st century," said Danny, David's son. When we asked how it feels working in the family business to Willie Zabar (29), host of the Zabar's Podcast, he regaled us with the tale of his dad filleting a whitefish on Bring Your Father To School Day when he was in kindergarten, adding that their continued success in this family "mishpocha" business comes down to "rules and structure." You can tell they're having fun though. Willie said another season of the Zabar's podcast — with the continued goal to "re-create the sounds of Zabar's" — is a possibility in the future.
Advertisement



When discussing the recent limited-edition collaborations that Zabar's had with Vans and Coach, David Zabar and his sons shared that while both brands approached Zabar's for the collaboration opportunity, the Vans sneakers they did had all proceeds benefit local food banks during the pandemic. They're not opposed to future collaborations in the future if the right one comes along. Willie and Danny recognize they're part of an iconic brand and these products, while fun and exciting, also keep the Zabar's name top of mind across the nation and beyond.
Visitors also might have the chance to meet New York Nico, Alysia Reiner (Orange is the New Black, Ms. Marvel), and representatives from internet lifestyle brand Old Jewish Men, who are slated to be making visits to the gift shop per a Zabar's press release.