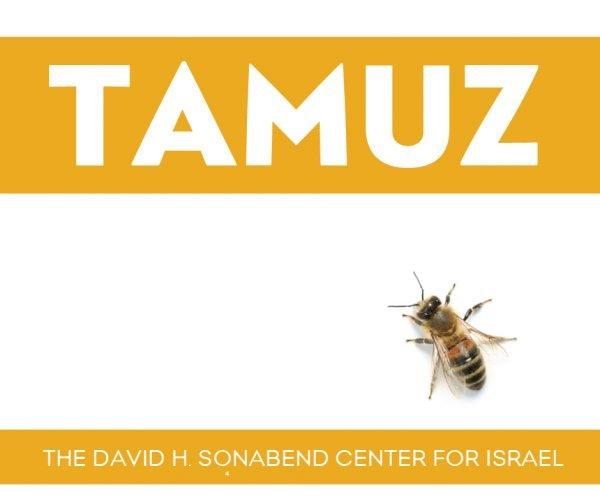 The David H. Sonabend Center for Israel at the Marlene Meyerson JCC Manhattan is excited to announce the launch of its new online quarterly magazine, TAMUZ.
TAMUZ takes its name from a Hebrew month, usually around July. Center for Israel Director Udi Urman says it is the best representation of Israel, and of Israelis. "It's hot and warm; it's edgy, but also soothing. Just like Israel. And just like Israel, it's a blend of cultures, tastes, colors, smells, and languages." Each issue of TAMUZ will capture that unique blend by highlighting various aspects of Israeli culture, society, and politics, introducing artists, public figures, and issues of note, with links to significant research, music videos, recipes, and more. Because the Center for Israel's goal is to make sure Israeli friends who live in both Israel and the United States feel part of the JCC community, and for those Israelis that are part of this community to feel more in tune with it, parts of the magazine will be in both Hebrew and English.
The inaugural issue of TAMUZ focuses on climate change and the relationship between the JCC, Israel, and the environment. Inside you'll find:
Op-eds focusing on the global impact of climate change and Israel's response.
An in-depth feature on innovative Israeli researchers who are working to save the planet, with the help of bees.
An interview with Inspirational Israeli Sivan Yaari, about her work bringing clean water and light to more than 10 African countries.
Three Israeli potters and their breathtaking works.
A savory recipe by baker sensation BenGingi, Israeli music, and more!
Read the inaugural TAMUZ issue here.