>A letter to the UWS from the owner of Metropolitan Window Fashions
Dear Neighbors:
Thank you for your patronage for the past 16 years. This is the story of why we sold our Upper West Side store to Janovic, the legendary NY paint and decorating company.
In September of 2004, we opened our store at 469 Amsterdam Avenue – expanding our small business from two stores in NJ. It was a bold move. My wife and I would have dinner outside at Fred's staring at the new location, formerly Bath Island, convincing ourselves that we could pull this off.
We were welcomed into the community and had immediate success. We became members of the Westside Chamber of Commerce, participated in street fairs, hosted local interior designer events and met all the local merchants. We supported the arts, museums, parks and schools.
Fast forward 16 years and I turned 60 this year. It was a little late for a midlife crisis, but I had to start thinking about slowing down. Retail is a grind, six days a week. To simplify my business, I started thinking about selling the Amsterdam store – because there is nothing simple about doing business in New York. To maintain our current level of business, we decided to open a third NJ store in Livingston with the thought that maybe in 5-10 years, we pull out of the City.
Then COVID happened.
We thought about staying put, but coincidentally, our lease expired at the end of July. We still thought that we would sign a new lease, but then I had two key resignations in my NJ stores. It finally became obvious that the time to move on was upon us.
It was a difficult decision. Although we live in NJ, we have stayed on 74th Street many times, apartment sitting for a friend who works in Europe. We love everything about the UWS.
We had a bon voyage staff party at the Hi-Life last Friday. Earl and I have become good friends over the years – fighting the good fight, as small business people do everyday. We didn't win the scaffolding battle, but I am glad to see Hi-Life and Fred's continuing to thrive. We were the third longest tenured business on the block after those two great restaurants.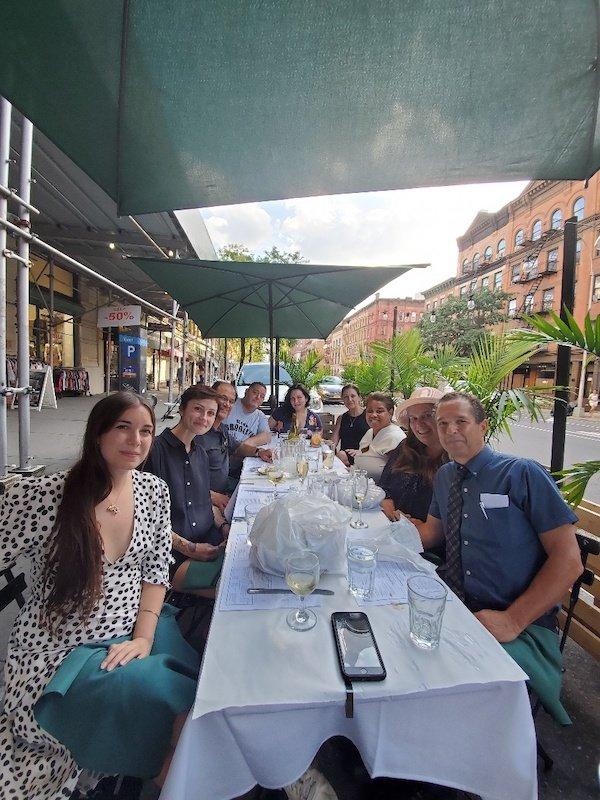 We leave the business in good hands. Janovic has an excellent management team. They were attracted to our company because of the way we do business. Taking care of our customers, the community and our staff. We are delighted to announce that Yvonne, Shawnna and Sarah have accepted positions at Janovic.
All customer accounts have been transferred to Janovic and they will be honoring all warrantees. Janovic has roots in NYC going back over 100 years. In addition to window treatments, they also offer fabric, wallpaper and paint. They have 12 locations in NYC. Our Amsterdam Avenue store will close, but they have two stores on the UWS including 159 West 72nd Street and 2680 Broadway at 102nd Street.
For assistance with your new decorating projects, orders in process or warrantee issues, please contact the Janovic decorating team – at 844-JANOVIC (844-526-6842) option 2, or our same number 212-501-8282 or visit Janovic.com.
Wishing you and your family health and happiness.
Bruce Heyman, CEO
Metropolitan Window Fashions  /  Green Brook  – Paramus – Livingston / windowfashions.com