A recent jimson weed sighting on the Upper West Side has been making city-wide headlines. This toxic and hallucinogenic plant was spotted in a flower bed on 93rd and Columbus Avenue this past weekend.

The city did appear to act quickly to remove the invasive species:
The City removed this plant on Monday.

Please contact @NYC311 to report overgrown plantings on a traffic island or median: https://t.co/NRRiFY2CAx.

— NYC DOT (@NYC_DOT) September 10, 2019
But unfortunately, there appears to be another jimson weed plant in the immediate area.
One of our readers reached out to let us know she spotted something very similar looking on the north side of 96th between Columbus and Amsterdam (thanks Dee). She saw it on Tuesday, September 10th.
She also sent us this photo: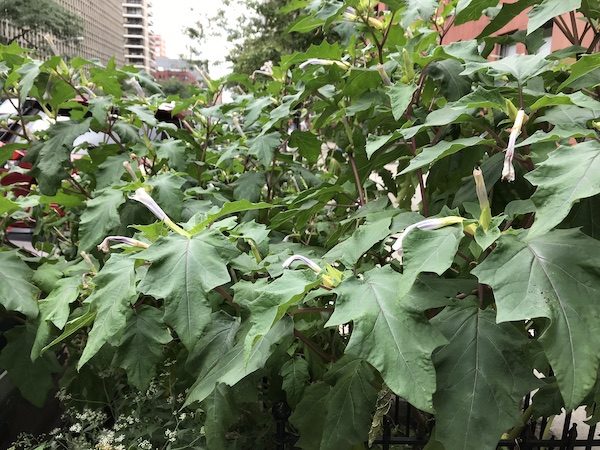 I reached out to Adrian Benepe, the man who Tweeted the original image on 93rd and Columbus. Benepe told us that it does appear to be of the same species.
This hallucinogenic plant can be fatally toxic, even when ingested in tiny doses – and is known for "turning people into zombies".
Officially called datura stramonium, the invasive species originates from Central America, but has made its way around the globe, with a recent second stop on the Upper West Side.
The main distinguishable feature of the plant are its white trumpet-shaped flowers.
According to the Brooklyn Botanic Garden, the jimson weed begins growing in the late summer and continues until "the first frost". The BBG also indicates that all parts of this weed are toxic.
So don't go near it! If you have to take a photo, use the zoom feature.  And notify 311 to keep your neighbors safe.
Sign up for the UWS newsletter for more local stories: