Joe's Steam Rice Roll has opened at 422 Amsterdam Avenue, between 80th and 81st Streets.
The steamed rice roll is a Cantonese dish made with thin rice noodles and filled with meat or veggies. Joe's rice roll is differentiated in how they make their rice batter; they prepare it with fresh rice ground by a stone mill, combined with their in-house "secret mix," according to their website. This, their website states, creates a "one-of-a-kind soft and chewy texture."
The menu also includes crepes and pancakes which come with various ingredients and sauces.
The chef and owner is Joe Rong, who grew up in China and perfected his craft in Taishan, where he learned from the masters.
Joe's Steam Rice Roll has additional locations in Flushing, Chinatown and St. Mark's Place; reviews are overwhelmingly positive for all locations.
Here's the menu, displayed in the window of the new UWS location: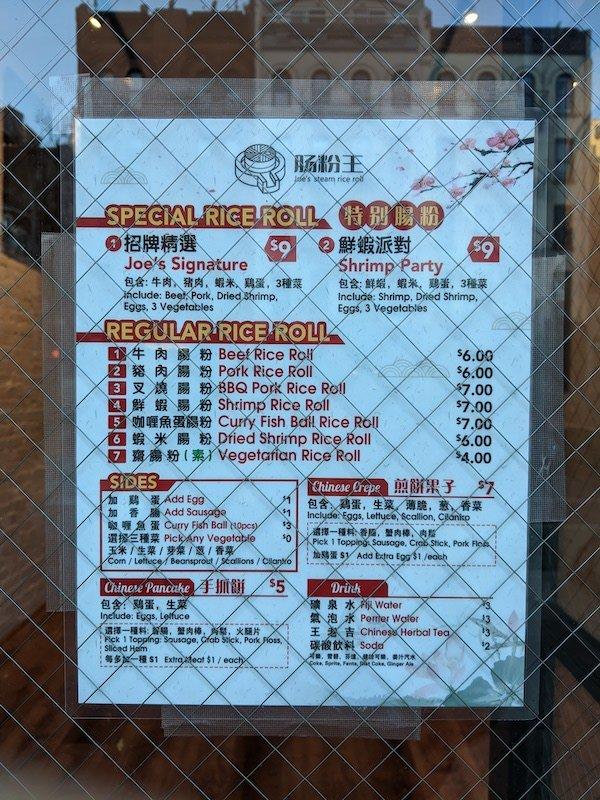 The Upper West Side location is open daily from 12-8pm and can be reached at (347) 379-6961. Follow Joe's Steam Rice Roll on Instagram.
READ MORE: Best Chinese Restaurants on the Upper West Side