If you sense your little ones might be musically inclined, you'll want to bring them to one of The Smith School of Music's upcoming open houses (August 21 and September 11). Here, they'll have the opportunity to sign up for a free trial lesson in guitar, piano, voice, bass, drums or ukulele.

Located at 131 West 86th Street, The Smith School of Music is an extension of the Smith School's Music Department and is open to students of all ages and abilities.
The open houses will be by appointment only, so each student can have all of his or her questions answered by the instructors. And if they're not sure where to start, they can try a few different instruments!
Students range from the age of 6 to over 80, and the accolades some of these students have achieved is pretty amazing; one student was recently accepted into Berklee College of Music, and another recently performed at Carnegie Hall!
Some kids just want to enjoy music as a hobby, and that's fine too! Lessons are individualized to fit the needs and goals of each student.
The school's faculty is made up of active orchestra and Broadway performers who've graduated from prestigious institutions like Julliard and the Manhattan School of Music.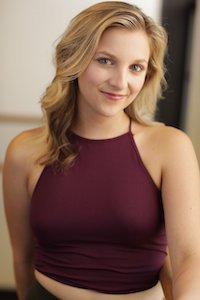 Samantha H. Lucas is a professional actor, vocalist, and experienced vocal instructor. She holds a bachelor's degree in Music Theater Performance from Baldwin Wallace Conservatory in Ohio, and her education abroad has included both Det Danske Musicalademi-Danish Academy of Musical Theater and Barefoot Theater in Zambia, Africa.
She has had the privilege of singing and performing with the Cleveland Orchestra, The Pittsburgh Civic Light Opera, Front Porch Theatricals, and the Tony and Grammy Award-winning Billy Porter (Pose, Kinky Boots).
Samantha has been teaching students of all ages and levels since 2015, in diverse styles and teaching methods geared toward the goals of her students. Some of these styles include musical theater, classical, jazz, pop and rock. Samantha has a unique skill set centered on education, professionalism, passion and dedication for education in the arts.
Samantha encourages her students to develop a strong technical foundation, a keen sense of the body in relationship to the voice, an appreciation for the art form, and a deep appreciation for their unique artistic expression. She seeks to provide each student with a concise and reliable skill set that will allow her singers to be successful and confident in their abilities.

Flutist
Lauren Scanio
is a graduate of both Juilliard and the Manhattan School of Music.
She's performed with the Juilliard Orchestra, Manhattan School of Music Symphony, Montclair Orchestra, and New York Youth Symphony. And the New York Philharmonic! Among others.
Scanio's style ranges from baroque to contemporary, and she frequently performs as a soloist as well.
Damien Kelly
— who founded and runs the school with wife Jessica Kelly — is an acclaimed Irish guitarist who teaches both classical and rock (in addition to piano).
A 2011 collaboration earned him a number one spot in the Irish iTunes classical chart, his first major career breakthrough. Since then, his recordings have been a mainstay on Irish radio; he's performed internationally, throughout the US, China and Europe; and he's won numerous competitions. A graduate of various institutions – including the Upper West Side's Manhattan School of Music – Kelly's skills in both creating and teaching have led many of his students to achieve the amazing.
Here's a performance by Kelly (and Kelly):
The open houses will be taking place on August 21 and September 11 from 9:00 a.m. to 2:00 p.m. each day. To sign up, please click here. If there are no time slots left, please contact the school to arrange a trial lesson on another day.