Anyone who thinks the Upper West Side doesn't have style just doesn't know where to look according to fashion, retail, and lifestyle writer and blogger Hali Berman. I sat down with Hali, who is a mother of two daughters Demi and Ivy, to discuss her move from the UES to the UWS, her new website and her top picks for fashion forward kids shopping on the Upper West Side. Hali has worked for brands including Bergdof Goodman, DailyCandy, PureWow, Louis Vuitton, and Shiseido.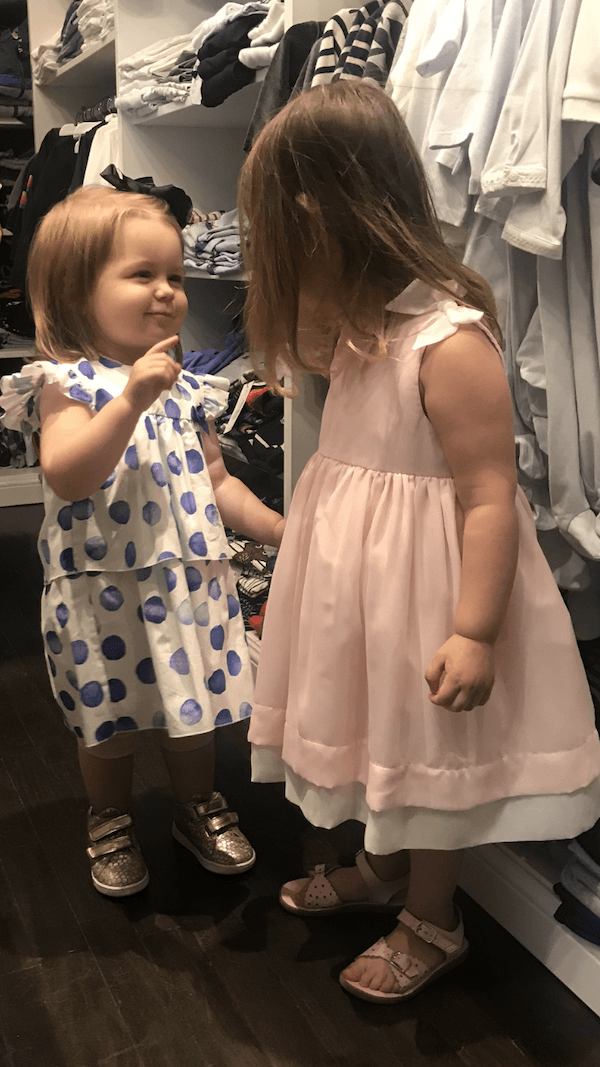 Do you like the change from the UES to UWS?
I do. I'll always have a place in my heart for the Upper East Side. I loved the fanciness and larger than life aspect of living there. But the Upper West Side is really warm and welcoming. It's easy. It's friendly. It's casual. And it really has felt like home very fast for us.
Have you found the UWS to be mom friendly?
There are so many great things for kids on the UWS. There are so many classes. And a different playgrounds, it seems, every couple steps you take on Central Park West. We hang out at the new Safari playground a lot lately. I have found that other moms are so friendly over here. One time a mom came up to me on the street and said it looks like our kids are around the same age, do you want to plan a play date? It's been nice. And it's been really appreciated.
Tell me about your personal style, your new website and who has inspired you!
I would describe my style as uncomplicated, casual, and unexpected. It is also very much evolving at the moment. I am still nursing my eight month old and I'm always on the go with her. So while you'll find a lot of button downs and not-so-cute nursing tops in my closet right now, I do try to pair them with super-current jean silhouettes (I'm in the midst of a newfound denim infatuation), and high-designer finds from TheRealReal and beyond.  After each baby, I've found myself really reevaluating my style.

Advertisement
I recently started UpperWestStyle.com because I always felt like on the UES, you could just walk outside your door and everybody seemed fashionable and stylish. I loved observing it all and window shopping with my stroller on Madison Avenue.
The UWS is a lot more casual, and you really don't see fashion—unless you look. But when you do start looking, you'll find many chic people who've embraced the neighborhood's accepting nature, plus a lot of modest-appearing stores with amazing edits hiding inside. It's time to call attention to this, and get the word out about what's happening here. I've been working with local business owners to further the site's focus on local brick and mortar stores, and everyone's really excited about the idea.
So many things inspired me to launch the website: the differences I've noticed between UES and UWS street style … the great merchandise in local boutiques like CPW and boc… even Instagram (I love what @cocoincashmere, @shopdropapp, and @manrepeller are doing right now).  Also between social media and email newsletters, a lot of brands have great, inspiring original content right now that I'm always bookmarking.
So let's get to it. What are your top picks for fashion forward for kids shopping on the Upper West Side?
Stoopher and Boots (385 Amsterdam Ave)
We find ourselves going here for trendy, everyday items. We get our camp and school outfits here. I find that a lot of the clothes are like the clothes I grew up wearing.
Greenstones (454 Columbus Ave)
We really like this place as a one stop shop for clothes and shoes. We can definitely go in the store and walk out with a head to toe outfit.
Le Petit Kids (224 Columbus Ave)
One of my more recent discoveries, and I like that everything has a little bit of a European vibe. They also source eco-friendly fabrics, which are super soft.  A great spot for gifts.
Baby Gap (1988 Broadway)
Got to love it. We get all our basics here for a great price.
Harry's Shoes for Kids (2315 Broadway)
I have to say, I feel like it's a UWS institution. It feels so old school. I love how the staff really, truly cares about fit and they will not let your child walk out with a pair of shoes that they are not walking properly in. My kids love going and getting a balloon. It's always a fun experience.
Couture Kids (324 Columbus Ave)
We love them for special occasions since they carry high-end designer clothes. I love walking in and seeing the Fendi stroller as part of the décor.  So over-the-top.
Z'Baby (100 W 72nd St)
We had them on the Upper East Side too. It feels high end, but still accessible. Their clothes walk the line between classic and trendy. I got Demi's first birthday dress here and still love it two years later.
Albee Baby (715 Amsterdam Ave)
It is known as a common destination for strollers and gear, but they have a great clothing selection for babies and older kids. There's like a whole bunch of tutus filled with pom poms. I like it because I didn't expect it to be such a great shopping find.
Advertisement
For more about Hali check out her website: http://www.haliberman.com/
And of course her new blog: https://www.upperweststyle.com/
A special thanks to Le Petit Kids for styling this photo shoot.
Le Petit Kids specializes in clothing from 0-16 years! They have a great selection of very traditional and trendy clothing. Nothing is chemically treated, and everything is organic.  They are having a sale through June 30th.
More For Kids: