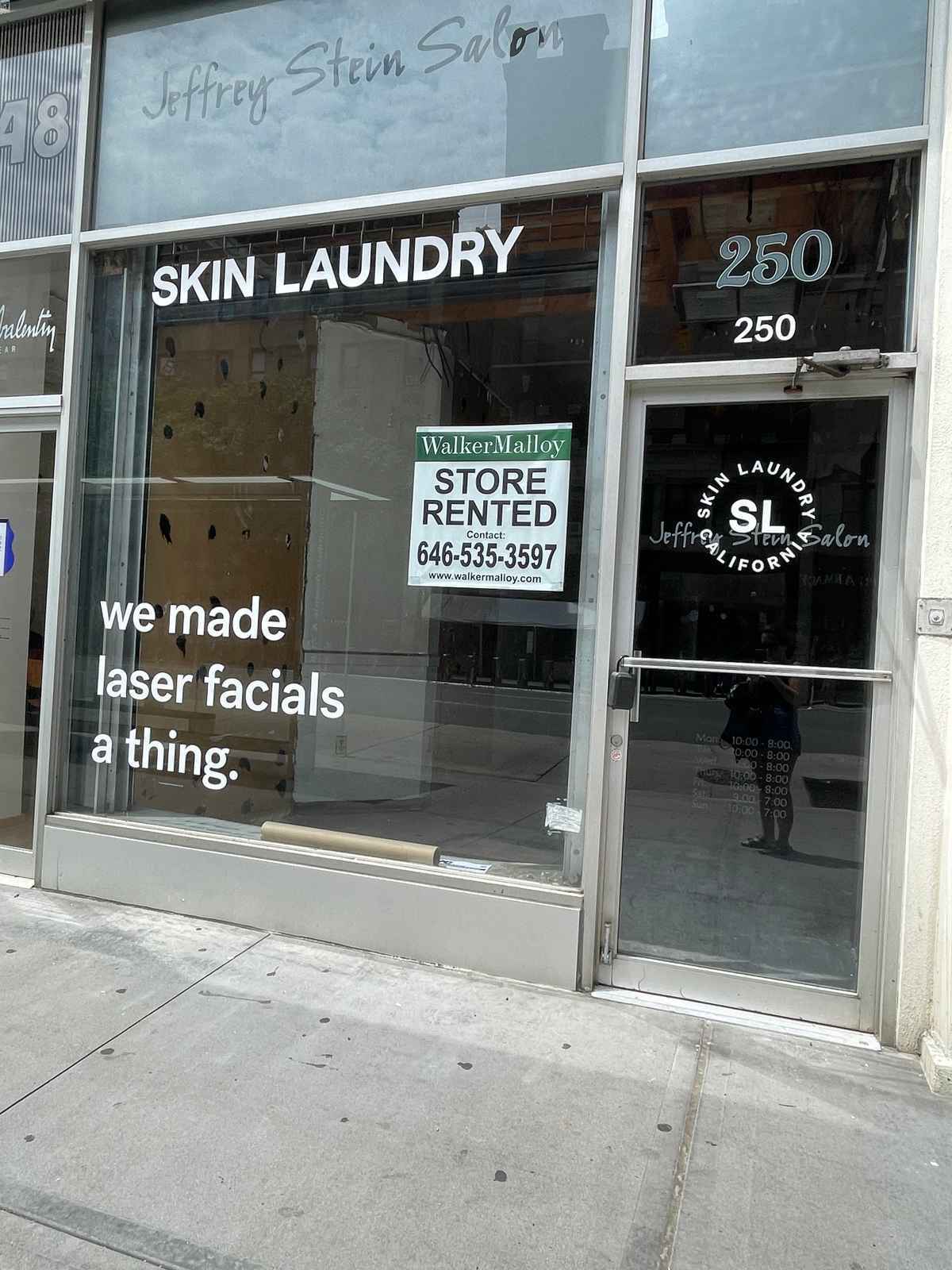 Signage is up for laser facial brand Skin Laundry at 250 Columbus Avenue, between 71st and 72nd streets (formerly home to Jeffrey Stein Salon). Thanks to Haleigh Tutrow for the tip and photo.

Advertisement



"We have revolutionized cleaning dirty, clogged, damaged skin with affordable laser treatments in under 15 minutes," the company claims on its Facebook page.
The Signature Laser facial — which "corrects and prevents breakouts, rosacea, pigmentation and builds collagen deep within the skin" — goes for $250. Skin Laundry also offers a $300 "Thermo Fractional" facial (which Harper's Bazaar describes in detail here) and a $700 "Ultra Duo" facial.
The popular beauty brand (with over 90,000 Instagram followers) was founded by Yen and Julian Reis in 2013 when its flagship location opened in Santa Monica. Skin Laundry can now be found throughout California, and current NYC locations include Midtown East, Flatiron, Williamsburg and Tribeca.
But Skin Laundry's reviews are pretty bad.
As far as Google goes, the Tribeca spot has a score of 3.5 stars, Midtown has a 4-star score, Flatiron has a 3.7 and Williamsburg has a 3.2.
The most common complaint appears to focus on Skin Laundry's membership policies — with disheartened customers essentially saying that paying a monthly fee does not guarantee an appointment, and that cancelling is extremely difficult.
Advertisement



"The service is terrible and the idea of a membership is a waste of money," wrote one former Flatiron customer. "Money is deducted from your account and if you don't book right away they get racked up. Then when you realize that this place is not here to actually give you the service to aid your skin, you won't be reimbursed."
On Glassdoor, a former employee echoed these sentiments, writing that "They force clients to keep their over priced memberships regardless if the client isn't a good candidate for laser facials."
This stretch of Columbus Avenue is looking quite different these days. The corner space at 100 West 72nd Street, formerly occupied by Swatch, has recently been taken over by Malin + Goetz.
We've reached out to Skin Laundry for an estimated opening date.