"There are eight million stories in the naked city. This has been one of them."

This iconic line from Naked City may be resurfacing with all the stories of people who've left NYC – or who will be leaving due to the pandemic.
In just a few weeks time, one of those stories will be of John McKinley, when a socially-distanced send off for him will take at an Upper West Side restaurant.
You may not recognize his name, but there's a more-than-likely chance you've seen him in Central Park, at Muffins Cafe, Santa Fe or Polpette.
[adrotate banner="161″]
Perhaps these photos of John on his dog-walks will jog your memory?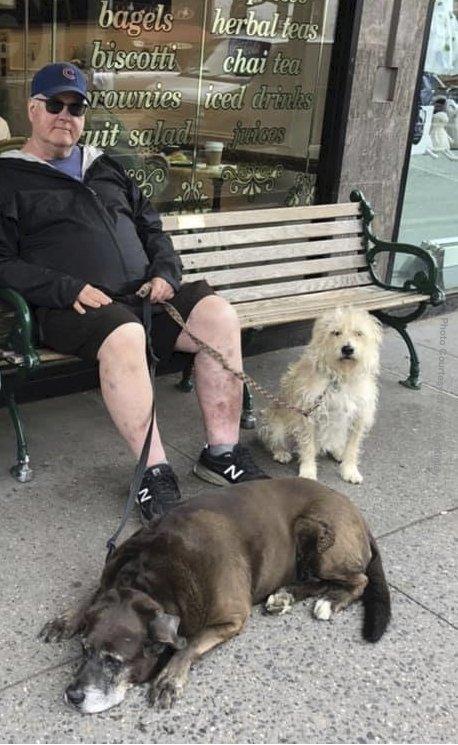 John wasn't always a dog walker. He moved to New York from Chicago in 1989 with the intention of staying for six months to work at the New York Mercantile Stock exchange. A few years prior, the movie Wall Street had come out and one of the characters had described the Upper West Side as "…the place with Fern trees and lava lamps …".
Hence during his early days in NYC, John lived in Battery Park City, but even as his intention of staying for just six months went well beyond that, John felt separated from the city living down there, and eventually, despite the "lava lamps" reference, he moved to West 68th. He's lived on the same street since 1991.
Get The Upper West Side Newsletter
After years of working in finance, he left the industry to build a business walking dogs for the rich and famous (such as Itzhak Perlman and John Oliver) as well as the not so rich or famous. He ran the business for ten years, but due to the pandemic, lost half of his business between March and July 2020.
In spite of more and more openings and re-openings, his business dropped as clients who continued to work from home did their own dog walking, while others left the city with no intention of moving back. This prompted John to retire from his business and move out of state  — four years earlier than he had planned.

Upper West Siders, especially those who have dogs and frequent area restaurants, will miss his spirit.
John has been a friend to many, including the late Richard Schilling III, a former producer, academy award winner and long-time Upper West Sider.
When the owners of Santa Fe were looking at closing their doors for good —  and posted signage announcing this intent — they also posted signage about Schilling's passing.
Before the pandemic, the barbershop at 49 West 72nd Street allowed John to give Richard a groom (and vice-versa).
John also gave Schilling's eulogy at The Church of the Blessed Sacrament, located at  152 West 71st Street.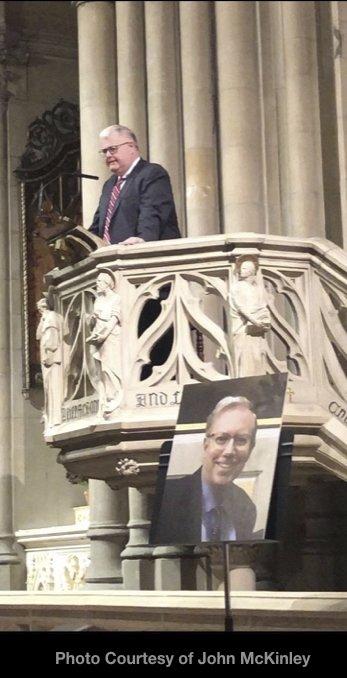 Now as John prepares to leave, one can find him quipping, "Leaving New York, never easy (It's pulling me apart) I saw the light fading out …,"as he cites a line from R.E.M.

While it's understandably never easy leaving New York, it won't be easy for those who John leaves behind either, as he was a supportive presence and a source of humor and hope during the summer of 2020s rocky road with outdoor dining, particularly for Santa Fe and Polpette.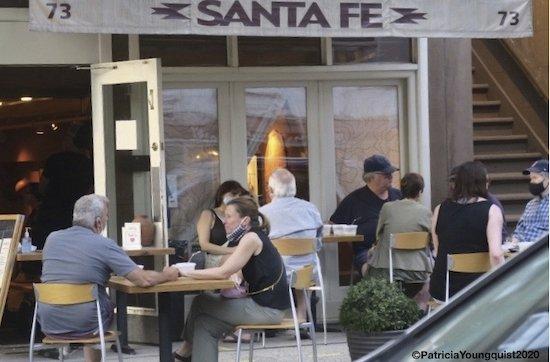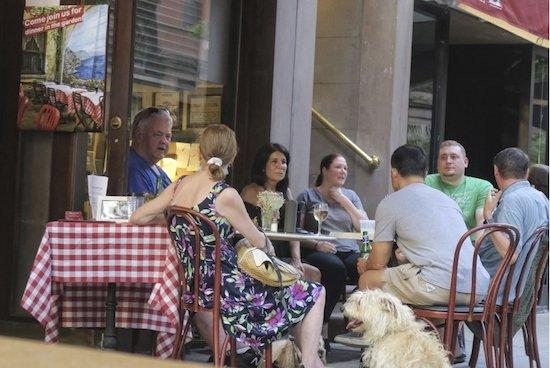 Many who know John are taking him out for a meal or a drink, including LuAnn Mormando Luizza.
She, along with her brother, runs Polpette which is right next door to Santa Fe (which reopened) in March 2021.
When speaking of John, Luann says "[he] has a special place in my heart forever … [a] Polpette regular who is moving to Florida!! My own send off to him was not at Polpette but right next door [at Santa Fe]! Keeping it on 71st Street."
At the end of the month, various eateries are planing socially distanced send offs for John.
Perhaps "the light is fading out" for him in terms of NYC, but those who know John know his light will never fade out.