The children were out in force at Lincoln Center on Thursday. There was dancing, regaling and a street naming. All to honor one special man who redefined ballet and took it to the masses: Jacques D'Amboise, one of the most prolific dancers in New York City Ballet history, and the founder of the National Dance Institute, where he shared his gift of dance, music and the arts with America's youth. From now on, the northwest corner of West 64th Street and Columbus Avenue will be co-named as Jacques d'Amboise Place.
Advertisement



"I know this so well," recalled National Dance Institute's artistic director Kay Gayner as she welcomed the crowd at Lincoln Center's Josie Robertson Plaza. "Jacques really deeply felt that his life was transformed by the arts and he wanted every child on the planet to have the same opportunities that he had." Jacques, born in Dedham, Massachusetts in 1934, moved with his family to Washington Heights before enrolling in Madame Seda's ballet classes on 181st Street when he was 7 years old.
By 1949, at age 15, Jacques was invited to join the New York City Ballet, where he danced 24 roles for George Balanchine, who co-founded the company in 1948. "This is the portal to the arts," said Jacques' son, Christopher d'Amboise, describing the site of his father's new street. Christopher, too, was a principal dancer like his father, working with Balanchine at the New York City Ballet.
Children of the National Dance Institute performed two vivacious dance routines to celebrate the occasion. The first was "Dancing in the Streets," which was followed by remarks by Council Member Gale Brewer. "Jacques understood this too well, having personally experienced the transformative power, emotion and joy of dance," said Brewer. "The National Dance Institute has grown — indeed in leaps and bounds — to reach over 2 million children from Harlem to countries throughout the world."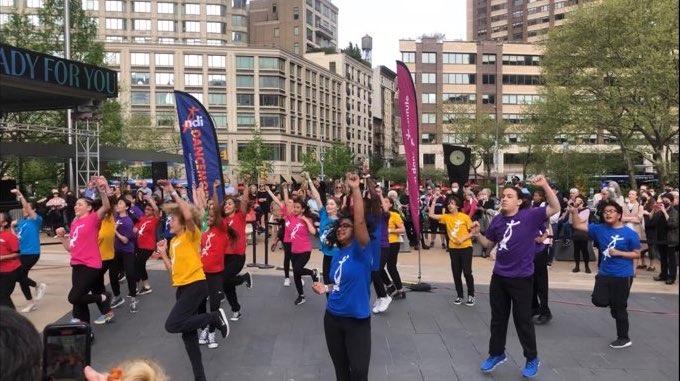 Jacques, who passed away in 2021, will always be remembered for his ability to bring the ballet to a wider audience. The combination of his golden smile and sheer athleticism, paired with an electric bravado, landed Jacques roles on the silver screen in Seven Brides For Seven Brothers and Carousel. Perhaps the most prolific memory of Jacques' vast career was being cast as the title role in the New York City Ballet's 1957 revival of Balanchine's "Apollo." Jacques went on to choreograph seventeen ballets for the NYCB.
Advertisement



On Thursday, Jacques' spirit shined brighter than ever, as children from the National Dance Institute performed their closing number to "When the Saints Go Marching In." Thereafter, the crowd moved from the Plaza down to West 64th Street to unveil Jacques d'Amboise Place with his family and the company he influenced so greatly together.
"Who am I? I'm a man; an American, a father, a teacher, but most of all, I am a person who knows how the arts can change lives, because they transformed mine. I was a dancer." — Jacques d'Amboise