'Tis the season for festive fun, and Lincoln Square is the center of all the action. Next on the agenda? The WinteRamble, taking place on Wednesday, December 21 (rain, snow or shine).

In celebration of the winter solstice, the Lincoln Square Business Improvement District is hosting a performance and illuminated procession featuring Frost Giant puppets and icicle lanterns by the Processional Arts Workshop. The spectacle kicks off at 5:00 p.m. sharp at 1886 Broadway (between 62nd and 63rd streets) and will work its way through the neighborhood until 6:00 p.m.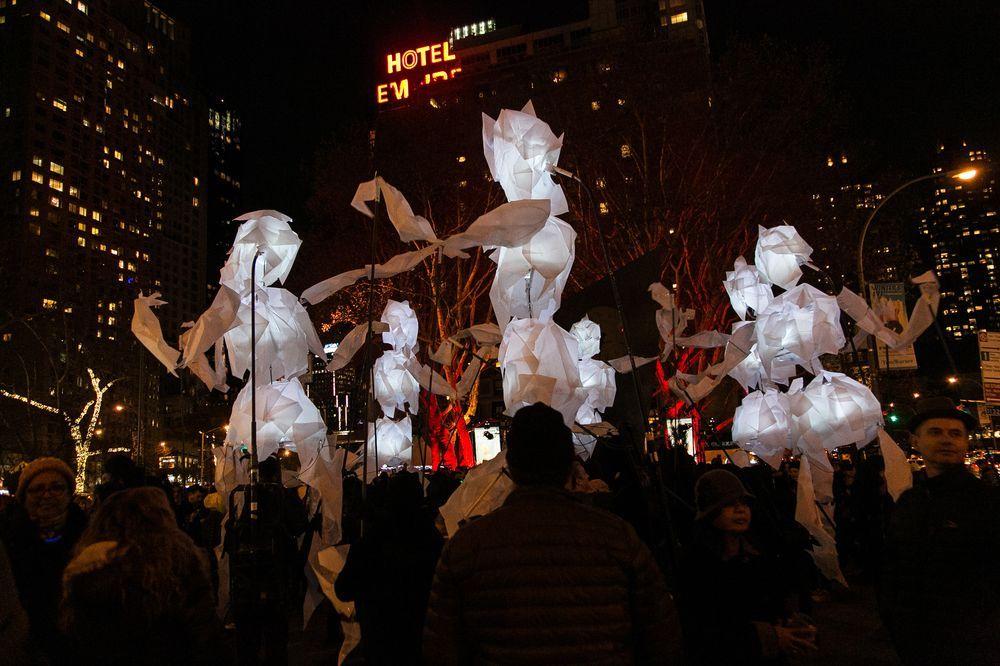 At 3:00 p.m, there will be a pop-up workshop where folks of all ages can create mini-lanterns to carry during the main event. The family-friendly celebration is not to be missed — and there are two other ways to get involved. You can volunteer to carry a crystalline icicle lantern or participate in the Kalimbascope, an amateur music ensemble of electronically-enhanced thumb pianos.
If you're interested, an RSVP is required — sign up here, or simply revel in the magical moment from the streets!
The WinteRamble is the latest community-focused feature of Lights Up on Lincoln Square, presented by the Lincoln Square BID. The month-long series of gratis performances, holiday cheer and immersive experiences is already underway, but there's plenty more to look forward to. On Thursday, December 15 at 4:00 p.m., you can delight in a performance from Six13, a critically-acclaimed six-man a cappella group. Craving a few Christmas carols? Look no further — the Fabulous Fezziwigs are performing on Thursday, December 22 at 4:00 p.m. See the full schedule here.
As Lincoln Square has long been regarded as one of New York City's most vibrant cultural hubs, it's no surprise the area is embracing the holiday spirit. We recommend bundling up, attending the WinteRamble with friends and family and capping off the evening with dinner at one of the nabe's beloved restaurants (like Cafe Fiorello, Atlantic Grill or Rosa Mexicano). Or, use the BID's neighborhood guide for a complete list of the area's restaurants. Happy holidays, UWS!