Whether it's painting, sewing, knitting, mosaics, or learning the harmonica, you can be sure Linda Facci is working on something creative. But when asked what the last book she read was, she jokes she hasn't had time to read lately because, "you can't do everything." A born and raised New Yorker, if anyone can do anything and everything, it is probably Linda. Linda is currently a full time dog needle felter and her work has been featured all around the world.

How on earth did Linda find needle felting? Linda told me that back in 2013, the store Anthropologie was hosting an event for a woman from Norway. She specialized in wet felting, which was different than what Linda specializes in now, needle felting. She became inspired.
"At the end of the lesson, we all had our own needles to work with and were told to focus on the little details. I was hooked.  I went home and started to Google more about needle felting and ordered supplies. I just started making little mice, little rabbits, and things like that."

Advertisement
The craft of needle felting is relatively new and has only been around since the 1980s. There is a surprising amount of people interested in this craft, many of whom are in the UK. Linda remembers seeing the woman's work that inspired her and how realistic it looked. Linda thought to herself, "I hope to be like her one day. Maybe I should reach out to her and let her know how much she inspired me."
Linda began to make mounted taxidermy-like heads, and sold them at a store downtown. One day Linda got a call from the owner saying that a major celebrity purchased some of her work and was really impressed. This gave Linda some more confidence as she expanded her work.
Linda decided to open a shop on Etsy. She was surprised when she started to get custom requests, including a unique wedding topper. "The bride could not find one that she liked. She told me her and her husband always called each other squirrely. So I made a felted squirrel wedding cake topper."
This launched a new product line for which Linda received a great deal of press on. The focus was on her unique and beautiful work, and she even caught the eye of Martha Stewart Weddings. Once more people became aware of Linda's felting, the orders started rolling in. It became clear to Linda's clients that she was a perfectionist and it has been reflected in her perfect ratings on Etsy. People love her work so much, Linda is now felting full time to keep up with the demand.
Prior to felting full time, Linda worked for People and In Style Magazine. She also held a creative job at Magnolia Bakery, which she enjoyed, but kept feeling a pull between her passion for felting and going to an office everyday. It wasn't an easy choice to make, and Linda was worried about leaving the security of a job offering insurance and stability. But she knew it was time for her to make the leap and follow her calling.
It was some time around 2018 that a video of Linda and her work went viral on Intstagram, and business started picking up significantly. Her account was flooded with followers and people interested in her work.
Linda says the video was nothing special; it was something she put together fairly quickly. But because of that video, other media outlets became interested in her work and asked to do a video about her. The word was really getting out about Linda, as she was dubbed "The Dog Felterer."
"I did a couple of dogs for the people in Australia and was then contacted by an Australian news company."
With all of the incoming media attention, Linda's list of custom requests grew longer and with each request came pictures of people with their dogs. It was then that Linda started to want a dog of her own. She says that she was never a dog person and was surprised how connected she felt to the dogs she felted and really wanted to make space in her life for one.
"I was looking at everyone's photos. They were all playing with their dogs, and some were even cuddled up in bed with them. People really love their pets."
So the time came and Linda and her husband were ready to adopt a dog.  Cocoa is now the highlight of her day and they have a very close bond. Linda's husband spends much of his time upstate, so her dog is her constant companion in the city.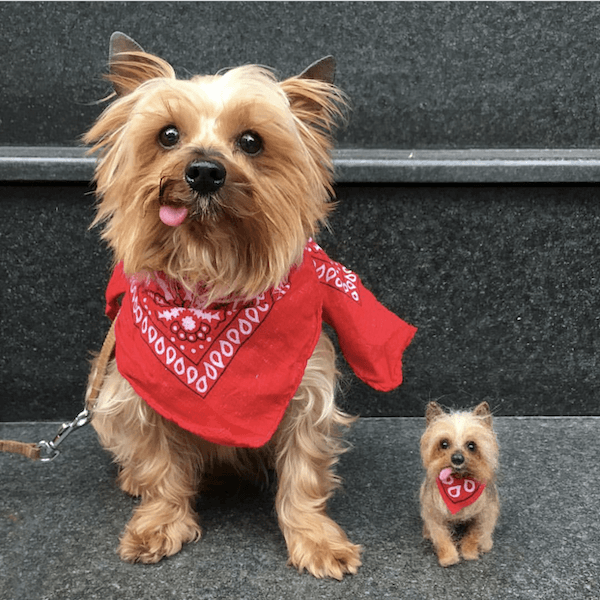 Linda has been with her husband for 17 years. They own two properties in upstate New York, which they renovated and now rent out to those wishing to vacation upstate. All of the renovations Linda and her husband did together, highlighting yet another skill she has.
"One is called Storybook, the other Pine Grove. I thought it would be fun to write those on the pillowcases to greet our guests when they enter the bedroom…it's those personalized, extra touches that make our cottages popular."

Advertisement
I asked what keeps Linda on the UWS instead of moving upstate. She told me she has a wonderful apartment that she has lived in for many years.  "What I really love is that people move to the UWS to stay here.  It's not like other neighborhoods where people are more transient."
Linda also loves some of the neighborhood small businesses including Knitty City on West 79th Street. Linda teaches a course here twice a month and would love for more people to come join.
You may see Linda around the neighborhood, but don't be surprised if she isn't looking back at you. "When I walk down the streets of the UWS I'm usually looking at every dog that passes by. I'm looking at them for research and also because I just think they're the cutest things!"
It's clear that all of that research has paid off. Her beautiful felted dogs start in the $400-$600 range. She does offer payment plans so that those wishing to have one of her creations can still obtain them without having to front all the money at once. "We will make it work," she said.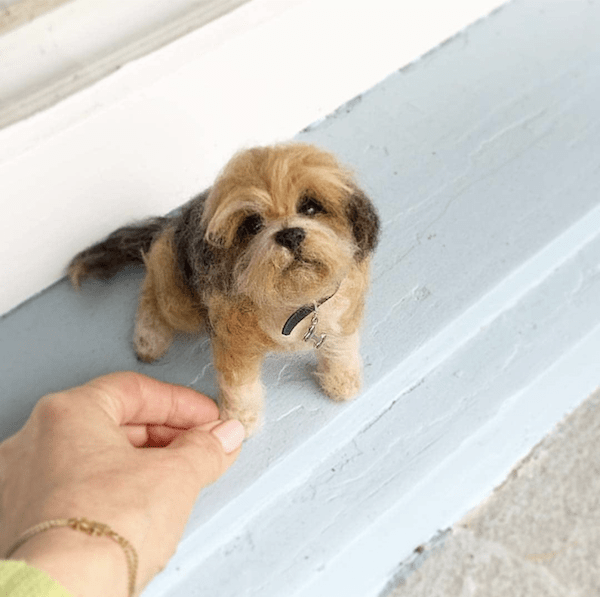 I asked Linda how long it takes for her to complete one of her dogs. "I might be on my couch for eight hours a day. I treat this job very seriously. I probably wouldn't get up from the couch unless I had to walk my dog."
I joked with Linda that now that she has turned her passion into a career, what she does for a hobby? Her reply was the she enjoys baking because she loves to decorate cookies. She also likes to make pies and candy. She has also taken up sculpting. So where does Linda get her creative side from?
"My father was the youngest of 10, and he was a mold maker. He's no longer alive, but if he knew that I was making molds as part of my work on the dogs, he probably would get such a kick out of it."

Advertisement
Linda told me that her uncle and mother were also creative. Her mother was always making something. She would even decorate the inside of eggs with little festive scenes around the holidays. When she was younger she wanted to be a hairdresser. Now, she is cutting the hair of these little dogs everyday and it's bringing her so much joy.
Linda aims to share her joy and craft with others. She told me that when she is done with her felted dog creations and gives them to their new owners, it's often received with tears of joy. In addition to classes she teaches at Knitty City on the UWS, she also teaches downtown at Boris and Horton. Linda is also available for private classes.  For more information about Linda's work, her website is faccidesigns.com.
You can also find her on Instagram at @faccidesigns.
To take a class with Linda, please contact Knitty City at 212-787-5896. Her next event is on December 11th at 6:00 pm. She also teaches at Boris and Horton, and they can be reached at 212-510-8986.
Click here to read about more interesting Upper West Siders.