Slated to open in the spring of 2021, Pier 55's "Little Island" will be a lush, 2.4 acre public park propped up tulip-shaped columns in the Hudson River, right off of West 13th Street in the Meatpacking District.

Funded by Barry Diller and his wife, fashion designer Diane von Furstenberg, the project will cost an estimated $250 million to complete.
The park is being designed by Heatherwick Studio and Mathews Nielsen Landscape Architects.
Pier 55's Little Island will include lots of green space with open lawns, gardens and trees. There will also be lots of pathways for relaxing walks with water views.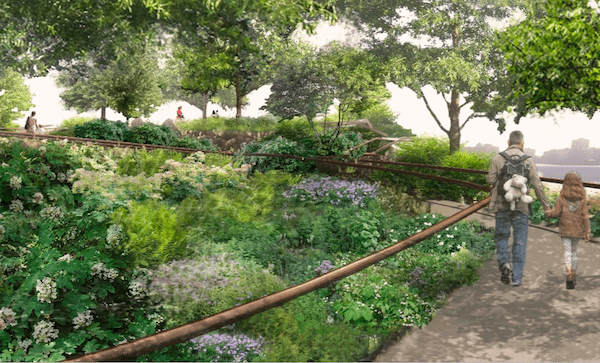 And once it is open, they plan on keeping it open all year round, so visitors can enjoy the foliage, snow, blossoming flowers and greenery.
Little Island is being designed as a family-friendly park for all ages.
Little Island will also have a 700 seat amphitheater for all types of performances. They're planning on hosting lots of community events and educational programs throughout the year. According to Time Out New York, 51% of tickets for these performances will be free or under $30 to attend.
all photos via Little Island
Little Island is currently under construction. Stay up to date by bookmarking Little Island's official website.
Related: Manhattan's First Public Beach