Out in the distance of the Upper West Side is a grand culinary experience that goes by the name of Harry's Table by Cipriani. Located at 235 Freedom Place South at Waterline Square between West 60th and 61st streets, Harry's officially opened to the public on June 8 — a little over a week after Bellini, the food hall's Italian sit-down restaurant opened. We had to take a trip over to get a lay of the land.

Advertisement



There was a chorus singing on the green while children played in the fountain at Waterline Square. It appeared to be a local community "School's Out for Summer" event, which felt serendipitous considering it was the opening day of Harry's Table. It wasn't that long ago when there was nothing here at all besides cranes, fences and shells of buildings in progress. Before that, it was the old Penn Central rail yard.
Some might consider this area of the Upper West Side a kind of no man's land because it's not that close to anything besides the Riverside Park bike path and the 59th Street subway stop — which is still a good 10-plus-minute walk from there if you know where you're going (since this area doesn't follow the grid system). Harry's Table strategically fills a void needed in this area — a huge selection of high-end eats in an elegant setting.
Walking around Harry's 28,000 square feet of space — which features chandeliers, leather stools and white tile walls — visitors can create their own journeys by choosing from twelve different food and beverage counters.
Advertisement



There's a coffee bar by Lavazza right as you pass through the main entrance. Freshly made pastries including bombolones and apple turnovers sit alongside pre-made sandwiches and savory croissants, like their prosciutto crudo mozzarella tomato option.
There's a homemade gelato and chocolate counter, a juice bar, a display case filled with cakes and pies, and plenty of salads made to order.
If you've ever been to Eataly before, you'll see some similarities here at Harry's Table. You can take your food to go or sit down at the open table area.
There's a counter completely dedicated to pastas. A pair of options that caught my eye were the Pappardelle al Ragù di Filetto with beef ragù and the Homemade Tortellini with panna, prosciutto cotto and peas.
See What Else is Opening Soon (or Just Opened) on the Upper West Side!
There are also several kiosks around the room where you can find grab-and-go pasta to make at home, as well as other options, including fresh fruit, chips by TartufLanghe, rendered duck fat, American wagyu beef and eggs. Harry's Table serves as a high-end grocery store in several ways, working to have something for just about every occasion.
Advertisement



Harry's has a pizza oven that also makes calzones and focaccia. Check out the cheese and charcuterie shop for meats and cheeses from around the world. I took home some Moon Rabbit cheese made from cow's milk in Wisconsin.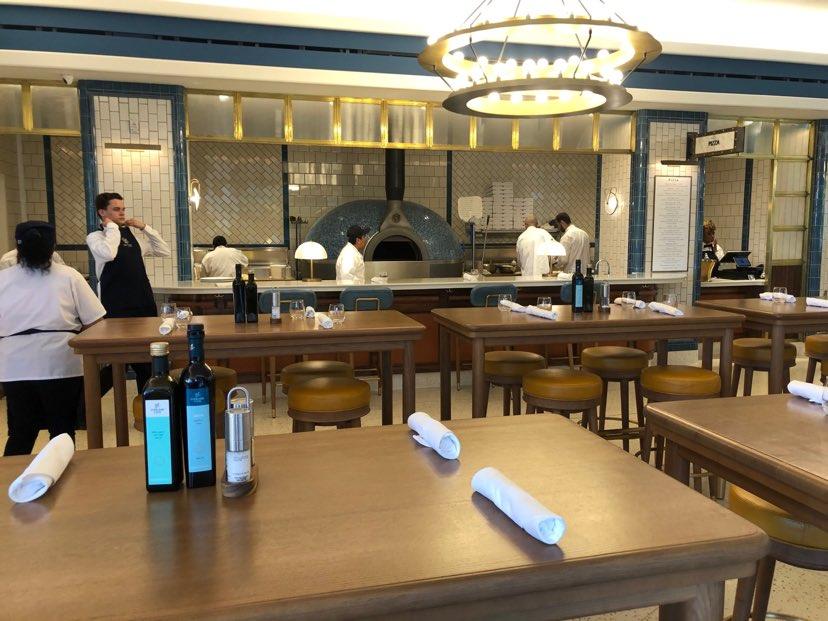 Harry's is also carrying domestic and imported caviars and even makes caviar crepes.
If you're fiending for a panini, they've got those too, like the Porchetta, which comes on focaccia bread with porchetta romana and Dijon mustard.
Still hungry? The gastronomia counter features foods like broccoli rabe, beef and veal meatballs, and Insalata di Pesce with calamari, shrimp, octopus and tuna salad. Or maybe you'd fancy a drink from the full bar in the middle of the room which showcases timber paneling inspired by mid-century Italy.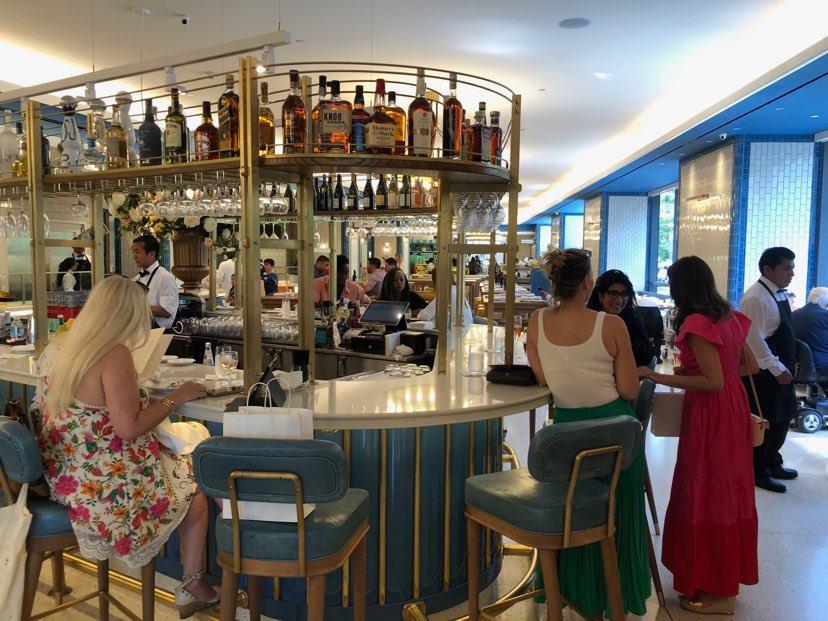 All the way in the back of Harry's is a dedicated pescheria and carne counter from Fossil Farms Artisan Butcher. Here you'll find fresh fish and crab legs, pasture-raised beef of New England farms, free-range poultry from Pennsylvania, Bershire Pork and other specialty game.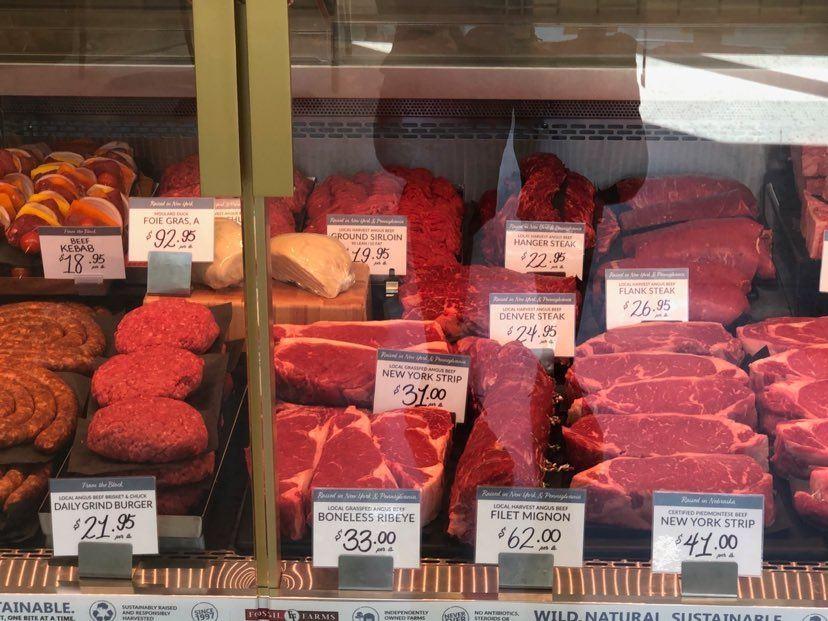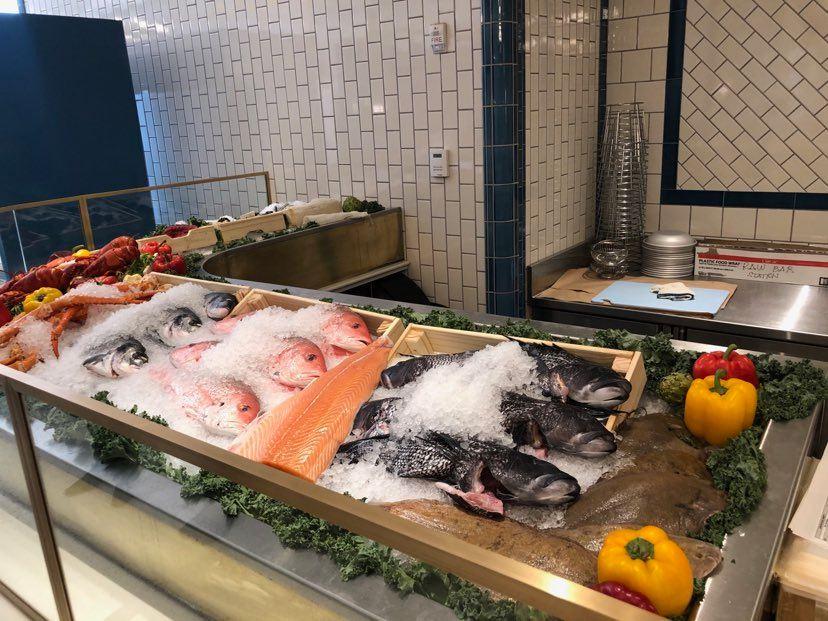 Harry's Table is no doubt an exciting new gem for locals. It'll be interesting to see if it emerges as a destination people go out of their way for. Current hours are 7am-9pm daily; the cafe is open 9am-9pm.
Advertisement



And now … the menus! Click the left and right arrows to view more.