We are living in a period where models of extraordinary resilience are deeply valued. Take the example of Stanley Adelman, who with his wife Mary, for many decades owned Osner Business Machines at 393 Amsterdam Avenue, between 78th and 79th Streets.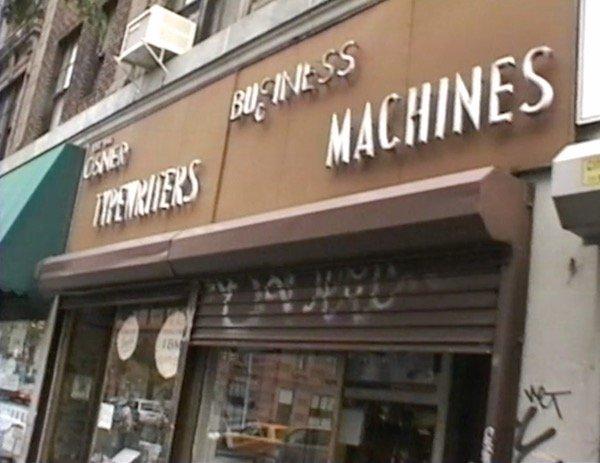 Originally from Poland, Stanley was a survivor of five concentration camps. He gained his freedom after the liberation of Mauthausen in 1945. Then, while sheltered in a displaced persons camp in Germany, he was trained as a typewriter mechanic.

Advertisement
Mary was born 1928, in Antwerp, Belgium, escaping the Nazis in 1941, moving to London and then Toronto, Canada. Introduced by a relative, the couple conducted a long-distance romance until marrying.
Clinical psychologist Anne Adelman, Ph.D, one of the Adelman's two daughters, recently said that soon after coming to New York in 1953, her father met Karl Osner, who was about 20 years older. He went to work for Osner at his typewriter repair shop and the two became best friends. Eventually, almost 20 years later, when his friend retired, Adelman bought the business. He repaired the typewriters and Mary worked behind the counter.
The Adelman's and their two daughters lived right around the corner on 79th Street, Dr. Adelman said. "When my father wanted a little more exercise, he'd take the route around Columbus."
An expert who fixed typewriters was highly prized on the Upper West Side during the Osner Business Machine years, which almost entirely predated the personal computer era.8 Famous and aspiring writers went to the shop. Among the best known are Howard Fast, Nora Ephron, David Mamet, Alfred Kazin, Erich Maria Remarque, Isaac Bashevis Singer, and Philip Roth.
The shop was memorably small and crowded. "This being New York, space was tight: on the floor-to-ceiling shelves, Mrs. Adelman stood the typewriters on their ends to make room for more. "Every time you'd go there, it was always filled with people, that little shop — crammed with people," said one longtime customer, the playwright Peter Shaffer, the author of "Equus."
It's clear from many comments made about the Adelman's that not only did they provide a very valuable repair service, but they were great people. Customers liked the cramped shop, and the enthusiasm and great care with which the Adelman's approached their work.

Advertisement
"My father was an exceptionally resilient and strong person. I believe his impact, at the typewriter store, was as a muse of sorts – his story, his courage to tell it, his belief in others' ability to prevail, and his amazing ability to connect with people in a deep way – the intensity of his gaze, his love of a good joke and his ability to listen seriously to others – made him an inspiring figure to many writers, said Dr. Adelman.
A NY Times article describes an interaction with the famous American author Howard Fast that illustrates Stanley's ability to take in stride even the most traumatic of events. When Stanley told Fast that his typewriter could no longer be fixed after 40 years of repair, he suggested that the Jewish author buy an Olympia typewriter. Fast initially declined saying that as a Jew he felt he could not write on a German typewriter. Stanley responded, "I was in a concentration camp. If I can sell that typewriter, you can write on it." Fast took Stanley's suggestion and purchased the Olympia.
In 1983 Stanley was seriously injured in a bicycle accident and retired. From that point, Mary took on the managerial responsibilities and oversight of repair technicians. She continued in this role after her husband's death in 1995. Mary sold the shop in 2001. She passed away at the age of 89 in 2017.