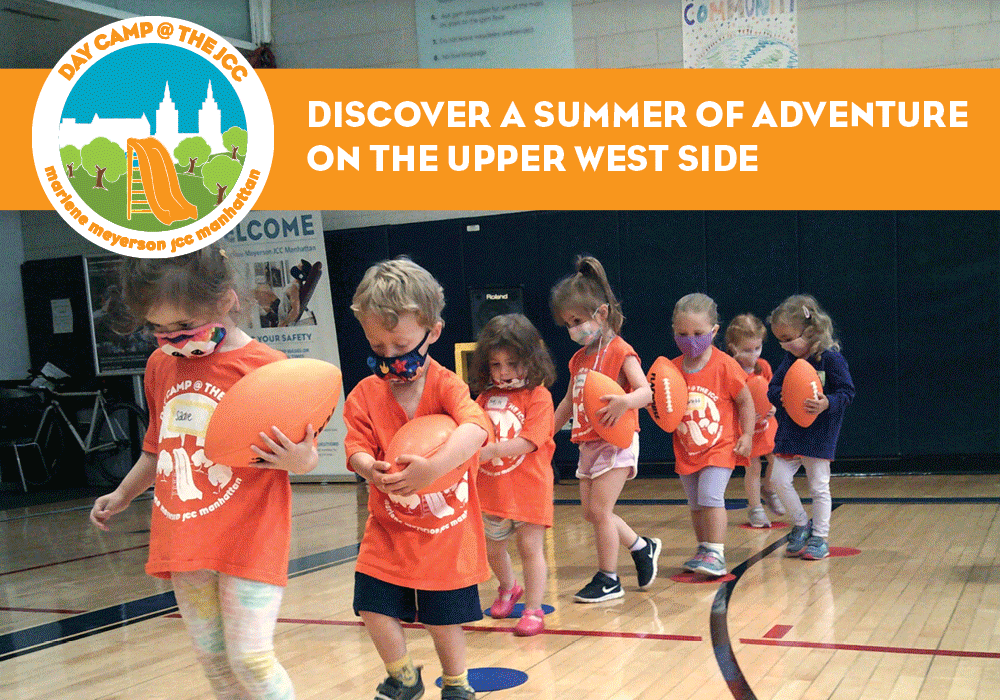 Day Camp @ the JCC, at the Marlene Meyerson JCC Manhattan at 76th and Amsterdam, offers children ages 3–6 a city-based camp experience utilizing the JCC's state-of-the-art facilities, including two indoor heated pools, culinary and art studios, private rooftop playground with garden, and full gymnasium.
What's in store? 3 and 4 year old campers enjoy daily play as well as weekly specialties on the JCC's picturesque rooftop. 5 and 6 year old campers also walk to Riverside Park for daily activities and lunch. A varied daily schedule appeals to the diverse interests of each child while offering moments for continued growth and development.
Activities include:
Sports
Ceramics
Cooking
Yoga
Nature
And more!
Best of all, Day Camp @ the JCC is a place for exploration and opportunity; a place to try new things and to enjoy favorites with friends. The JCC creates an environment where campers feel safe to stretch, and continue to grow in the areas they love most. Specialty options are added each year to meet campers growing needs.
Registration is now open for summer 2022. Sign up here, call the Camp Office today at 646.505.4430, or email Director of Camps Genna Singer at gsinger@mmjccm.org to learn more. Learn about how the JCC is keeping each camper safe this summer by visiting the camp's dedicated website here.
Have a 4-12 year old looking for an out-of-the-city camp experience? Check out the JCC's other summer adventure, Camp Settoga, by clicking here.
The JCC looks forward to welcoming your child to the camp community!