The cast and crew of Lyle, Lyle, Crocodile – a feature film based on the children's book about a crocodile that lives in New York City – recently set up shop to film scenes on 85th between Columbus Avenue and Central Park West. And signs indicate they'll be filming on this block again on September 21, 22, 23, 27, 28 and 29.

Thanks to @flcasey for the tip and photos!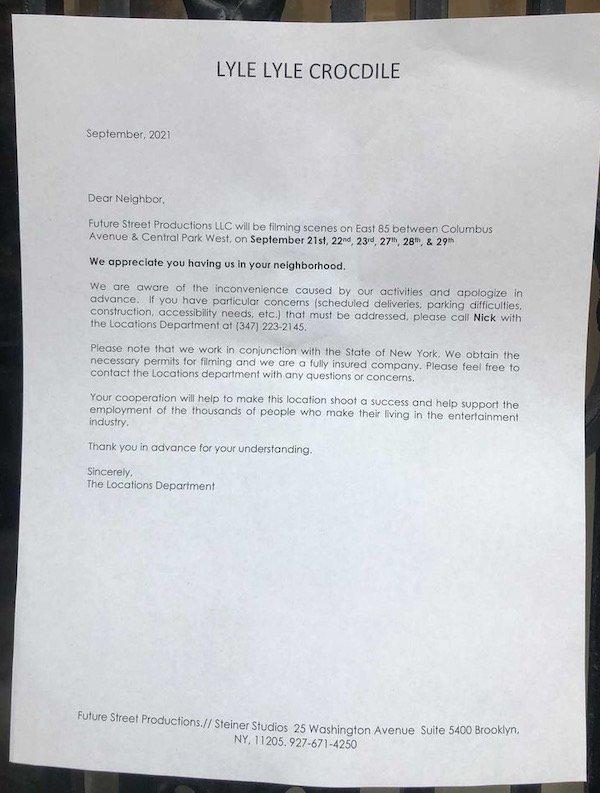 Starring roles will be played by Javier Bardem, Constance Wu and Winslow Fegley.
[adrotate banner="161″]
Javier Bardem is best known for his roles in Skyfall, No Country For Old Men, and Mother! He's also married to Penélope Cruz.
Constance Wu starred in TV series "Fresh off the Boat" and romantic comedy Crazy Rich Asians.
And 12-year-old Winslow Fegley is a child actor who's had guest spots on shows including Teacher and The Good Doctor.
Written by Bernard Waber and first published in 1965, the book is a sequel to "The House on 88th Street."
Lyle the crocodile lives in a house on East 88th Street in New York City. Lyle enjoys helping the Primm family with everyday chores, and playing with the neighborhood kids. He's the happiest crocodile any home ever had…until one neighbor insists that Lyle belongs in a zoo! Mr. Grumps and his cat, Loretta, don't like crocodiles, and everything Lyle does to win them over seems to go wrong. It will take all of Lyle's charm—and courage—to reveal the hero, and friend, behind the big, crocodile smile. (Amazon)
The film's expected release date is November 18, 2022, according to IMDB.