Ryan Little, a 37-year-old Manhattan resident, has been arrested following seven separate incidents of robbery with a gun, over a two-and-a-half week stretch, an NYPD spokesperson confirmed with ILTUWS. Little, who now faces federal charges, was apprehended on Wednesday, April 20 at 2pm. Five of the armed robberies took place on the Upper West Side.

The first robbery took place on April 3 at a coffee cart on West 136th Street and Broadway, where police say Little displayed a handgun and demanded money from a 38-year old male. The suspect made off with $500 and a $200 phone, according to an NYPD spokesperson.
Advertisement



Almost two weeks later on April 16, Little allegedly walked up and ordered food at a taco truck on Broadway between West 69th and 70th streets. The suspect ordered food before displaying his handgun, demanding the money and phone of a 19-year-old female. Another $500 was stolen before Little allegedly told the victim he would return to the truck in five minutes — and if she left the area he would shoot her, according to authorities.
Ryan Little was back at it the very next day when he allegedly robbed El Gallo Taqueria at 502 Amsterdam Ave, between 84th and 85th streets. Police say "a male entered the location and asked if they were open" before flashing a handgun and removing money from the register. "$119 and a tip jar were removed."
On April 18, Little allegedly struck a fruit stand on the southeast corner of 86th and Broadway, according to the police report. The suspect approached a 50-year-old male and asked for change of a $10 bill. When the victim pulled out his money, the suspect showed his handgun and took approximately $150 —  then proceeded to walk away before doubling back and demanding the victims iPhone, valued at $850.
Two incidents reportedly took place on April 19. The first was at 5:50pm, when Little allegedly approached the burrito truck on 77th and Amsterdam Ave where he, again, displayed a gun and stole $150 from a 31-year-old female.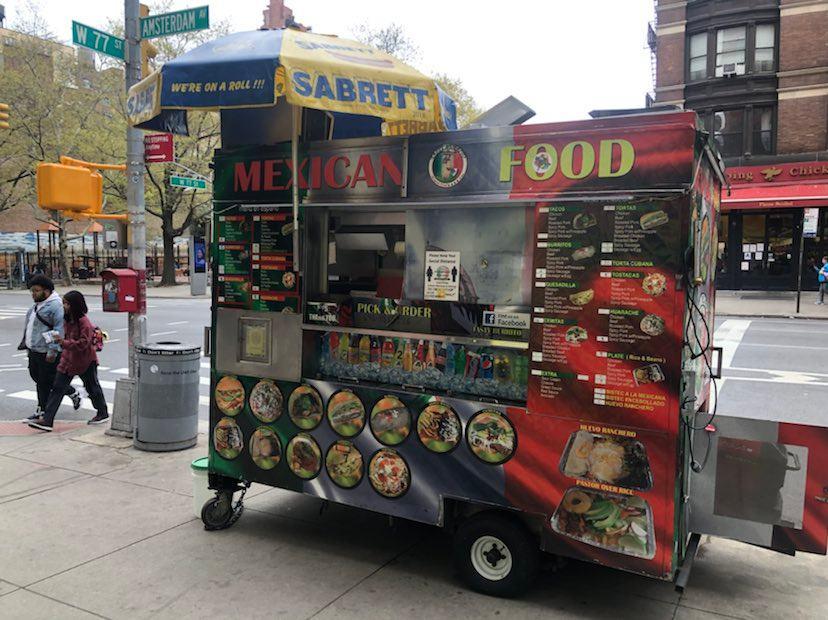 Later that night at 12:30am, cops allege that Little robbed a 48-year-old female of $65. The incident was back at the taco truck which Little allegedly targeted three days earlier.
Advertisement



Ryan Little is also accused of removing $1,500 from the register after showing his firearm at Jimbo's Hamburgers at 1345 Amsterdam at 127th Street on April 20. An NYPD spokesperson says "an individual at the location chased the suspect who fled into St. Nicholas Park where police apprehended the suspect. A loaded .40 caliber firearm was also recovered in the vicinity."
Ryan Little was arrested on Thursday, April 21 for "charges including Hobbs Act robbery, a 1946 law that makes it a federal crime to commit robbery in a manner that affects interstate commerce, and weapons-related offenses, including being in possession of a gun as a convicted felon," a New York's Southern District spokesperson told NBC New York.
Collectively, Little is said to have stolen over $3,000 in cash and multiple cell phones. He is currently in police custody until his next court appearance.