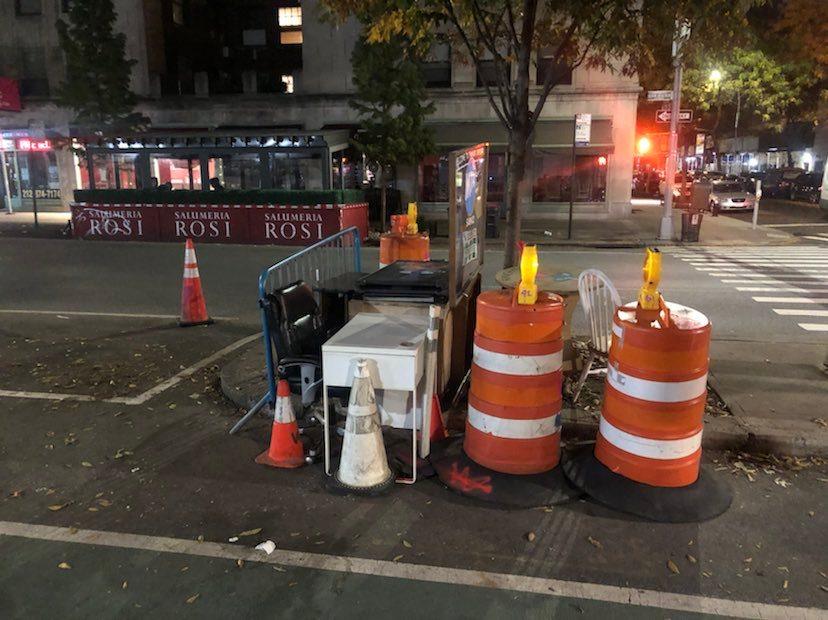 It all started with an early morning walk on Sunday, October 23.

At around 4:30 a.m., I spotted something charmingly unusual in the median at West 73rd Street and Amsterdam Avenue. At first glance, it looked like an "art cart" fashioned into a makeshift office, eloquently filling the tree bed area of a highly trafficked intersection. There was an office chair and a desk with a glass of red wine on it. Located just north of Verdi Square beside Apple Bank, this surely felt like the cozy confines for a drink. Till next time, I decided.
Advertisement



On Wednesday, October 26, I returned with my own beverage in tow. This time, there was a man wearing a sweatshirt over an orange Metropolitan Transportation Authority (MTA) vest and an MTA hat. The man was sitting in the office chair at the makeshift desk, and now it appeared that a new windowpane had been installed, giving the territory even more of a workplace aesthetic. The line between an actual office for some kind of street construction versus a potential full-blown performance art piece was being questioned with so many cones, lights and traffic barrels lined up, all around the site.
When I walked by, the gentleman complimented my New York Jets hoodie since the Jets had just won their last game against the Green Bay Packers on October 23. Smiling, I continued walking before eventually looping back across the street to continue observing.
Advertisement



There, on the east side of 73rd and Amsterdam Avenue, across the street from the potential "Art Cart MTA Office," I overheard two neighbors discussing the same exact person at his street side office, which is located right over the bike lane behind the El Ranchito street cart, next to the Apple Bank on the west side of the street.
Suddenly, the three of us were watching the man in the MTA garb step out in the middle of traffic at 8:19 p.m. on Oct. 26. He was getting in the way of a car, yelling at them to turn their lights on. It seemed like the encounter had the chance to turn into a serious situation, but when the car put its lights on, the person in the MTA garb slowly calmed down and went back to his desk area in the median.
The Wizard of Oz would say this is an MTA officer of a different color.
In a video I took, you can hear people laughing in the background, witnessing some form of vigilante street justice.
Street Justice pic.twitter.com/K9KRxwVVHP

— Bobby Panza (@BobbyPanSizzle) November 4, 2022
At this juncture, one of the neighbors I was standing with, named Mike, told me he had recently suffered a heart attack and the same man we'd just seen handle that car with no lights on actually helped guide EMS to his apartment when he needed to be taken to a hospital. In fact, Mike told us that the man in the street was the last person he saw before going to the hospital as he was checking on him and wishing him the best for his health as they took him away.
Advertisement



Mike went on to tell us that when he returned home from the hospital, the same man from the median saw him on the street and came over to see if he was OK. Mike and his neighbor friend both found the man charming, but they also expressed some concern to me: that the space he was occupying was slowly but surely collecting more stuff, which raised cause for concern.
At this point in the evening, Mike and his neighbor friend asked me if I wanted to join them as they wanted to say hi to "Caleb." We walked over together and I introduced myself and we shook hands. Our chat was short, mostly discussing what we had witnessed with him and the car in the street. He told us, "They didn't have their lights on."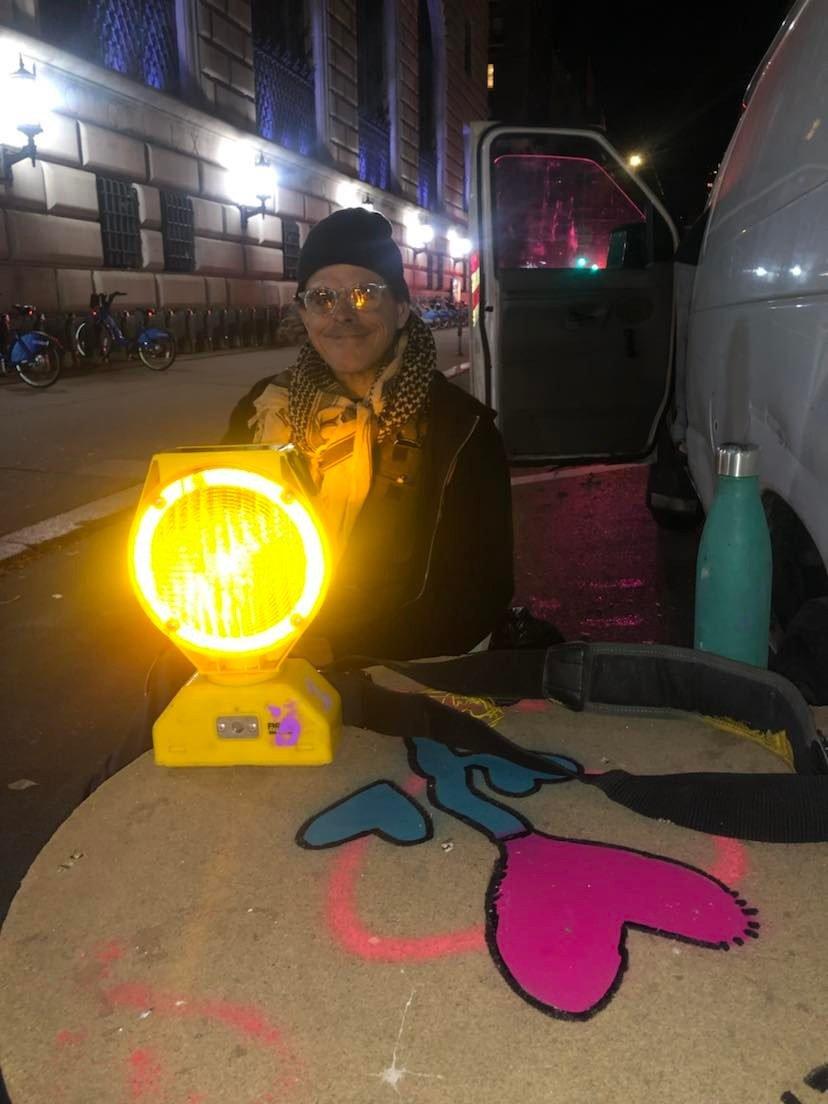 I decided to return back at 1:45 a.m. on October 27 to see if I could chat more with Caleb when things were a little calmer. He was nowhere to be found, the food truck was gone, and the site was tidily cleaned up and scaled down.
Looking over the site more carefully later on, I noticed an American flag set up. There were also two pieces of paper. One read, "This is not a TV show, this is real life. Love one another and live it up!!" It was signed "New York Department of Inspiration" with an MTA logo on the other side. The other said, "Trust God, Have Faith. Walk in love. Don't quit your daydream. As long as you are breathing there's hope."
We had our first real sit-down conversation with "Caleb" on October 28. He told us he was originally from Florida and grew up in a Christian family before moving to Canada, eventually landing in NYC around 2010. He told us he didn't believe in "Halloween, yoga or tattoos." Caleb's lack of interest in Halloween made sense for someone who seemed to be playing his own character around the clock.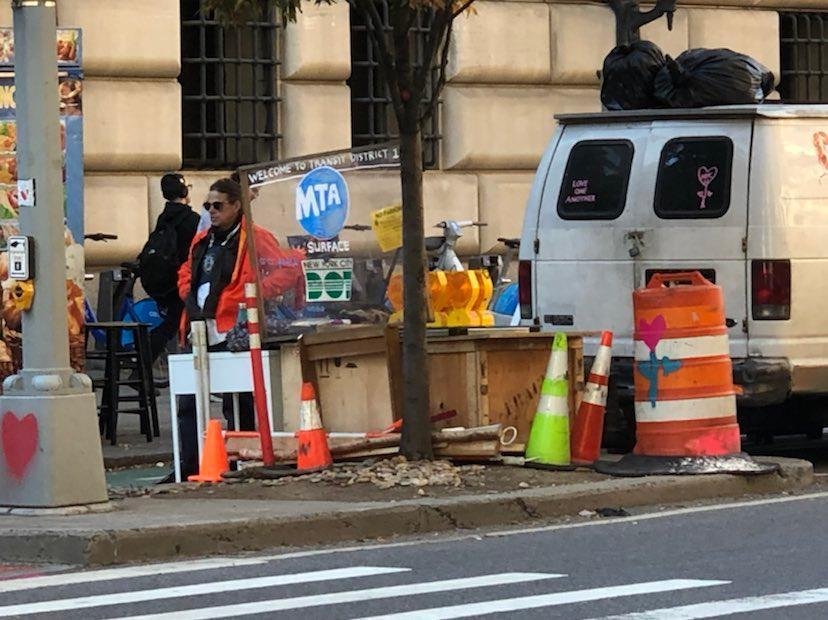 He did have a name for his light bright traffic setup: "Firefly Island," he said. It's a site he noted he'd been slowly cultivating for about five weeks, starting in September. One line I would commonly hear him say has been, "Slow down Lance," when bikers sped by, a reference to Lance Armstrong.
Advertisement



Caleb went on to tell us he lives in the Bronx with a roommate who's a chef. We learned he's a street artist of sorts who'd just made the El Ranchito street cart a brand-new menu, with his heart flower artwork clearly featured on it. Pablo from the El Ranchito street cart was there and showed us the work, even taking a picture with it, smiling. Pablo paid Caleb $25 for the work and said they all got along very well together in this area. When I asked Caleb if anyone expressed any displeasure with him being there, he told us, "Why would they?" before adding that Apple Bank had asked him to tidy up the sidewalk around his setup and he complied so there were no more issues there. We also noticed someone by the name of Tiffany delivering a big bag of William Greenberg baked goods to Caleb as a gift on multiple occasions.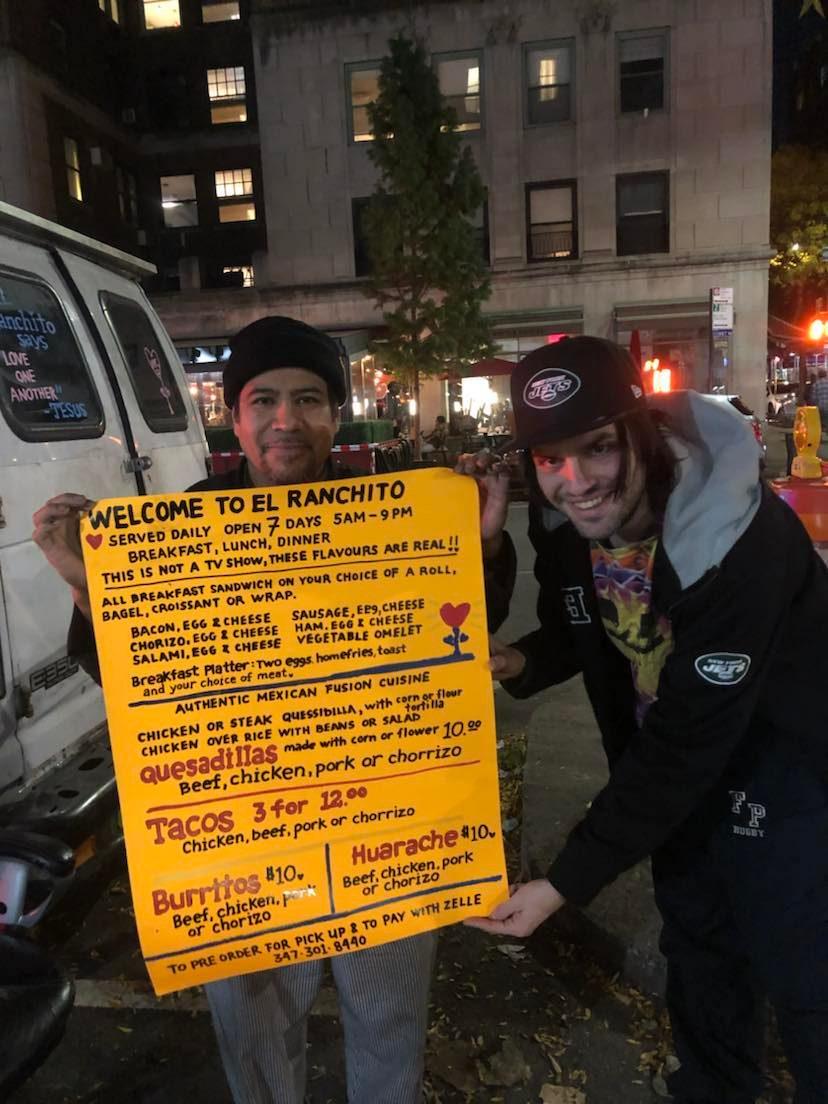 After saying goodbye for the night, Caleb requested we send him the photographs we took, giving us the email which he said was similar to his Instagram handle, @honscharnyc.
After a quick glance at the profile, you'll see he's had a long presence around the Upper West Side, and is known for his sidewalk chalk art with vivid colors and smooth typeface, not easy to accomplish on mangled city streets. We learned that one of his tricks for the sharp colors comes from boiling the chalk ahead of time.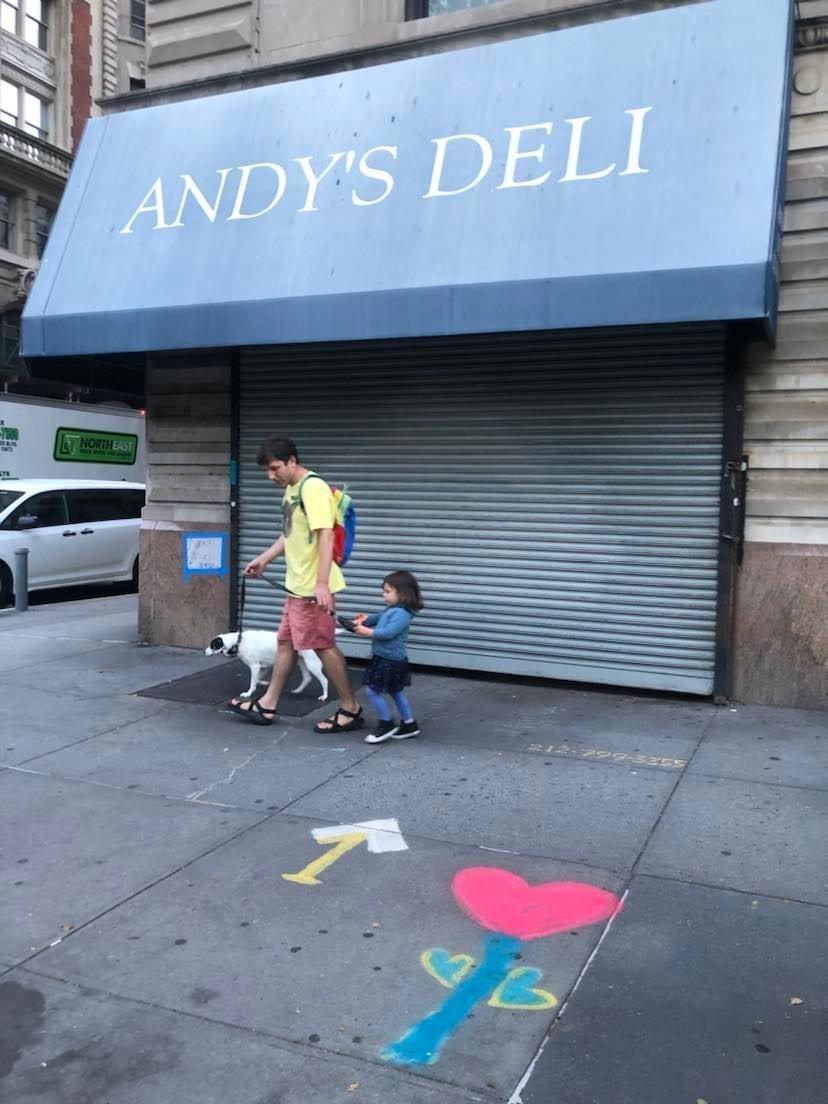 Currently, one of Caleb's famous heart flowers is drawn right in front of the now-closed Andy's Deli. If you like to walk around the Upper West Side, you've more than likely seen his work and radiant positive message quotations. Surprise, it turns out @honscharnyc is found on the "art carts" we initially felt a connection to when we first saw the Firefly Island site. To be clear, "art carts" are basically mobile push carts used to create artwork on a hard surface. They're usually found chained to bike racks around the neighborhood.
A further examination of the Instagram handle led us to a 2016 New York Times article titled "A Painted Heart Leaves a Black Mark on an Artist's Record." There was the man we knew as Caleb being written about as "Hans Honschar." The story gets into the night when Hans was arrested for doing "graffiti" inside the 86th Street station on the R line.
Advertisement



This was indeed surprising, as we were under the impression this person's name was Caleb, but maybe this was an attempt to throw us off in the hopes of avoiding the police.
The Times article also detailed that Hans Honschar "had been arrested and charged with larceny and possession of burglar's tools in December 2014 for trying to break a chain lock on a bicycle. On Jan. 7, 2015, Officer Mason said, he had been arrested again, this time for criminal possession of stolen property, a Citi Bike. (Mr. Honschar said both bikes had been abandoned when he found them on the Upper West Side. He said he spent a week in jail for the first arrest and, for the second, a week in a program that required him to report to court daily.)"
This report is obviously glaring because Honschar's Firefly Island site at West 73rd Street has a plethora of random objects, which may or may not have been stolen.
However, as of November 3, most of the site is now gone. You can still find some hearts and flower artwork done on barrels and guardrails, but the poles (stop sign), chair and American flag with signs below are now missing.
I reached out to Honschar through the email he provided on November 3 to see if he was okay. As of writing, we have not heard back.
An NYPD spokesperson informed us that while they do not have a report about the site at West 73rd and Amsterdam, they did say that Honschar's last arrest was in 2018 for graffiti, two years after the Times story.
On April 13, 2022, Brooklyn Paper wrote about Honschar in their story titled "Sunset Park sidewalk artist leaves messages of love, courage the day after subway attack."
At around 8:45 a.m. on November 4, I asked Pablo from El Ranchito if he'd seen Hans around. Pablo said he hasn't seen Hans in the last day or so, but he didn't seem concerned. He went on to say that the NYPD did come through, asking Hans to clean up the area, and he complied.