If you've ever thought that the days of custom tailoring beyond sewing a hem or taking in a waist band were long gone, thankfully, you are wrong. With the design tools of today and the meticulousness of traditional precision and style, Master Tailor offers an awesome service at its shop located at 77 West 85th Street, just a walk away from anywhere on the Upper West Side.

Master Tailor is the domain of Steve Kim and his daughter Leah. "We have been in the fashion industry for a very long time. My father has been sewing since 1969, starting with custom made, bespoke suits and then expanding into the luxury fur business, selling them in his own stores and department stores in Seoul, Korea."

Advertisement
Even earlier, Leah's grandmother was a tailor. Her grandmother, who has since passed, made traditional Korean garments called "
hanbok
".
Leah was born in Korea and raised in New York City. "I was definitely influenced by my parents. When I was little, I was around designers all the time and went to their studios. They gave me fashion magazines and I grew up around my dad's workshop and retail shops. I started designing and hand sewing my doll's clothes as early as I can remember."
Master Tailor opened on the Upper West Side last year. Before this, the Kim's had a business under a different name on the Upper East Side. Leah graduated from FIT and developed her own design business, selling her work in Brooklyn, Hong Kong and Korea. But when her father decided to open a business on the Upper West Side, she wholeheartedly committed herself to the new enterprise.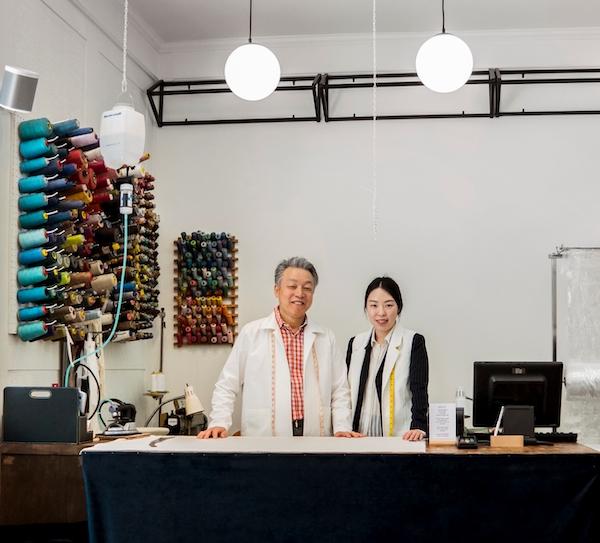 "In the fashion business, it's not just the glamour that people see," Leah explains, "There's so much depth in the engineering and technique that you must know and learn. I worked in various parts of the fashion industry before I launched my own collection, but eventually, even though I saw sales grow, I didn't see much future for me in the retail business."
Leah conceived and developed the spare, clean stylish look of the store's interior and the branding of the business. She says she and her father work together when they have a fitting or complicated jobs. Mostly though, her father, the master tailor himself, handles the detailed work. Leah likes to make short, sped-up videos of work in progress and they give a whimsical view of the very serious business of creating a custom garment.
View this post on Instagram
The Kim's are very proud of their work, enjoying the challenges of creating a garment that is both beautiful and appreciated by the customer.
"We consider every job very important. We can do any type of work as long as it fits into our sewing machine, from woven fabrics to leather and fur. Since opening the shop, luckily we have received many special requests."
The New Golden Key Locksmith Opens To Unexpected Challenges
The Kim's are true artists and meeting complicated challenges seems to be their stock in trade. Leah told us about various successes:
One customer came in with an English tailored jacket she inherited from a friend who had passed away. The amber brown fabric was torn inside and out. "We patched it and sewed in a new matched color lining. We were both very satisfied with the outcome and the customer was too. She was very touched and spoke to her jacket, as she did to her old friend."
"Another time, a customer brought in a designer's fur coat that did not come with proper button holes so we used the existing fur pockets to create suitable button holes. Sometimes I make videos of the work we do and this particular one you can see on our Instagram."
Master Tailor works on clothes that belong to men, women and adolescents. "We had a mother bring in her daughter's blush pink prom dress. She bought it from a second hand shop and purchased beads separately as well. She brought them to us saying that she wanted to make her daughter's dress unique and one-of-a-kind. This required hand sewing the beads onto the dress."

Advertisement
As convenient as Master Tailor is for Upper West Siders, some customers make a point of coming to the store from more distant locations. "One client brought her mother's off white Dior suit and wanted to size it down. So we did a major fitting and altered down two sizes," says Leah. "The result was fantastic; the customer is now on the west coast, but she still contacts us to bring clothes to alter when she is in town."
Clearly, the jobs that come in are as different as the customers. "We have many garment stories, but when we see the smile and satisfaction on the customer's face, it is what drives us to be in this business. We are happy, they are happy, and there is a feeling of mutual gratitude."
The Kim's are West Siders who've always wanted to open a shop here. Leah says they were lucky to find a space and are glad to be able to keep going during the COVID-19 crisis by making and selling masks and taking on minor alteration jobs.
On average, they sell 30-50 pieces a day, six days a week. Masks come in three different adult sizes, four kids sizes, and one junior size. Masks come in black and blue, in three layers of 100% cotton and an inner sleeve to fit a filter if the customer has one. "We added black by popular request and plan to add more colors soon. Our goal is to make a mask that is comfortable enough to wear all day, so that every New Yorker can wear it to protect themselves and prevent spread to others."
Once the shutdown restrictions are lifted, Master Tailor will be fully open again for the full range of tailoring services.
www.mastertailornyc.com
77 West 85th Street
(917) 261-2696
hello@mastertailornyc.com