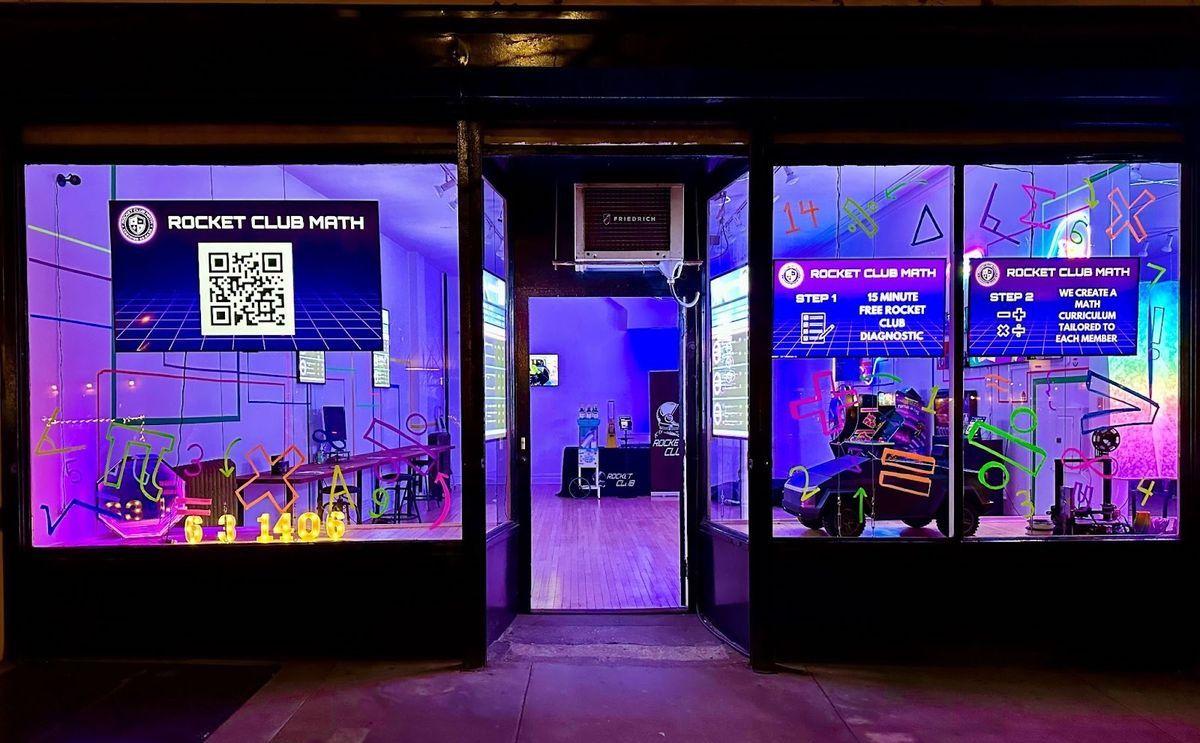 Rocket Club Math is a math tutoring center on the Upper West side that builds a custom curriculum for each of their members. As I learned through a Q&A with Rocket Club's Founder & CEO Alex Hodara, their goal for this very unique program is to help members find a love for math from an early age.

While the program has a permanent location a few blocks away, they've opened a pop-up location to host free one-on-one diagnostics for UWS families at 469 Amsterdam (between 82nd and 83rd streets) until the end of April.
You can sign up for a free math diagnostic at the pop-up here: RocketClubMath.com
Q&A with Rocket Club Founder & CEO Alex Hodara 
Alex fell in love with math when he started his first business when he was just a kid, right around the age of Rocket Club members. In college he started what CNBC called "the first student run real estate brokerage in America" and immediately after college, he started raising real estate funds and now owns residential buildings throughout Boston and Jersey City. These buildings have funded his true life's passion: the creation of Rocket Club, the after-school program he wished he had when he was a kid. 
He credits his love for math and success in real estate to the education he received at an early age when he joined his dad's fantasy baseball league. At 12 years old, his dad's league, which started in 1981 and consisted of all adults, allowed Alex to join. To stay competitive, Alex learned how to create projections on spreadsheets to forecast player statistics and budgets to compile a balanced team. He didn't realize he was learning math at the time because he was participating in something that he truly enjoyed, a concept that has built into the DNA of Rocket Club Math for all of his members. Alex is an Ernst & Young Entrepreneur of the Year Winner & Forbes 30 Under 30 Recipient. I think you'll really enjoy this interview that shows his vision behind Rocket Club's unique educational offering: 
Mike: Thank you for sitting down with me Alex. I've had the pleasure of seeing the growth of Rocket Club since the start. For our readers who are unfamiliar with the program, how long has Rocket Club been around?
Alex: Thank you so much for the opportunity to tell our story Mike. We opened our first Rocket Club location in 2019 and now have locations in New York, New Jersey, Chicago, and hundreds of virtual members around the country. 
Mike: Why is math education important for kids?
Alex: Many of the most successful people I have met have something in common: they enjoy math, use their skills everyday, and believe their math skills are an important part of their success story. They all forged their relationship with math when they were children, usually without realizing they were learning it while experiencing their favorite activities like playing sports, collecting money while running a lemonade stand, or measuring ingredients while baking. This is why we start every math diagnostic by asking our new members what their favorite hobby is. What makes us different is we are focused on finding ways for our members to fall in love with math from an early age and to progress at their own pace. If we are able to achieve this, then as a byproduct, they will also get excellent grades, get into better schools, ultimately get better jobs, etc. We want our members to love math as much as we love math.
Mike: How are you able to get your members to enjoy math?
Alex: There are certain parts of our program that are universally loved by all members: Blooket competitions, Rocket Fuel prizes, unlocking skills, level ups, Stock Market Challenge, etc. But the real magic is that after a member takes a diagnostic, we're building a custom curriculum for them and they work at their own pace. 
Mike: What is the Stock Market Challenge? 
Alex: We have an ongoing Stock Market Challenge where members pick a stock and track the company's performance over time. The first thing members ask us when they come to class is if they can look up their stock price. We start by teaching children as young as 4 years old how a company has a value or market capitalization, and the stock they are looking up is just one share of millions that make up the company. Some of our older members are able to calculate market cap based on outstanding shares and stock price, and then are able to figure out return on investment, price per earnings, etc. They love working on this and impressing their parents and teachers with what they've learned. In addition to the Stock Market Challenge, we teach members to work with spreadsheets and run numbers on income statements for basic businesses, something I learned around their age. 
Mike: How old are your members?
Alex: 4 to 12 years old. We find this is the age range where children have a very open mind. We are able to help them see how exciting math can be.
Mike: What is your ratio of students to instructors and how much time do members spend there every week?
Alex: We group members into 3's. Members are grouped based on skill level. We have one instructor per group. There is a lot of one-on-one time during class, especially when we get to the custom curriculum part of classes where members are working on their level ups and certifications. Classes are two hours per week on a dedicated day with a dedicated instructor. 
Mike: What are level ups and certifications?
Alex: We designed Rocket Club Math like an interactive game. During each class we are focused on our members improving from where they were a week ago. Each member has a resume and during each class they earn Rocket Fuel and new Skills (i.e. Place Value, Add and Subtract within 20, etc.) and then unlocking new Levels (i.e. Operations, Problem Solving, etc.) Members work towards earning 40 total Level Ups, at which point they are Series Alpha Certified and get inducted into our Hall of Fame.
Mike: You credit your math skills to playing fantasy baseball with your dad. Do you still play? 
Alex: Yes! I have a whole strategy based on advanced analytics, isolated power, exit velocity, and sprint speed for hitters and swinging strike rate for pitchers. My dad and I still share a deep bond over the math behind fantasy baseball. We just got back from our 5th annual trip to Arizona to watch baseball players in Spring Training where we pretend like we're scouts finding new talented players (he laughs)… I feel as excited about fantasy baseball statistics as I did when I was a kid. I still love it. 
Learn more at RocketClubMath.com.