Megyn Kelly, an Upper West Sider and former Fox News and NBC host, has made recent headlines for her stance on the doll display at West Side Kids, located at 498 Amsterdam Avenue (on the corner of 84th Street).

LOL, we thought you left the neighborhood!

— I Love The Upper West Side (@iLoveTheUWS) May 2, 2021
[ She has not replied to our tweet. We thought she may have left because when she announced in November 2020 that she'd be pulling her kids from New York private schools (including the Upper West Side's Collegiate School), she also mentioned leaving New York City ]

Kelly sent her first of two tweets on Sunday, May 2, sharing a photo of the store's front window displaying packaged action figures of Nancy Pelosi, President Biden, Ruth Bader Ginsberg, former President Obama, Vice President Kamala Harris and Alexandria Ocasio-Cortez.
"Six inches tall. The Alexandria Ocasio-Cortez is the perfect size for all uses—whether you want to keep her on your desk, or bring her to a protest," reads the product description for the AOC action figure on westsidekidsnyc.com.
If you look more closely at the image above, you'll also see a Bernie Sanders doll turned to its side between Nancy Pelosi and Joe Biden.
"Do you feel that? That's the Bern still going strong. Bernie reminds us how it feels to dare to dream big. He is a man for the people which is why just had to turn him into an action figure."
And for some reason, the Pelosi and AOC boxes say "Ages 14+," while the others say "3+."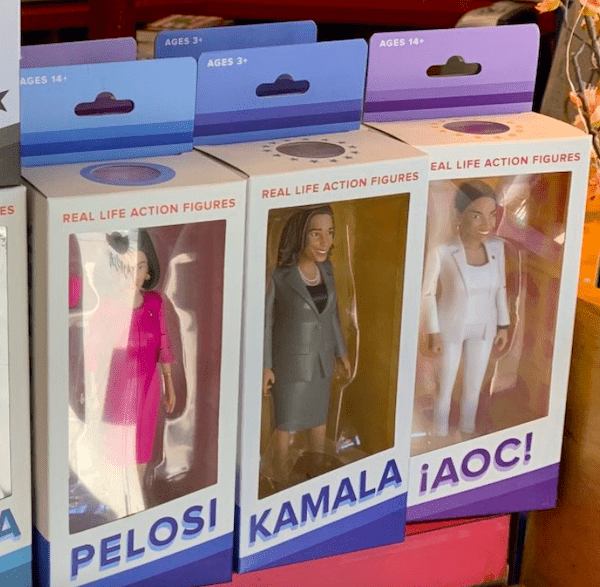 (AOC and Pelosi product descriptions, however, say they're appropriate for kids as young as 4).
[adrotate banner="161″]
A West Side Kids employee told Patch that this line of dolls has always been popular, and that the Fauci doll has been the recent best seller.
My friends, it's worse than we thought. pic.twitter.com/rvYckZgjwI

— Megyn Kelly (@megynkelly) May 5, 2021
The same employee also told Patch that several customers have come in to show him Kelly's tweets, and while he doesn't specifically remember seeing her, he did see someone "perusing the store during a busy day and taking photos of the action figures while laughing."
The dolls are available on West Side Kids' website for $19.99 a piece.