I noticed two things when I walked up to Metropolitan Window Fashions. First was the beautiful window display, and the second was customized dog bowls sitting at the front of the store.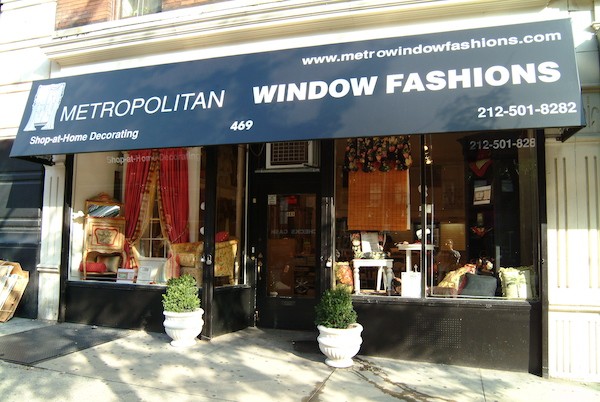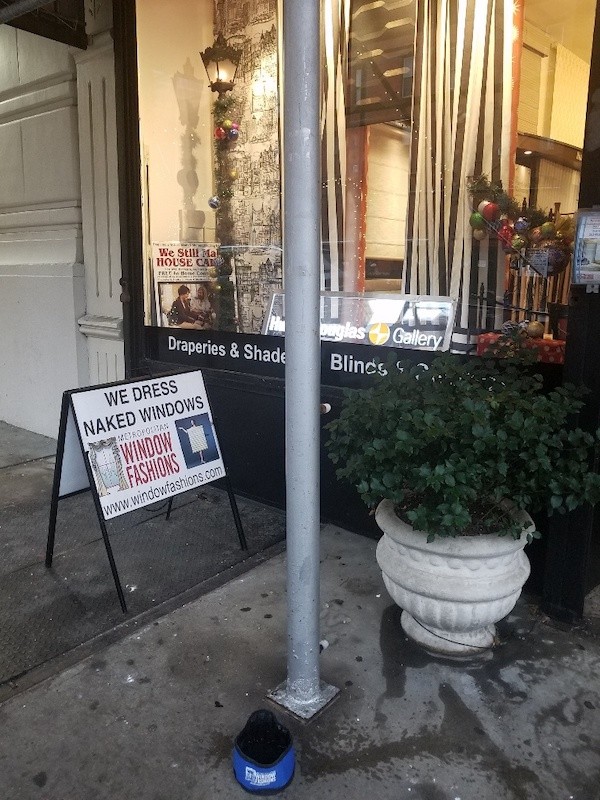 This family owned store is so welcoming that it's obvious why they have been business for 85 years – and are currently celebrating their 15-year anniversary at their UWS location! With a reputation for high quality work and super nice people helping customers, I encourage you to you meet with their team to discuss your window dressing needs.
Reflected in the shop windows, this special store is in a New York State of mind. Don't let the scaffolding put you off from taking a look at the display, because it's really worth checking out. It includes themed fabric from Schumacher and even has a little lamppost to give it the feel of a brownstone.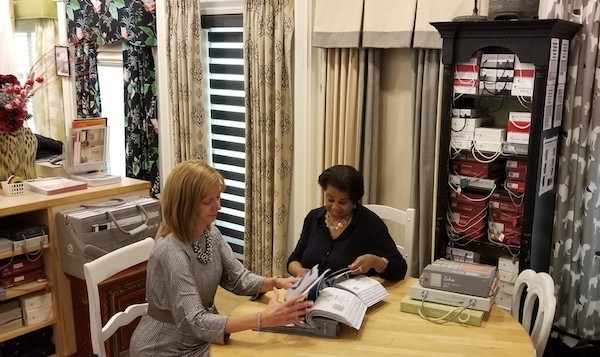 When you walk into the store, it will be clear that they make beautiful things. The store smells lovely, like sage. On the left, there are Hunter Douglas shades and a gallery. On the right side is the drapery display. You will be greeted by one of three very nice people: Sarah, Shawnna, or Yvonne. They are top-notch decorating consultants who will walk you through the process of selecting your desired look.
Bruce Heyman, third generation owner, says that when it comes to window treatments, it's really a layered approach.
"What I mean by that is we consider the shades and blinds to be the privacy layer. And we consider the draperies to be the design layer. We really don't feel that one works without the other. But every customer is different. If customer just wants to do one layer that is fine, we will make sure it's perfect for them."
One of the design specialists will walk you through the process by showing you shades and blinds. There are about 25 different options, including motorized shades, each one with hundreds of colors and textures to choose from. Once those details are worked out, the store's expert home decorator will set up an appointment to come to your home. Janet, the home decorator, is a true star. She goes above and beyond for her clients. Most competitors will not send a decorator to a client's home. This is part of what makes Metropolitan Window Fashions so special. Janet will bring the samples to your home to make sure it's exactly what you want. There is no cost for a consultation, which you can't find anywhere else. Once your details are determined, the next step would be to confirm your order and schedule the install.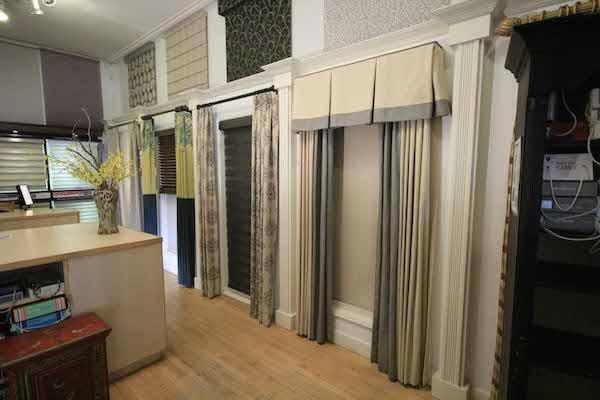 Bruce selects his team very carefully. "If you're not lovely, you're not working for me. Everyone is just so nice." He also stresses the fact that each job is unique.
"Each order is made one at a time, it's made just for you. It's your fabric selection. It's your style. We make everything, and then we come back with our installers. Our installers are insured. They are trained, and they are gentlemen."
Bruce has a team of two doing installations in NYC. They can get the certificate of insurance from the building if necessary. They will neatly and efficiently do an install. In the end, customer satisfaction is all that matters. Bruce works in Jersey most days, but he says he is available by phone for any customer that has a concern. But that rarely happens. Most customers are happy to sing the praises of Bruce and his team.
One recent NYC client, Barbara, wrote in saying:
"Bruce, just want you to know that I love how the new window treatment in our bathroom came out. It so much improved the look and feel. Thanks so much for working this situation out with me. I appreciate the personal approach you took and the customer sensitivity you brought to my request."
Metropolitan Window Fashions has won numerous industry awards, dating back to 1996 when they won the New Jersey Family Business of the Year Award. More recently, they won the first ever Retailer of the Year Award from Draperies and Window Coverings Magazine. They also received an Industry Achievement award from the Window Covering Association of America for their outstanding contributions and service to the retail window covering industry.
Unlike some bigger stores, Metropolitan Window Fashions sticks with what they know best: custom window treatments. At larger stores you can't buy custom draperies.
"We are not too big, not too small. We're just right," said Bruce.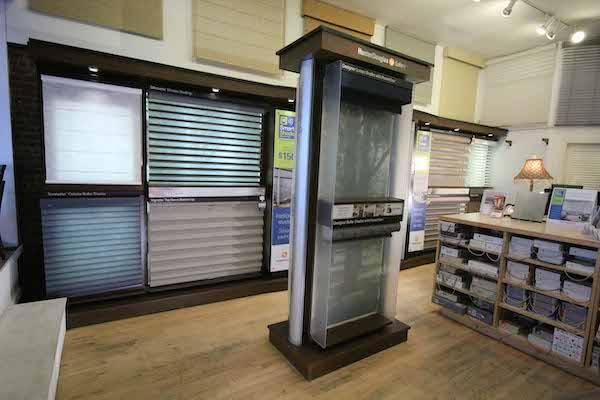 Back at the store, you can always stop in to check on the status of your order or meet with the team. They have fun branded swag to gift to customers, including umbrellas and tape measurers, which always come in handy.
I have enjoyed getting to know the people and owner of the shop. I would recommend going in with any questions or needs you have!
Metropolitan Window Fashions would love for you to be in touch.
You can visit them at 469 Amsterdam Ave
The phone number is 212-501-8282
The website is windowfashions.com