A cute, little white dog with his tongue hanging out of his mouth recently caught my eye. I stopped to give the little fluff in a sweater a pet, and asked his owner if I could snap a picture. After speaking for a few minutes, I had a feeling I was speaking with someone who "had a story." It's hard to describe, but when around Mike Trapani, you can just feel his positive energy. I asked him if we could sit down so I could let our UWS community get to know him.

When Mike Trapani was a kid, his dad took him to see Muhammad Ali knock out George Foreman. But that wasn't the most memorable part of his night. Mike remembers how the crowd reacted to Ali's victory above all else. "I saw how the crowd reacted, and it was so exciting. It just grabbed me and from that moment on, I knew."
Mike got into street fights as a kid. But the pride of his neighborhood and family helped him turn his scrappy ways into a real calling. His father said to him, "If you like to fight so much, then I'm going to book you in a boxing match!" And that's how Mike, "The Pride of Little Italy" got his start.

Advertisement
"Little Italy at that time was amazing. It had a sense of community second to none. It was the storeowners to the residents. Everybody knew each other, and it was one of the safest neighborhoods in the world. It was just a very exciting time in my life."
Mike's whole life became dedicated to boxing. Mike's father, Gus, searched for the best trainer he could find, and was able to find Phil Nestel. Phil gave Mike his famous nickname, "Mikey Iodine", because he said there was poison in both of his hands.
"He took me in as a son, and not only taught me boxing, but taught me a lot about life, and self discipline. I got to love the training, and that feeling of well being that came with it."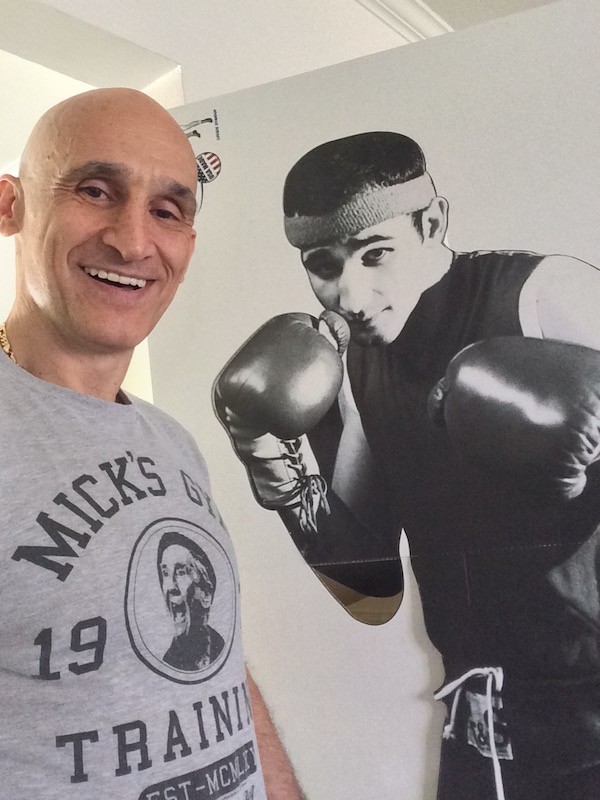 As Mike began to train for boxing matches, people from all over the neighborhood would come and support him. They would make banners and signs and cheer him on. In 1980, CBS featured Mike on the To Life show. The feature highlighted Mike's training leading up to one of his high profile matches. Mike's amateur boxing record was 40-3, with 36 knockouts.
But the feeling of well-being did not last. During a fight in Madison Square Garden, in front of 22,000 people, Mike developed triple vision.
"I found out after that fight that I needed surgery on both eyes. I was born with holes in my retinas and boxing was making them worse. They said that I could never box again, or risk going blind."
Mike said that's when he went from "national TV to the gutter." His life began to spiral out of control and he developed an addiction to alcohol.

Advertisement
His battle with alcoholism was bigger than any boxing match he had been in. In 1986, his father told him that he didn't want to bury his only son. Mike decided to change his life for good.
"I was in rehab for two days and wanted to leave because of any excuse I could find, like the couches were uncomfortable and the food wasn't good. But then I had a moment of clarity. The owner of the rehab, Bob Sullivan, told me 'you train for all these fights, let me see you train for your life now.' And something clicked. That was the beginning of the big transition in my life. It was August 22, 1986."
Mike then started the next phase of his life as a father, coach, and mentor. When his oldest son was in kindergarten, Mike worked with the athletic director at his son's school, Mr. Bernard, to develop the only boxing program in the United States on the elementary school level.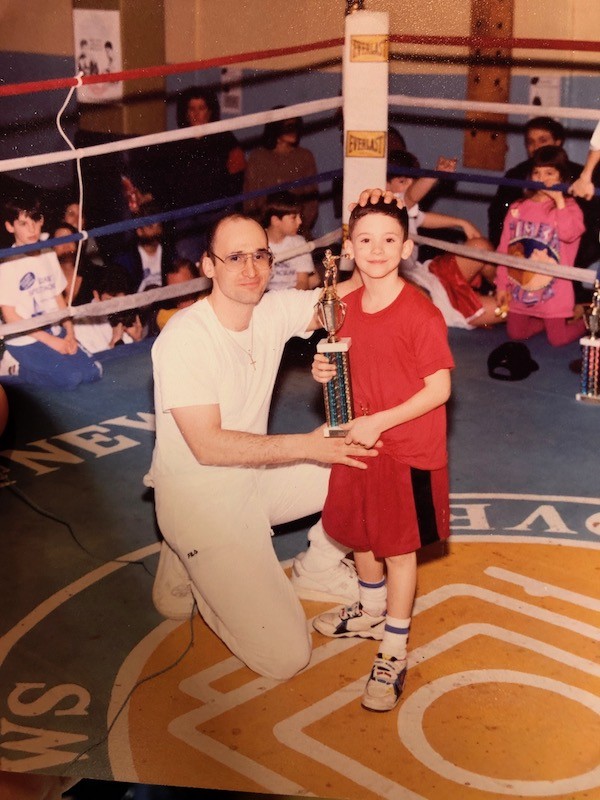 "I had a dream to work with kids, and suggested that I would train the kids for six weeks, and then rent the ring from Madison Square Garden, and let them compete.  I thought he would say no and dismiss it as fantasy, but he loved the idea, and the Mike Trapani Youth Boxing Program was born."
Mike says that at that moment, his life made sense. After struggling to accept his physical limitations and not being able to box anymore, having this program reenergized him. Once again, the media found Mike. HBO endorsed the program.
"It took off like wildfire. I started getting all the celebrities from the boxing world to be judges for these kids. Everybody took an interest in this program. It was an amazing program that went on for 15 years."
Today, these kids have grown up and attribute their success to the discipline they learned in those developmental years and Mike's program, including Mike's son.
"My son Michael works at Google. He attributes part of his success to the boxing program in that he has to go out and try things, even when it seems out of reach. I got goosebumps just saying that."
Mike places a huge value on having mentors. He had his father, Gus, and his trainer, Phil, who he credits much of his success to. Mike said that despite all of his life challenges, his mentors were always there to help pick him up and set him on course.
But life does not always go as planned. In 2017, Mike's world was once again flipped upside down. Mike and his mom had a very close relationship, and he would have dinner with his mother every Saturday night. On a random Wednesday, Mike decided he was going to drop by to see her.
"I found her body. And it was one of the most horrific events in my entire life. I called 911, and I tried to revive her."
Unfortunately, she had already passed, and there was nothing that could be done to save her. Mike had to work extra hard to stay on the right path. He battled his old thoughts of drinking, but this time he had the tools and strength needed to overcome even this life tragedy.
His strength not to give in is rooted in his ability to train hard at life. That's when it was suggested to Mike that one way to cope with his grief was maybe to have one more fight in honor of his mother.
"I started going to the gym and hung her picture up in the gym. I started running five days a week for miles before the sun came up. When I felt that I was ready, I contacted a matchmaker to get me a fight."
The date was set. Mike Trapani was going back in the ring one more time.
"The warrior spirit only dies when you die. That's something that I've lived and always felt."
Everything Mike has done in life he's done with a warrior spirit. When he's needed to pick himself back up from the depths of alcoholism, his warrior spirit was there.
"I'm also friends with a lot of former World Champions; the boxing world is like a fraternity. They will all tell you the same thing. When you watch other boxers on TV, your heart is right there with them in the ring. You know, they are gladiators from a former life, they live on."
The day arrived for Mike's "One More for Mom" fight and the place was packed. Mike's opponent was 15 pounds heavier, and younger. Mike stepped into the ring and won by sensational knockout. I asked him how he did it.
"When Buster Douglas pulled one of the greatest upsets in boxing history and knocked out Mike Tyson, they asked him how he did it. And he said, he had lost his mom the week before, so he figured he had nothing else to lose. In the first round, the guy knocked me down, then I rallied. With time running out in the final round and behind on points, I hit him with a right hand, what I called, the 'right hand from heaven.' The place went ballistic."
And there it was again, the crowd. Something that always called to Mike.
You can see the mini documentary his son did here: https://youtu.be/-9PhcVI1IXE

Advertisement
Today, you can find Mike in the boxing room at Equinox on the UWS or at Mendez Boxing Club on 26th Street off Madison Ave. He is a private trainer, specializing on those battling addiction.
Mike also spends a lot of his time staying in fighting shape. He loves running the reservoir and Riverside Park. Mike enjoys living on the UWS. Having lived uptown for some time, he has many fond memories living here.
He owned Café La Fortuna, on 71st between CPW and Columbus, before deciding to close it. One of his favorite memories was giving Yoko Ono the table where she and John Lennon had many meals together.
As to why Mike has stayed on the UWS? He's met a very nice woman who he adores.
"I met Sherri. I couldn't have a more compatible mate. She lives on the Upper West Side a few blocks away from me. She moved here from California and became an attorney. I like to say she is the brain and I'm the brawn."
Mike is also proud of his three children, who have all found careers they are excelling at. One son is working at Google, another son working on film making, and his daughter walks dogs. Speaking of dogs, Mike can be seen walking around the UWS with his adorable, 16 year old dog Cotton.
"Cotton is clingy and has separation anxiety since losing his companion Snowball, so I take him with me everywhere I go.  People always use their phones to take pictures of Cotton. I mean look at him, he has his tongue hanging out because he has no teeth."
Last year Mike won the lifetime achievement award by the Ring 10 organization. Mike was nominated for the award by the boxing legend Steve Acunto. The Great Roberto "Hands of Stone" Duran was flown in from Panama to be honored at the same event. Other world champions, Larry Holmes, Iran Barkley, Mark Breland, and a close friend of Mike, the #1 ranked contender, Gerry Cooney, were also were honored.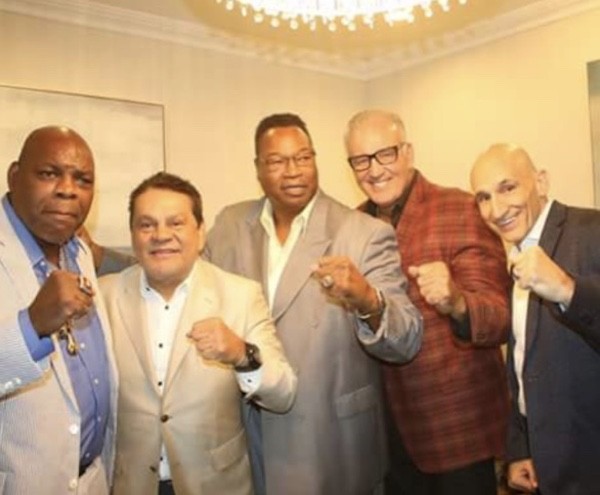 "Duran was my childhood idol. As a child I would spray paint 'Hands of Stone' on my bedroom wall. I idolized him, so it was an opportunity of a lifetime to be honored with him in front of 500 people. It was beyond my wildest dreams. In fact, being on the dais with these great champions was one of the highlights of my entire life!"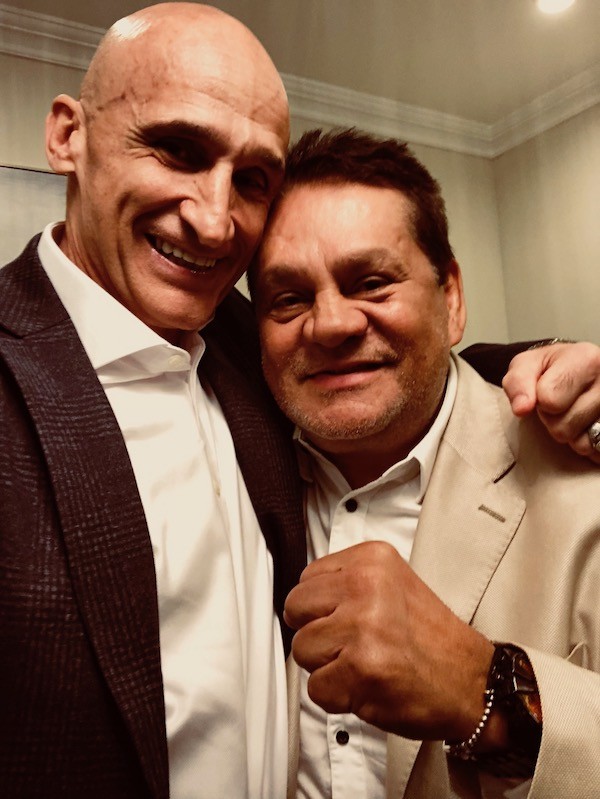 Walking around the UWS, you never know who you are going to meet. In this case, I'm very glad Cotton introduced me to Mike. Now we all know more about one of our neighbors with an amazing life story.