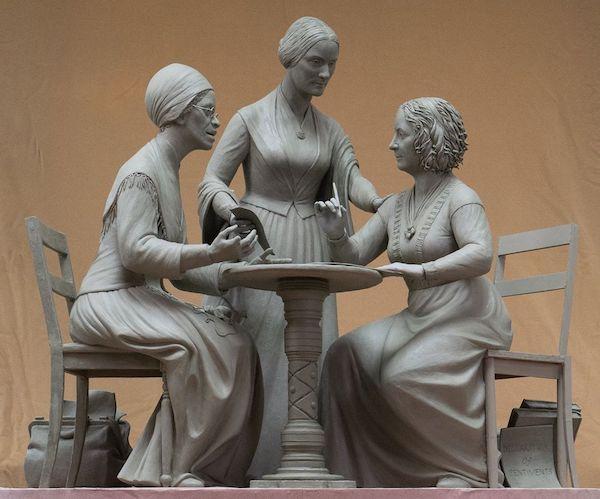 Meredith Bergmann's splendid 14 foot sculpture of Susan B. Anthony, Elizabeth Cady Stanton and Sojourner Truth, three "monumental women" and remarkable leaders of the women's suffrage movement, is scheduled to be unveiled on August 26th in Central Park's Literary Walk, the NY Post first reported.

We've been told by one of the organizers that there will be both an in-person and virtual event featuring a number of speakers and special guests who will be announced closer to the unveiling.
Advertisement
One can enjoy the sculpture even more by appreciating the hugely challenging job of researching and realizing a project which is not only huge in scale, but complex in being charged with meaning in terms of the past and the goals for women's rights in the future. Acknowledging that this work is a human rights landmark that honors the passage of the 19th Amendment in 1920, Bergmann is fully aware of the powerful emotions it will provoke, and advocates for woman's issues with the messages she portrays through her art. The goal is to embrace messaging that speaks to a wide, representative audience with historical accuracy.
Bergmann has created many public statues of women, some real historic figures, some symbolic memorials. This commission called upon her skills to navigate many points of view as she remained true to her own feelings.
When Bergmann first presented the sculpture to apply for the commission, it was a small scale version of the final product. The many changes – both big and small – took years to implement. Along the way she did extensive research, first about Anthony and Stanton, who had a long, often argumentative friendship, and then about Sojourner Truth, who is likely to have met with the two others. The portrayal of the three around a table symbolizes a meeting of minds. While she uses lots of photographs for reference and takes her own photos of models to inspire her work, Bergmann says, "I never copy a historical photograph."
Covid-19 has interjected its way into the sculpture-making process, just as it has affected every other aspect of daily life. The Polich Tallix Foundry (where the sculpture has being held) is now temporarily shut down. Earlier, the clay figures of the three women, table, chairs, bag filled with papers, books and other components of the sculpture were molded into flexible rubber into which hot wax was poured, forming wax figures that the sculptor refined. From this ceramic shell, molds were made of each of the numerous elements, then to be finally cast separately in bronze. At each stage, Bergmann went on site to make revisions.
Advertisement
Research of the three women and late 19th Century took Bergmann to the library and also to talk with historians. Consulting with historian Margaret Washington, she learned how important it was for both of Sojourner Truth's hands to be gesturing because she was famous for her public speaking, even though she could not read or write. Bergmann changed Truth's hands "to splay her fingers, to speak with her hands to express more emotion." Learning from Stanton's great granddaughter, Coline Jenkins, that she was fond of symbolism and as a young woman had signed her writing as "Sunflower,"  led Bergmann to pattern the Stanton figure's dress with sunflowers. "The sunflower was also used as a Suffragette symbol," says Bergmann.
Bergmann has also taken liberties with historical fashion details to make the women's bodies more expressive and less tightly confined in rigid 19th Century dresses shown in earlier sculptural portrayals. Another fashion note is that Truth is known to have been aware of her position as a role model, wearing clothing with fashionable touches to inspire her contemporaries to feel and express pride in themselves.
Come late August, Bergmann's Central Park sculpture will be among many reasons to celebrate recovery, perseverance and respect for fellow humans.