Morton Williams recently opened Morty's Wine & Beer Bar right next to their new supermarket, located at 15 West End Avenue at 60th Street. Morton Williams' new bar features seasonal wines, several beers on tap and pretty upscale bar food. As an Upper West Side bar enthusiast, I decided to check out Morty's with a pal to see what they were all about.

The food menu includes a lobster roll, tuna tartare, several paninis and charcuterie boards. We got a cheese and charcuterie board for $12.99 (which comes with a choice of three meats and cheeses).
The drink list includes 5 red wines, 5 whites, a handful of roses and champagnes, 8 beers on tap and a pretty long list of canned and bottled beers.

Advertisement
Their
happy hour
is Monday to Friday from 4:30-7pm, and Saturday and Sunday from 3-6pm. Happy hour offers are $5 on select beers and $7 glasses of wine. The best beer are on their happy hour list is Lagunitas IPA (I think), so we each had three of those (it was a Wednesday, so…).
The interior is pretty sleek with comfortable chairs and couches, lots of light through a glass wall overlooking the modern buildings along this section of West End Ave, a long wooden table, board games and flat screen TVs. At least when I was there, it wasn't crowded at all. Maybe that will change after this article, but I'm personally hoping it stays a hidden gem.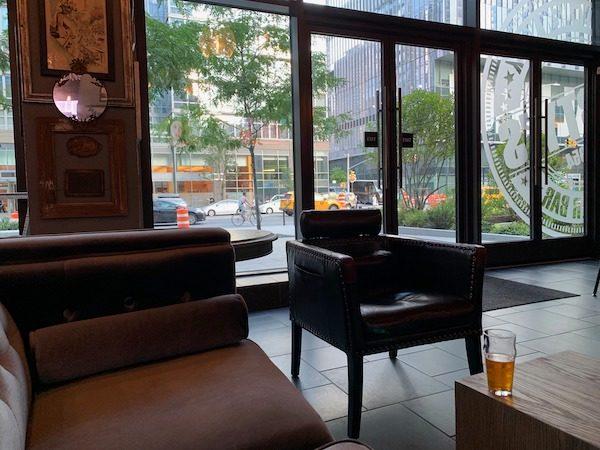 To learn more about Morty's Wine & Beer Bar:
Check out their website, Facebook page and Instagram feed.
Also opening in the area soon:
Join our newsletter for more food + drink news!