What's the worst part about owning a dog you love so much? Being away from them of course! Unfortunately, it happens. If you have long hours at work or need a place to board your furry loved ones while you are away, Mutt Hutt is now open for daycare, overnight stays, and even baths. Worried that your dog will be lonely? Don't be. Mutt Hutt's attendants will literally sleep next to your dog. I've seen it with my own eyes. There is a human bed right next to the doggy beds!

The other day when we were on our way to our favorite local pet shop,
The Pet Market
, I noticed Mutt Hutt had opened. I popped in and saw a familiar face; it was Ming! Ming is the owner of
A Cut Above Grooming Salon
, where our dog
Prince
is a client. We are so excited that she is expanding because she is a true dog lover and her business is a known and trusted name in the area. Even though they just opened, they already had super cute and happy pups there for daycare.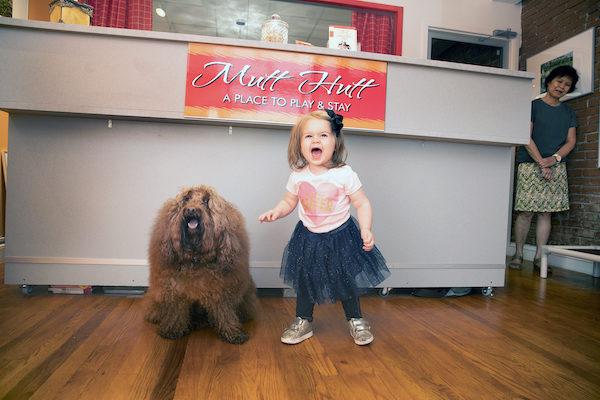 I asked Ming what differentiates Mutt Hutt from the other daycare and boarding options. She said, "We do not crate during the day. We let dogs roam in the two spacious playrooms that we have. For overnights we are really different than the traditional facilities. We have an attendant in each room. Dogs will not be left alone, which is the common practice."
The facility has two spacious playrooms. The front room has a trendy décor where smaller and more docile dogs can lounge. The back room is larger and is for dogs that really want to have playtime. They can chase balls and play to their hearts content. You don't need to bring your own ball or any toy; everything is provided at the location. Other important things to know are that your dog must have all up to date vaccinations and will have a temperament evaluation. This is for the safety of all their guests.

Advertisement
Speaking of safety. I spoke with attendant Patrick who told me he has worked at other facilities. He said that Mutt Hutt is a "really safe environment, where the dogs feel comfortable." He also said that even dogs with social anxiety do well here because of the high level of care they receive. When I asked him what his favorite part of working at Mutt Hutt was he replied, "My favorite part is just getting to spend time with the dogs, because a lot of them are very friendly and just seem happy to be here."
If you are looking for a high quality alternative to leaving your best friend at home then check out Mutt Hutt at their new location: 238 West 72nd Street or call 646-864-0029.
All photos by Rachel Wasserman.
Check out Prince's adventure at Longport Dog Beach!
Join the newsletter for more UWS openings!