Children's fitness franchise My Gym opened its doors at 209 West 79th Street, between Broadway and Amsterdam, in September 2020. They've quickly gained a following of parents and kids who attend and enjoy the gym's unique classes on a regular basis.
My Gym offers fun, age appropriate classes for children from 3 months to 8 years old, with parental supervision required for kids 3 and under.
Classes are designed to build social, physical and cognitive skills – and the curriculum changes on a weekly basis. By constantly offering kids new experiences, they truly never get bored!
Some kids also come in private pods, and My Gym offers birthday parties and private playdates as well.
Classes are offered on both weekdays and weekends; some parents bring their kids once a week, others more frequently.
Parents of My Gym students have been writing rave reviews and are excited to be giving their kids the gift of health and fitness in a fun format. It's also become a bit of a community, where parents have been able to connect with other Upper West Siders who have kids of the same age.
"Love this place! Perfect for babies/toddlers to get more comfortable with all types of movement- and seeing other people in a safe, friendly environment. For the same price as a lot of other programs we've seen, each week we get one structured class and one "practice and play" time. The teachers, Alicia, Camryn, Jackie (not sure how to spell them all!), are so wonderful with all of the kids and VERY on top of all the cleaning between classes. I've seen them working so hard to keep everyone safe and allowing me a place where I feel comfortable to get my daughter out of the apartment this winter. My toddler is also learning how to be more physically active, learning songs/movements, and having fun!"


– Courtney K

In addition to how fun and healthy the classes are, My Gym's staff members take COVID-19 precautions REALLY seriously. Here's a thorough guide to their cleaning and safety protocols.
A few classes on the schedule:
Tiny Tykes (for kids 6 to 13 months)
Babies and their parents are led through a variety of beginning stretches, exercises, infant songs and dances, baby-safe rides and adventures, balance and agility skills, and introductory tumbling during this motivating program.
Waddlers (for kids 14 to 22 months)
This class involves balancing, tumbling, hanging and agility skills – helping kids develop a love of physical activity and a sense of pride in their achievements.
Mites / Whiz (for kids 3 to 6 years old)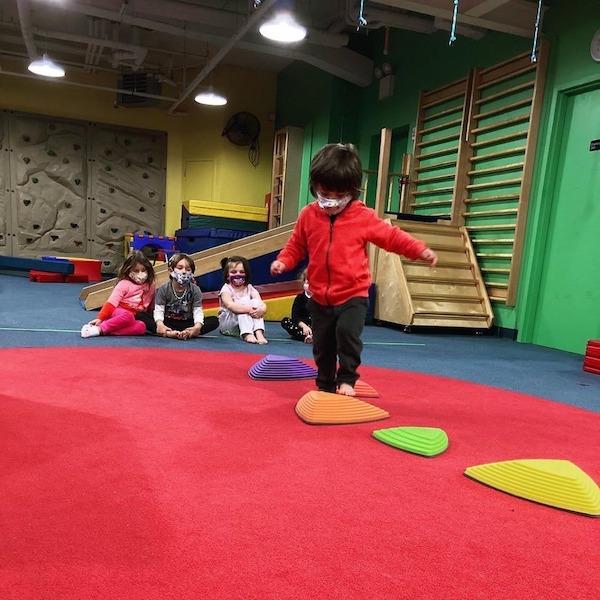 The older students will begin to enjoy more complex games like relays and other sports which will help them develop hand-eye coordination, all while receiving positive reinforcement which will help build their confidence.
Practice & Play (for all ages)
This is time for kids of all ages to play freely, while instructors help them further develop the skills they've been developing throughout the week.
There's a lot more to choose from, but we're hoping this gives you a good idea of everything My Gym has to offer. So if you want your little ones to have a blast while developing important life skills, head on over!
Classes can be easily booked directly on the website – and are refundable if you change your mind after your first class. Spaces are limited due to safety restrictions, so sign up as soon as you can to experience all the wonderful things My Gym has to offer.
My Gym West 79th
209 West 79th Street (between Broadway and Amsterdam)
(917) 438-9200
mygym.com/west79