A brand new 11,500 square foot day care will soon open on the ground floor of a newly constructed building at 602 West 57th Street. Equipped with an indoor multi-purpose room, interactive whiteboards and tech tables, Lightbridge Academy will offer programs for infants as young as 6 weeks old, toddlers and pre-k students. With construction now complete, the school is very close to opening, and those who enroll now will be able to save up to $1,000 on tuition!
Lightbridge Academy is a franchise with a proven model, with more than 50 locations open across the Mid-Atlantic and another 50 under construction or in development. This is its first location in Manhattan.
In addition to providing early education and child care to children ages six weeks through kindergarten, Lightbridge Academy offers special programming for children during school holidays and breaks.
The school's goal is to ease the stresses of busy, working parents, developing industry-leading programs including ParentView® Internet monitoring and a parent eCommunication app, which provides parents with an ongoing connection during the day; as well as drop-in care, nutritious snacks, optional meal plans, extended hours and more!
Lightbridge Academy was recently honored by Newsweek in its list of "America's Best Customer Service Companies." This list, which identified the top three to five brands in every category, was based on an independent survey of more than 25,000 U.S. customers who have either made purchases, used services or gathered information about products or services in the past three years.
Lightbridge Academy cites its Circle of Care philosophy as the foundation in achieving such a high score in the Child Care Services category. It places equal importance on the needs of children, their families, the staff, franchise owners and the local community.
Parents who send their children to Lightbridge's Massapequa location (the closest to NYC) have left glowing reviews about every aspect of the school, which operates under the same model:
"The staff is amazing, I love the diversity. My daughter is extremely happy there."
"The cleanliness of the facility was very impressive."
"It's not just a 'care' center, but also a learning center that fosters creativity, helps children build social skills and so much more. The teachers are great with snapshots capturing development and the daily reporting structure is great. There is a lot of transparency with respect to what our child does on a daily basis – which brings us a lot of comfort. I would highly recommend Lightbridge Academy of Massapequa."
The school's top priority has always been the health and safety of those in its Circle of Care. And this holds true now more than ever before. Lightbridge is responding to the need for enhanced protocols with the development of the Gold Standard in the child care industry for cleanliness, security and peace of mind — The Lightbridge Promise.
In addition to following CDC and state protocols for sanitizing classrooms, wearing PPE and conducting screenings, the center also installed the MicroCon® air purification and filtration system – an advanced oxidation process that continuously purifies the air and all visible surfaces.
The curriculum utilizes a "whole" child approach to learning and enrichment, focusing on all areas of a child's growth to help them achieve their full potential.
They've recently added Yoga & Mindfulness to its curriculum as well! Children benefit from these practices and begin learning how to use their breathing to relieve their stress while calming their minds and nervous system. Accompanied by music, simple games and at-home activities, this new program also helps children release negative emotions while gaining independence and coping skills.
Here's a first look inside Lightbridge Academy's new 57th Street day care center!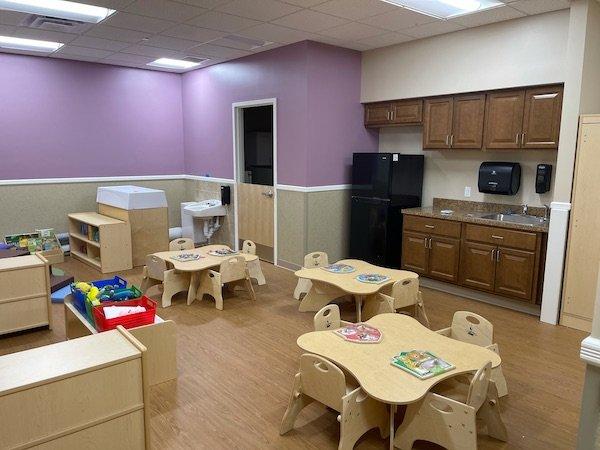 Lightbridge Academy is now offering virtual and in-person tours to families interested in enrolling and learning more about the Lightbridge Promise. Please call 212-247-5300 to discuss the world of opportunities that await your family. And learn more here!