Rocket Club, the tech entrepreneurship academy for children 7-14 years old that Entrepreneur Magazine compared to Elon Musk's Ad Astra Academy, is hosting a virtual summer business and STEM camp featuring a competition judged by Netflix co-founder Marc Randolph.

In this video, UWS parent Raymond Chan speaks about his son's experience with Rocket Club:
Rocket Club members are going to be mentored by industry leaders in weekly classes of up to 10 students. Each class will launch a fully operational business together, learning the engineering behind their chosen product as they go. At the end of the summer, members will compete in a competition judged by the co-founder of Netflix, Marc Randolph.
In addition to their one of a kind classes, members can also extend their knowledge by attending a daily educational game show hosted by UWS resident Morgan McDowell called Rocket Club Live. Here, members can play Kahoot trivia quizzes together, even bringing in their families to compete on Parent's Nights. The quizzes will cover a wide range of topics, from educational to miscellaneous fun. Each day will close with a live Q&A with a successful role model. Some of Rocket Club Live's former guest speakers have included:
Andrew Yang, Presidential Nominee
Steve Savoca, Head of Apple Music
Bobbi Brown, Founder of Bobbi Brown Cosmetics
Jordan Noone, Co-founder of Relativity Space
Jeff Pulver, Co-founder of Vonage
Gagan Briyani, Co-founder of Udemy
Neil Parikh, Founder of Casper
Chris Haymes, CEO of Indeed
Brent Taylor: Co-founder of Beyond Meat
Jeff Wike – CTO at DreamWorks
Dan Paschen, Senior Producer of The Voice
Rocket Club is known for its innovative educational methodologies, and in 2019 won the NJ Tech Innovation in Education Award. 
Here are just some of the businesses members of Rocket Club have created in the past:
GrowInLow, developed by 10 year old Kayden Jones. This indoor farm uses cutting edge hydroponic technology to grow basil for high-end restaurants!
Calligraphi, developed by 12 year old Megan Groo. This greeting cards service-based business combines the ancient art of calligraphy and the use of 21st century robotics to create customizable cards for any occasion.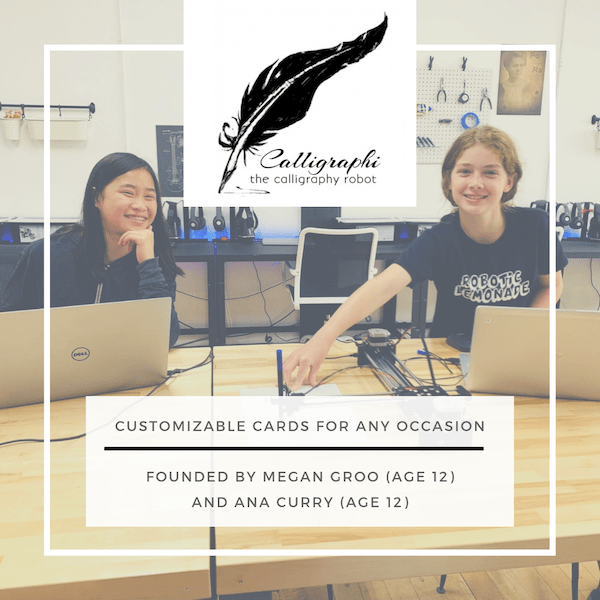 "We started Rocket Club 7th grade and continued into 8th Grade. Their staff was always so engaging and always spoke to [our son] with care and compassion. I truly feel this Club is so important in so many ways. One, it has given my son more confidence. He has learned to fail gracefully and win gracefully. Two, it gave him an edge during the application process for high school. I truly believe it helped him gain acceptance into High Tech High School, Saint Peter's Prep, and Xavier. These high schools are very competitive. I feel that having this experience of not only STEM but also entrepreneurship helped give him an edge."


Parent of a Rocket Club Alumni, on how the program has changed their lives and helped their set get into a better private high school.
HOW TO JOIN
To join the program, families need to go through an application process with Rocket Club's CXO Aicha Sharif and Christine Wilson, who also works as a Harvard Alumni Admission interviewer. To apply please visit Rocket Club's Admissions Page.